We Are Africa is a meeting place for the leading minds in African travel: those buyers, suppliers and press who stand apart from the crowd thanks to their determination to tell Africa's many stories in a way that resonates with today's high-end traveller.
As influencers not only within the luxury travel industry, but of luxury travellers worldwide, the We Are Africa tribe is a receptive, captive audience worth exposing your brand to.
We Are Africa's branding opportunities offer the much-coveted opportunity to put your brand centre-stage in front of an audience perfectly tailored to your needs – click on the link below to find out more. Got an idea we haven't thought of? Get in touch using the details at the bottom of the page.
THE BEAT
Another option is to feature your brand in THE BEAT – We Are Africa's show magazine. Containing key information about the show and high-quality editorial, THE BEAT is a comprehensive directory of Africa's most cutting-edge luxury suppliers – meaning it's referenced year-round by We Are Africa delegates and their colleagues. To find out more, click on the link below or get in touch using the details at the bottom of the page.
SIZING UP
WE ARE AFRICA IN NUMBERS
We Are Africa puts the leaders in African travel under one (pretty impressive) roof for a week of insight, collaboration and great business. Check out the stats below to find out what we're really made of.
2016 BUYER BREAKDOWN
263 BUYERS, 42 COUNTRIES, 77 HUB CITIES
We Are Africa's curated buyer list features a carefully calculated balance of big hitters from mature markets and rising stars from emerging markets – designed to create the most beneficial global marketplace for our exhibitors.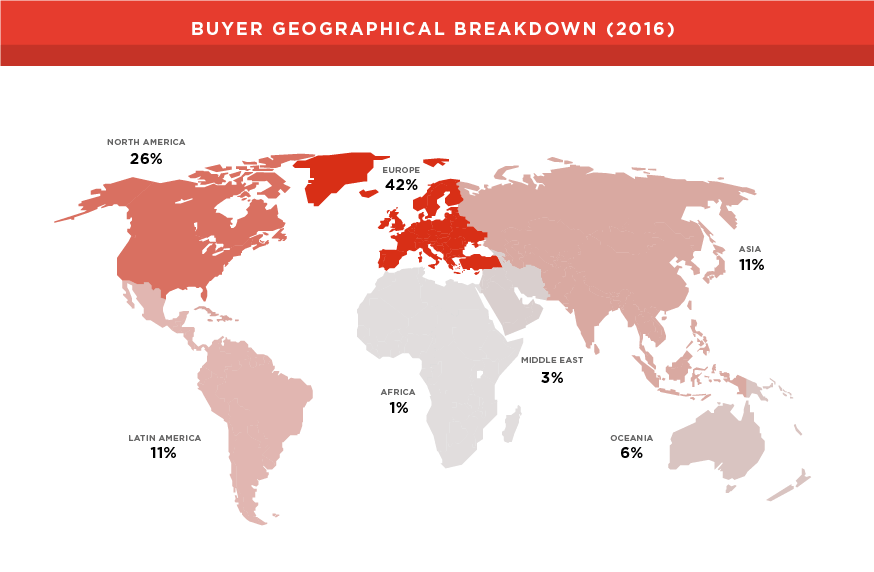 ARGENTINA, AUSTRALIA, AUSTRIA, BELGIUM, BRAZIL,CANADA, CHILE, CHINA, COLUMBIA, COSTA RICA, CZECH REPUBLIC, DENMARK, FINLAND,FRANCE, GERMANY, GREECE,HONG KONG, INDIA, ISRAEL, ITALY, JAPAN, JORDAN, KENYA,MALAYSIA, MEXICO, NETHERLANDS, NEW ZEALAND, NIGERIA, NORWAY, PERU, PHILLIPINES,POLAND, RUSSIA, SINGAPORE, SPAIN, SWEDEN, SWITZERLAND, TURKEY, UAE, UK, USA, VENEZUELA

2016 EXHIBITOR BREAKDOWN
261 EXHIBITORS, 31 COUNTRIES, 68 HUB CITIES
We Are Africa's exhibitor guest list is handpicked to combine visionary travel brands that have made Africa's history, with those trailblazing new suppliers defining its future – representing a truly dynamic cross-section of modern Africa.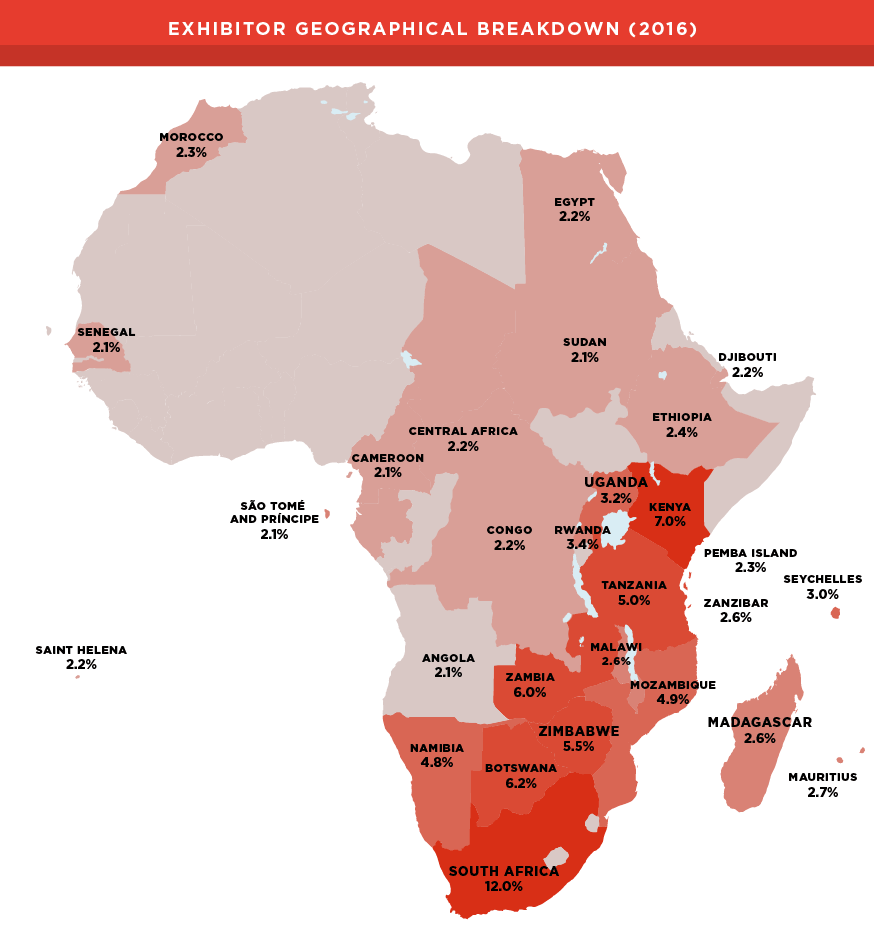 ANGOLA, BOTSWANA, CAMEROON, CENTRAL AFRICA,CONGO, DJIBOUTI, EAST AFRICA, EGYPT, ETHIOPIA, KENYA, MADAGASCAR, MALAWI,MAURITIUS, MOROCCO, MOZAMBIQUE, NAMIBIA, PEMBA ISLAND, RWANDA, SÃO TOMÉ AND PRÍNCIPE,SAINT HELENA, SENEGAL, SEYCHELLES, SOUTH AFRICA, SOUTHERN AFRICA, SUDAN,TANZANIA, UGANDA, ZAMBIA, ZANZIBAR, ZIMBABWE

2016 PRESS BREAKDOWN
23 INTERNATIONAL AND NATIONAL PRESS MEMBERS REPRESENTING APPROXIMATELY 20 PUBLICATIONS
We Are Africa hosts a select number of national and international travel editors from prestigious publications including Travel+Leisure, Forbes and Condé Nast Traveler, who are dedicated to telling Africa's many stories to the world.
MAKE YOUR MOVE
To find out more, contact: