Honouring the tribe: The Sarara Foundation celebrated for Extraordinary Commitment
At We Are Africa 2023, The Sarara Foundation won the Extraordinary Commitment award which recognises the efforts of a company that has made a real difference in the realms of conservation, sustainability and community upliftment. We caught up with The Sarara Foundation to learn more about their incredible initiatives and how they are making a difference in Kenya.
The Sarara Foundation partners with the Indigenous Samburu community to protect the 850,000-acre Matthews Forest Range, which is located in the heart of Northern Kenya, as well as the wildlife and people who call this land home. At the core of The Sarara Foundation's mission lies the belief that tourism can be a powerful catalyst for conservation and sustainable progress.
● Sustainable Frameworks: Sarara aims to develop sustainable models that are benchmarks for other operators; and that can be replicated not only in Kenya but throughout the continent in future.
● Area Stability and Security: Sarara is committed to creating stability and security in larger regions, and ensuring a safe and welcoming environment – not only for themselves but also for tourism partners and operators, as they want to enable them to operate easily and successfully in these areas as well.
● Catalysing Growth Through Stability: By establishing a stable and secure environment, Sarara paves the way for all tour operators, regardless of their scale, to operate in Northern Kenya. This ripple effect translates to a prosperous community benefiting from tourism. Envisioning a multitude of diverse tourism opportunities and experiences unfolding – from charter companies to overland excursions visiting sanctuaries, to the establishment of mobile camps.
● Success Stories (the Sera example): The orphan elephant rewilding success at Sera stands as a testament to Sarara's efforts. By reintroducing orphans into the conservancy and bolstering security, infrastructure, and community relations, they have laid a robust foundation for tourism. This, in turn, accelerates economic growth, fosters development, and promotes the spread of sustainable travel benefits.
The Sarara Foundation is involved in the following projects and initiatives:
– Nomadic Healthcare Program
– Nomadic Education Program
– Rangeland Management
– Reteti Elephant Sanctuary
– Micro Enterprise Development
Take a look at some of the incredible outcomes that The Sarara Foundation has achieved: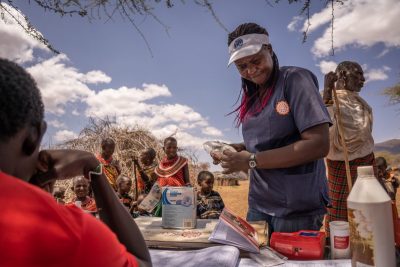 Since its inception in 2020, The Sarara Foundation's Nomadic Healthcare Program, which focuses on pediatric and maternal health, has provided care to 7,624 children under the age of five and 2,417 mothers.
In 2019, The Sarara Foundation pioneered the world's first Nomadic Montessori Preschool. Designed to move alongside the nomadic Samburu, this initiative ensures that children continue their education regardless of their families' movements. They currently operate four such preschools across Namunyak Community Conservancy and have celebrated the graduation of more than 700 children to date.
In 2016, with Sarara's backing, the community inaugurated Reteti Elephant Sanctuary within Namunyak Conservancy.

Not only is Reteti Africa's first sanctuary owned and managed by an indigenous community, but it also made history by hiring the first female elephant keepers.
The sanctuary currently employs 97 dedicated keepers – all hailing from the Samburu community.
To date, Reteti has successfully rewilded 10 elephants and earmarked another 13 elephants to be rewilded.
The sanctuary currently cares for 46 orphaned elephants.

The innovative Milk to Market Program empowers 748 Samburu women to sell their excess goat milk to Reteti Elephant Sanctuary. The program not only offers them a steady income to support their families but also provides training sessions on savings and financial planning. The foundation also helps the women to set up their own bank accounts – a first for many.

Currently, the 748 women collectively sell 512 litres of milk to Reteti per day.
Milk to Market reaches 9 villages across the conservancy and a team of 9 motorcycle drivers support the program by collecting the milk from the remote villages and delivering it to Reteti on time.
When they started out, the fresh milk was heated over a fire to be pasteurised. Today, they have 2 industrial-sized pasteurisers and a cooler – as well as added solar to operate the machinery.
In terms of rangeland management, over 1,600 bunds have been built to tackle erosion, and more than 100 acres of land have been reseeded with indigenous grass seeds.

Milk to Market Program for Reteti Elephant Sanctuary

In 2022 alone, The Sarara Foundation stood behind and supported 90 Wildlife Rangers, 4 Eco Rangers, 30 Administrative Staff, and 97 Elephant Keepers at the Reteti Elephant Sanctuary. Moreover, the Sarara Ecolodges channelled a substantial amount of $594,173 directly to the conservancy. That same year, Sarara granted 1,962 bursaries to high school and college students from Namunyak.
Highlighting a significant milestone in 2022, President Uhuru Kenyatta presided over the granting of Title Deeds to the Sarara and Sapashe communities within Namunyak Community Conservancy. This monumental gesture is a pivotal recognition of the Samburu's land rights.
Another great aspect of the Sarara Foundation's success is proactive guest engagements – involving sincere and immersive experiences with the Indigenous Samburu and their programs.
The Milk to Market initiative is an excellent example: guests can trace the entire journey of the milk – from when the women milk their goats, right through to its delivery at Reteti Elephant Sanctuary. The experience also includes the milk's pasteurisation process, and the bottles being filled in the milk kitchen. It culminates in guests witnessing the elephants enjoying the milk when they are fed by their keepers. This initiative not only highlights the incredible human-wildlife relationship that has existed between the indigenous people and Namunyak's fauna for thousands of years but also illuminates the intricate interdependence that makes the Samburu culture so exceptional.
Sarara's three camps are both owned and operated by the Samburu people – the true guardians of the land where the lodges are located. Their ownership gives guests an invaluable opportunity to engage with the Samburu directly – fostering curiosity, dialogue, and a deeper appreciation of indigenous traditions. Guests can also immerse themselves in authentic community encounters. This includes visiting a Samburu manyatta (a group of huts forming a village), where they're hosted and guided by its residents. During these interactions, guests have the opportunity to partake in beading sessions with Samburu women – gaining insights into the artistry and significance of their craft. They can also learn the art of blacksmithing from the renowned traditional blacksmith – a hands-on experience that underscores the depth and richness of Samburu craftsmanship. Throughout their stay, guests are aware and engaged with Sarara's overarching commitment to sustainability – and reminded of the importance and immense value of pursuing sustainable practices in tangible ways.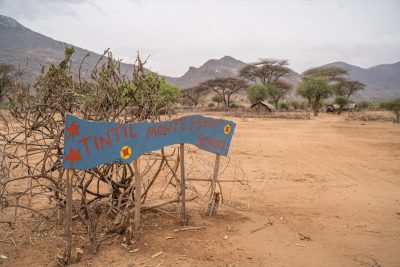 Sarara believes there are several key motivators that guide travellers towards more sustainable travel options, including:
The Human Element: Sustainable travel isn't just about preserving landscapes; it's deeply intertwined with bettering the lives of local communities. Conservation endeavours that encompass both the environment and the livelihoods of indigenous people tend to resonate deeply with travellers. They're often drawn to destinations where conservation benefits ripple outwards – touching communities and fostering holistic sustainable efforts.
Authentic Connection: Travellers increasingly seek experiences that allow them to form genuine connections. It's more than just sightseeing; it's about engaging authentically with local and indigenous communities, understanding wildlife conservation initiatives, and participating in meaningful programs and projects. This depth of interaction ensures an immersive experience that often leaves an indelible mark on their memories.
Tangible Impact: A compelling narrative can powerfully influence travellers' choices. When they can trace a story from before their arrival, experience it woven into their entire stay, and still feel connected after their departure, it adds profound depth to their journey. Seeing the tangible impact of their travel choices and feeling that they've contributed to a larger, meaningful narrative makes their experience not just a vacation, but a chapter in a larger story of positive change. In essence, travellers today yearn for transformative experiences. When they perceive that their journeys can make a difference – not just to themselves but also to the world – they're naturally inclined towards more sustainable travel options.
Sarara has always believed that the journey to sustainability is continuous and collaborative. Drawing from their experiences, Sarara offers the following advice to fellow organisations aspiring to deepen their commitment to sustainability:
Foster Genuine Connections: Today's travellers are discerning and seek more than just a destination; they yearn for meaningful experiences. Engage them by
providing a window into the heart of your work and programs. Allow them to witness first-hand the positive changes and the stories behind every initiative.
When travellers truly connect with the ethos of an organisation, they become its ambassadors, amplifying its sustainable message.
Embrace Holistic Impact: Sustainability is multifaceted. Aim to support or initiate programs and projects that address multiple dimensions – ecological, social, and economic. It's not enough to merely have one single impact point. For example, a conservation program can also empower local communities, offer educational opportunities, and stimulate local economies. By creating a web of positive impacts, your efforts will resonate more deeply with both the local community and guests.
Engage the Community in Sustainability: The most enduring and successful sustainability initiatives are those that are embraced and sustained by local communities. Ensure that your projects and programs are not just for the community, but also by the community. When local people see the tangible benefits and take ownership, it ensures the longevity and efficacy of every endeavour.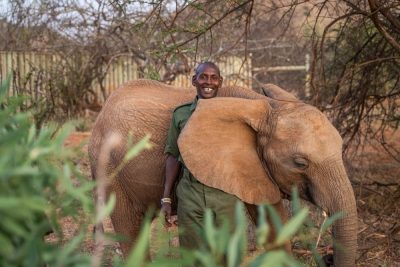 Sustainability is more than a goal; it's a mindset. Organisations should approach it with authenticity, a willingness to learn, and a commitment to creating positive, lasting change. We've seen the profound impact of sustainable practices – not just on the environment, but also on people's lives. Winning the Extraordinary Commitment award has had a profound influence on The Sarara Foundation, they shared with us how the award has shone a light on the work that's being done in significant ways:
● Enhanced Recognition: The award brought with it both local and international recognition. This acknowledgement has not only raised awareness of their efforts but has been a wonderful confirmation of their position and stance regarding community conservation and sustainability.
● Inspiring the Next Generation: The award has inspired and encouraged younger members of the community to actively participate in sustainable practices. Witnessing the tangible benefits and the recognition of their community's efforts, there is a renewed motivation and sense of pride to be part of this transformative
journey. They see the value, not just in terms of ecological and community benefits, but also in personal growth and opportunities.
The Extraordinary Commitment Award has catalysed a renewed spirit of community engagement and determination to drive forward our mission with even greater vigour. We are deeply grateful for the recognition, and it further fuels our commitment to sustainability and community empowerment

– The Sarara Foundation
We asked the Sarara Foundation to share a success story that stands out to the team, personally, demonstrating the positive impact of The Sarara Foundation. Take a closer look at how the Milk to Market program came about.
The Sarara Foundation's Milk to Market program is a project we are all tremendously proud of, and it is a testimony to the remarkable interdependence and co-existence of the Samburu and wildlife. The project was started in 2020 when travel restrictions during lockdown meant that Reteti Elephant Sanctuary could no longer import powdered milk for the rescued elephant orphans. Furthermore, the cost of importing milk took up most of the budget for the sanctuary, making it less sustainable and continuously reliant on additional donor funding. The need to find a more affordable milk substitute was paramount for Reteti to succeed, and the formula at the time was not only unaffordable but also unsustainable for the project and the planet.
Raising any orphaned animal is challenging. However, elephants are notoriously so. Historically, it's been incredibly hard for elephant sanctuaries and zoos across the world to replace elephant milk. Our solution has been groundbreaking, and few have managed to mirror the extent of what Reteti is doing. The Samburu are pastoralists who have been co-existing with wildlife for centuries. In the north of Kenya, wildlife, livestock and people all share resources and land. Goats, in particular, play an important socio-cultural role for the Samburu people and are an important source of food, nutritional security, and a vital form of currency in their culture.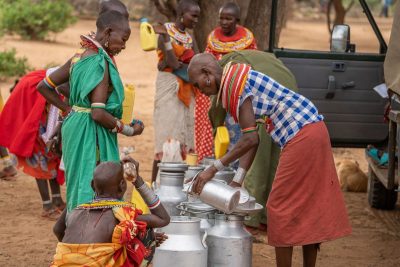 After conducting a livestock census of Namunyak Conservancy and all its manyattas, The Sarara Foundation was able to establish that every Samburu family has on average over 100 goats – with each nanny goat producing approximately 300-700ml of milk per day. It became apparent that most of the families had excess goat milk after tending to the needs of their households and livestock.  Dairy is one of the most complete and readily available foods for the community, in some instances serving as an adequate substitute for a meal. Goat milk, in particular, is a rich source of proteins and essential micronutrients such as iron and zinc, which are especially important for those most vulnerable to food insecurity – like children, pregnant women, and the elderly.
It was the start of a new era, and our Milk to Market program was born. With Reteti purchasing goat milk from the Milk Mamas, the women were enabled to earn stable incomes – and Reteti Elephant Sanctuary is receiving a sustainable supply of unique and superior milk. The program's ripple effects are far-reaching, and its success has reached all corners of Namunyak.
Women have been called the "hidden hands" of pastoral production as their role has long been unrecognised and unpaid. Today, there are nearly 800 women across 9 manyattas in Namunyak who collectively supply 511 litres of milk every day.
The women earn an income for the first time in their lives and we've supported them in opening bank accounts. Having a steady income enables them to get their children educated, save for the future, and support both their families and the broader community.
During the first year of the program, the new milk formula had a 100% success rate with calves under 6 months old – which is historically the most challenging. Goat milk has also reduced the need to import tinned milk from overseas and has more than halved Reteti's annual milk budget – and reduced the carbon footprint associated with importing milk.
When we started the project, the fresh milk was heated over a fire to be pasteurised. Today, Reteti has 2 industrial-sized pasteurisers and a cooler – as well as added solar to operate the machinery.
The pasteurisers have allowed the program to expand and currently reach 9 different manyattas. We also have an intrepid team of 9 motorcycle drivers who collect and deliver milk from these remote manyattas to Reteti every day.
The Mamas also receive training from The Sarara Foundation in animal husbandry, rangeland management, grazing practices, and more. This enables them to take better care of their livestock to increase milk production and avoid overgrazing. Through these sessions, the Mamas are equipped to produce higher-yielding livestock, prevent excessive grazing, and enhance the rangeland's condition. This not only elevates the amount and quality of feed but also ensures consistent food availability for everyone.
To improve pasture, the Milk Mamas are continuously working on restoring deteriorated land by constructing bunds, collecting grass seeds, reseeding, and
building gabions – among other efforts – to manage erosion. More than 1,600 bunds have been built and over 100 acres of land have been reseeded with indigenous grass seeds.
The improved rangeland is the same land to which Reteti orphans will ultimately return when they are released back into the wild. Therefore, the milk is not only boosting the well-being of the community; it is also helping to heal the land itself.