EXPERIENCE AFRICA
Imaginative itineraries that surprise, amaze and challenge traditional expectations of African travel: show us how you make your country stand out

ULTIMATE SAFARIS NAMIBIA
Saving Africa's giraffe from the silent extinction
Giraffe numbers have plummeted from 140,000 in the late 1990s to less than 80,000 today. In the past 30 years, giraffe have become extinct in at least 7 African countries. This dramatic loss has gone largely unnoticed – a silent extinction. The main threats are habitat loss, habitat fragmentation, disease and, increasingly, illegal hunting/poaching. At the crux of all this is human population growth in Africa and the demand for land. This GIRAFFE CONSERVATION – 'Saving Africa's giraffe from the silent extinction' focussed safari affords guest the opportunity to spend time with Dr Julian Fennessey of the Giraffe Conservation Foundation (GCF) in Namibia's remote North West. Julian is considered Africa's authority on giraffe and giraffe conservation, and orchestrates the perfect themed safari, ranging from giraffe ecology and conservation to misconceptions regarding these highly threatened animals. The highlight of the safari is spending time in field with Julian, giraffe conservationists and vets, whilst partaking in a complex giraffe collaring operation, which is necessary for research and monitoring. Giraffe are immobilized and fitted with radio collars, guests forming an integral part of the ground team during this operation. This safari also focuses on a number of other conservation projects, including the AfriCat Foundation and Save the Rhino Trust. Hugely pertinent to conservation in Africa at the moment, this safari promises to engage, educate and encourage guest participation in becoming part of the solution, whilst raising ZAR 250,000.00 per departure for the GCF. A life enriching experience and more than likely an once-in-a-lifetime opportunity.
THE SHORTLIST
Feline Fields – New Frontiers in Botswana With Feline Fields
Great Plains Conservation – Great Plains Conservation Wild Studio
H12 Art of Life – H12 Delta Dunes
Odzala Discovery Camps – Congo Conservation Company
PREVIOUS WINNERS
ESCAPE+EXPLORE – SEE THE CAPE FROM A NEW PERSPECTIVE
See the Cape from a new perspective: Why spectate when you can participate? With Escape+Explore's dynamic Private Cape Adventures, Cape Town's splendour offers a wealth of experiences for tourists and trailblazers alike. What makes us different? Imagine being whisked off in your private Adventure Utility Vehicle (AUV) fully kitted out with everything you need for a full day of explorations. Equipment is supplied, with gourmet pantry and full refreshment bar on board giving freedom to roam. Families love our mini-adventure equipment, toy box and travelling nanny. Specialist guides include game rangers from Africa's top game lodges, sport champions, and pioneering expedition leaders – all have superb knowledge in their fields. We'll take you Stand-up Paddling at the southernmost point of Africa, surfing off the Peninsula's secret beaches; cycling through Constantia Valley's historic wine farms; and hiking on Table Mountain. Local knowledge, your enthusiasm and the weather conditions on the day shape the endless possibilities to create your very own Cape adventure. Our mission is to experience the Cape's beauty just the way you want to. Become enveloped in this natural kingdom, feed your soul and pump your adrenaline levels sky-high. Why watch the Atlantic Ocean when you can immerse yourself completely and snorkel, surf or SUP? And why stare upwards from the foot of our mountains when you could hike or mountain bike to the top of the world? See Cape Town from a local's perspective – far from the usual tourist routes. It's a feeling that will stay with you forever.
SHORTLISTED
Bushtops Camps – Astrophotography workshops
NaturFriendSafaris – Fatbiking in Namibia
Chad's Zakouma National Park (with Passage to Africa) – Chad | Beyond The Infinity Pool
Simien Lodge – Saddique Amba restoration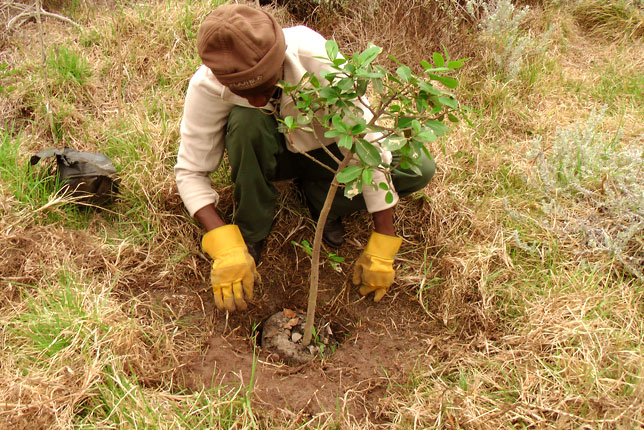 Grootbos is passionate that guests experience an authentic, indigenous visit. It co-founded the Walker Bay Fynbos Conservancy, which is home to 765 fynbos species. Its mission is to conserve and rehabilitate the fynbos kingdom and promote the human potential of the region. From rides on horseback through the sweeping fynbos plains to exploring the ancient milkwood forests or whale watching, your experience is authentic of Grootbos and our region. The commitment to the community and culture of Walker Bay was formalised in 2003 with the establishment of the Grootbos Foundation. Environmental and social development programmes are strategically and aesthetically incorporated in the Grootbos experience, enjoyed first-hand by each visitor:
Green Futures horticulture students landscaped the indigenous gardens
Growing-the-Future Organic Farm's team of seven provides farm-fresh vegetables and micro-herbs, free range eggs, fynbos honey and bottled water
The Candlemaking Initiative recycles 5kg of waste wax daily to create authentic Grootbos candles
The pristine fynbos plains are maintained and cleared of alien species by local marginalised residents (61 jobs created)
There is the chance to sponsor and plant a tree (over 2750 planted to date)
SHORTLISTED