AWARD-WINNING AFRICA: HOW ULTIMATE SAFARIS FUEL CONSERVATION THROUGH EXPERIENCES
Africa is #notonestory. More than a hashtag, it's our mission statement – to tell Africa's myriad stories in vivid and fascinating ways, no matter how controversial or difficult they may be. Telling these stories through travel is one of the most powerful mediums there is, which is why we celebrate the brands and individuals doing so in the yearly We Are Africa Innovation Awards. A year on from their victories, we're in the midst of awards season – so we're catching up with 2017's winners to see how their award has impacted their brand, their vision for the future, and the communities they showcase to travellers. 
First up: Tristan Cowley of Ultimate Safaris, who were crowned winners of the EXPERIENCE Africa award: celebrating imaginative travel itineraries that surprise, delight and challenge expectations.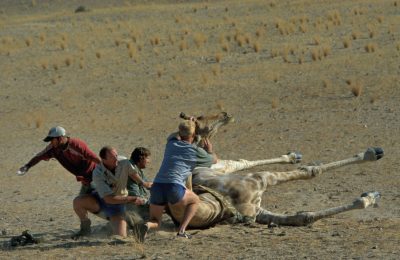 Tell us about your winning project – how does it show that Africa is Not One Story? 
As you know, Ultimate Safaris won the EXPERIENCE AFRICA award, which rewards and recognises brands' creative itinerary planning. For us – a conservation travel company – a major aspect of our itinerary creation is considering conservation and sustainability above anything else. Therefore, our winning itinerary had not only creativity but also conservation at its heart. The winning itinerary has now turned into a thrice-yearly trip, raising ZAR 700,000 for giraffe conservation in Namibia by giving guests behind-the-scenes access to a desert giraffe GPS collaring (where giraffes are fitted with GPS trackers to in a bid to conserve numbers) operation. Simultaneously, guests gain a thorough understanding of the conservation and ecology of these beautiful animals. The same trip also includes a visit to the AfriCat Foundation and Save the Rhino Trust, making it a comprehensive conservation-themed safari that encompasses education and conservation.
What did winning an Innovation Award mean to Ultimate Safaris Namibia? 
While we don't do what we do every day for any form of recognition, to be recognised and rewarded by our travel industry peers was truly fantastic. The award immediately put us in the spotlight, allowing us to showcase the wonderful work we do and create brand awareness around conservation, too. The impact has been enormous and immeasurable – and we hope it will continue for many years to come.
"We stay away from 'greenwashing' – making false claims about sustainability – instead creating itineraries that are impactful for all concerned."
How do your itineraries challenge the traditional expectations of Africa travel? 
We stay away from any form of 'greenwashing' – making false claims about our environmental sustainability – instead creating itineraries that are impactful for all concerned, enriching not only the lives of our guests but also those of the people and places we take them to visit. It's this true connection with the diverse communities in Namibia that makes all the difference, in our opinion.
"(African travel brands) should buy responsibly:using DMCs who take reinvesting in communities and the environment seriously."
What should African travel brands or buyers consider when putting together an itinerary?
Buy responsibly, whether it involves the use of sustainable and conservation-minded camps, or using DMCs who take their responsibility for reinvesting in communities and the environment seriously. They should also ensure that their itineraries are life-enriching, not only to guests, but also to the people, places and communities they encounter and discover.
https://www.instagram.com/p/BTPNSgwAA-J/?tagged=ultimatesafarisnamibia