Impilo – A Prayer for African Elephants
We Are Africa invited the tribe to Encounter the Extraordinary at this year's eighth edition. Looking at the many facets that make Africa extraordinary is difficult to distil but with the help of local artists the concept was brought to life on the show floor.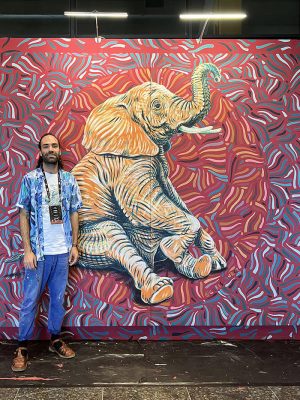 Local Cape Town artist Chris Auret was invited to paint a mural over the three We Are Africa show days at DHL Stadium that embodied the concept of Encounter the Extraordinary. Auret's distinctive technique features energetic brushstrokes, vibrant colours, and strong conceptual themes. His artistic repertoire includes drawing, collage, photography, abstract art, film, sound, poetry, and performance art.
Chris Auret is a South African multi-disciplinary artist known for his unique style of painting and emotionally charged expression. After graduating with a BA degree in Visual Communication, he left the advertising industry at 23 thanks to a near-death experience. This event prompted him to pursue his lifelong calling as an artist. Without formal training, he has since gained widespread recognition for his unique and vibrant paintings on canvas and public walls.
We caught up with Chris to learn more about his process and inspiration behind "Impilo – A Prayer for African Elephants" and how the mural's impact beyond We Are Africa 2023.
WAA: How did you first become interested in art?
CA: From a very young age I used to draw on a chalk board in my bedroom when I misbehaved. In primary school and high school, I made my way onto the easel. I loved it all though. I thought I was going to be a realistic pencil drawer for life. Then charcoal. Then hyper-real acrylics. Then loose oils. Then mixed media! I struggled to remain in one medium. Even film, animation and sound perked my interest. I loved the work of William Kentridge and Irma Stern the most growing up, but also the conceptual works and street art of Banksy and our local Warren Lewis. I wanted to study fine art after high school but was successfully ushered towards becoming an art director in advertising, which I did.
After graduating top of the class, and working in the ad industry for 2 years, I finally quit my job after an operation on my stomach resulted in a month and half in hospital. This was my gift to pursue my calling as an artist and I've never looked back! Although it took me a while to really understand the role of the artist in society. And get over a lot of hurdles in the process. Now I can honestly say that art has been a very healing modality for me and I was no doubt born to create.
WAA: Can you tell us about your artistic journey? How has your style evolved over the years?
CA: Once I quit my job in 2011 at age 23 and decided to be a self-proclaimed and "untrained" artist, I found myself in a studio of friends called Everybody Love Everybody. It was around this time that my style began to emerge, which was really birthed from a frustrating place. I almost felt I could never come up with something original and as good as what I saw online. This was one of the reasons I stopped painting for years. Finally I picked up a blank canvas and followed a little voice which just said, "start with one colour and one stroke at a time". So I did. "And again", it insisted. Before long, I was lost in the process of layering brushstrokes, fascinated to see how the colours and linework would engage and relate to one another, creating tension and harmony. After a while, I began to play with painting portraits on top of this background and things just took on a life of their own. I was invited to a few group shows in Cape Town and landed a few commissions.
In 2014, I put on my first solo show, which was a far more in depth process to my colourful works and the work took on a slightly more conceptual and personal angle, resulting in photographs and poetry, paintings and abstract work. I also started painting murals around this time which also began to influence my style. I needed to paint fast, and big. Visible brushstrokes have always been there, remaining true to "one stroke at a time". I slowly began to see each work as a meditation on it's subject. A vibrating, energy filled capsule of time.
Over the years, I feel I have crafted my technique by getting lost in it and not comparing myself to anyone. My brushwork has become finer and more detailed and now has various executions, depending on the scale, such as rollers for large walls. Nowadays, I also have this isolated brushwork thing going on in my pop art inspired work, seen in the Impilo piece. In my studio, I'm starting to play a little loosely again with some personal pieces, which I'm certain will take my work to another level. It's exciting!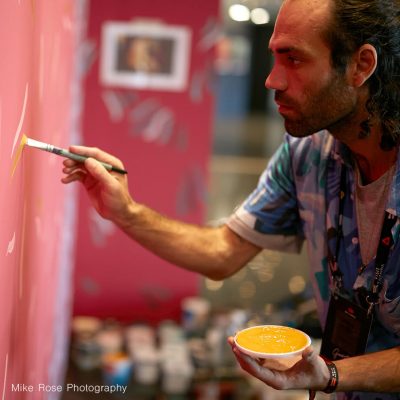 WAA: What themes or subjects inspire your artwork? Is there a particular message or emotion you aim to convey?
CA: I often say my work could be split into 2 parts, which I have called my ME work and my WE work. My ME work is most often related to my personal journey as a white male in South Africa and touches upon themes such as identity, sexuality, masculinity and spirituality. These pieces have a more "fine art" feeling to them and aim to convey my personal and honest revelations of life.
My WE work on the other hand is an exploration of things seemingly outside of myself, such as wildlife, landscape and other people, reflecting a belief that we are all interconnected and non-separate and these things are all an integral part of me and you. This is often my more "pop art" inspired work. I often place my subjects in the centre like icons, such as Impilo – A Prayer for African Elephants. These pieces are aimed to inspire and uplift the viewer whilst bringing colour and energy to frustrating and challenging times on the planet.
WAA: Could you describe your typical creative process? How do you approach starting a new piece?
CA: Currently, I like to play a lot with mixed media and collage. Either I take a quick drawing from my sketchbook and work it up or otherwise see what comes through when sifting through imagery. Sometimes this is literally with magazine cut outs and other times, I do this digitally, with images I've taken myself or found to manipulate. I usually always end up placing the final sketch onto my laptop. I am a bit of a Photoshop geek. Here, I like to play with colours and shapes, sometimes even perspective of various images until I am happy. Usually, I then print out my "sketch" and work from there onto the canvas or wall. I start here by painting my background. This generally accustoms me to my canvas and subject with my usual abstract, brushstroke-heavy stuff, before I layer the imagery on top. I must add, that almost every piece has an uncomfortable stage I've come to know well – where I really don't like the piece, I want to give up and walk away. However, I know now to just continue. It's usually then that I surrender to the process and let my higher powers take over, leaving me generally as surprised as anyone with the finished product!
WAA: Can you recall a memorable moment or experience related to your artwork that has had a significant impact on you?
CA: There have been so many! A few times, painting publicly especially, I have been brought to tears with viewers reflections of my work as they pass by and what it brings up for them. Often there is a sense of magic in the air when I paint, everything is synchronistic and the conversations are all "meant to be". For example, I was once painting a butterfly on a mural for a university campus, when a family pulled up and told me it reminded them of their late mother, who had recently passed. It was her symbol. They left and I then started to paint one of the few portraits for this piece later that same day, and it they stopped by again – unable to contain their amazement – I was painting a portrait of their mother's face, next to the butterfly! They all burst into tears.
Even this piece I painted for We Are Africa… the name "Impilo – A Prayer for African Elephants" came from a young woman I met while painting the mural. Impilo is isiXhosa for LIFE or HEALTH. Later that day, I ended up in conversation with another passerby who turned out to the the late Desmod Tutu's granddaughter. It so happens that his full name is Desmond Mpilo Tutu and she had been having these signs from him come to her recently and now seeing the elephant, it solidified a message for her. It also made her tear up with emotion. It's moments like this that keep me going in the darker times.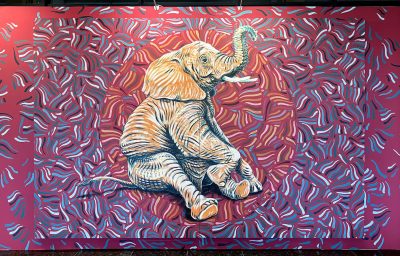 WAA: Tell us about Impilo – A Prayer for African Elephants and your inspiration behind it?
CA: I was asked by We Are Africa to create a live painting, exploring their brief of "Encounter the Extraordinary". I've been privileged to have grown up going to the Kruger Park from a very young age and have witnessed elephants in their natural habitat, often from very close. And if you've ever experienced this moment, you will know that it is nothing short of extraordinary! It was this encounter that I wanted to bring to the viewer by painting a life-sized elephant in the room.
The second intention was to raise awareness of the fact that these majestic animals are now on the endangered list, with only 415 000 left on the planet. This is due largely to human/elephant conflict and poaching. When I paint like I have in this piece, I enter into a meditative space, and I imagine almost every brushstroke to carry an intention. Sometimes, I'm literally imagining a word or sentence in my head for each stroke. With this piece, this may have been words like, "peace, harmony, humans waking up, etc". In this way, the artwork becomes a visual prayer, a vibration that enters the world for all to experience. I wanted to evoke the question in the viewer, "considering this, in their unique capacity, what are they able to do about the situation?"
WAA: Is there anything the tribe can do to get involved?
CA: YES! I'm SUPER EXCITED to say that it seems as though my prayers have been answered! During the We Are Africa event, I met Adine Roode. Adine is the founder of an organisation called HERD, which works with displaced and orphaned elephants in Hoedspruit, near the Kruger Park. We immediately began exploring ways to bring this piece to life off the wall. After a few conversations, they have invited me to join their team as one of their HERD ambassadors and I will be generating art for them to sell in various mediums. For now, this will be in the form of limited edition art prints and various products with designs created by me, including T-shirts, hoodies, tote bags and even cell phone covers – and we're starting with Impilo!
With the art prints of "Impilo – A Prayer for African Elephants", I have 3 sizes available: A1, A2 and A3. These high quality prints are archival quality on Felix Schoeler paper, hand-signed, titled and numbered and are limited to 30 editions of each size. 12% of the profits of this piece will be going to HERD.
With the products, I have been able to make 5 different colour variations of the Impilo – A Prayer for African Elephants graphic. These are available to order across a wide range of products online with 100% of these profits going to HERD.
Be a part of the unfolding story and share your support by purchasing a piece of history through their platform or my own website below. On their page, there is also a video I created, sharing my process and how things all came together. Check it out!
HERD: www.herd.org.za/product/impilo-a-prayer-for-african-elephants/
AuReT-ART: www.auret-art.com/product-page/impilo-a-prayer-for-african-elephants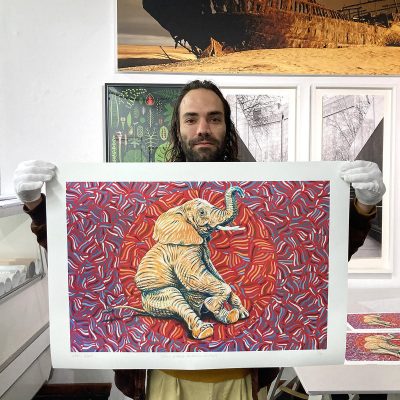 WAA: Are there any upcoming projects or exhibitions you are excited about? Can you share any details?
CA: I think the most exciting thing I have to share right now, is that I just launched an online store for my art, available to ship worldwide. There, I have limited edition prints available of various pieces, including a landscape of the bush and animals such as a male lion, sable, pangolin, cape fox, vervet monkey and various South African birds. All of these are available in 3 different sizes. See the link below to view the online catalogue, which I will be continuously updating in the future:
HERE: www.auret-art.com/category/all-products
Otherwise follow me! I have a few murals on the way. I am always open to explore commissions of canvases and murals. I enjoy working with a client and finding ways to bring our visions together.
Website: www.auret-art.com
Email: chrisauret@live.com
Instagram: @chris_auret
Watch this video to hear Chris chat about Impilo – A Prayer for African Elephants and his collaboration with HERD.