AWARD-WINNING AFRICA: ROYAL PORTFOLIO'S THE SILO HOTEL
Africa is #notonestory. More than a hashtag, it's our mission statement – to tell Africa's myriad stories in vivid and fascinating ways, no matter how controversial or difficult they may be. Telling these stories through travel is one of the most powerful mediums there is, which is why we celebrate the brands and individuals doing so in the yearly We Are Africa Innovation Awards. A year on from their victories, we're in the midst of awards season – so we're catching up with 2017's winners to see how their award has impacted their brand, their vision for the future, and the communities they showcase to travellers. 
The opening of Zeitz MOCAA, the Museum of Contemporary Art, in September 2017 was a watershed moment for the continent. Recently declared 'Cultural Building of the Year', it was only natural that travellers would want to stay there, too. Enter The Silo Hotel, directly on top of MOCAA: brainchild of Royal Portfolio, winners of the 2017 DESIGN Africa award.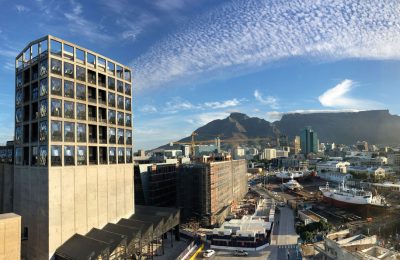 Tell us about your winning project – how does it show that Africa is Not One Story?
Ross Bowers, Marketing and Communications Manager at Royal Portfolio: Our winning project – The Silo Hotel, above Zeitz MOCAA – was a phenomenal project filled with complexity and unique challenges; a triumph of collaboration and vision. The entire Silo precinct – the architecture, the history, the contemporary art and the design – are all elements completely unique to Africa, which has really placed Cape Town and South Africa on the global art and design stage.
The contemporary art collection at the hotel has been carefully curated by our team, telling a very modern, uniquely African story through the narratives of each piece and artist. It is an evolving story, which is gradually moving from depictions of oppression and hardship to a vibrant tale of community, progress and a true African identity. The Silo is an amalgamation of beautiful artwork, cutting edge architecture, and exciting local design, each chapter adding to the unique story of Africa. It is symbolic of the continent reclaiming its place at the centre of the world stage.
"The Silo is symbolic of the continent reclaiming its place at the centre of the world stage".
What did winning an Innovation Award mean to The Royal Portfolio?
We were delighted to receive such wonderful recognition at such a prestigious luxury travel event, alongside our colleagues and industry partners. It certainly was a fantastic affirmation after 5 years of hard work.
Why is design so important in creating a high-end guest experience?
Design hotels are in high demand around the world – creating spaces that are inviting, relaxing and comfortable, that take people on a unique journey to a different world. Creating relaxing, enjoyable environments is what The Royal Portfolio is all about. Liz Biden, owner and founder of Royal Portfolio, has a true eye for the exquisite and the passion she puts into each property offer our guests a truly unique experience of South Africa.
"Brands should be destination conscious, paying tribute to their (location) in design and experience".
https://www.instagram.com/p/Be0xOB6jd7D/?taken-at=1023477451
What should brands consider when conceiving a design?
Be destination conscious. Each of our properties is unique; we will never be a 'chain'. Instead, we pay tribute to each remarkable destination in both design and experience. There are certainly some common threads which run through Liz Biden's designs, but each property has its own unique characteristics and sense of place. La Residence is our beautiful estate property in the winelands; Birkenhead House our smaller, boutique beach house set atop a rocky seaside cliff; and Royal Malewane is our luxurious safari property, offering unparalleled wildlife experiences. The Silo Hotel adds an urban, arty and cutting edge design influence to the Royal portfolio.