Funny Old World: The Africa Edition
Welcome to special bonus episodes of Weeva's climate podcast series, Funny Old World, where your hosts Juliet Kinsman and Simon London recorded two episodes at We Are Africa 2023.
These are edutaining easy-listening "Africa Edition podcasts" where the conversationalists aren't shy about exploring the causes, symptoms and solutions when it comes to the climate, you'll find Juliet and Simon, as ever, discussing serious topical sustainability stories and cultural affairs while they chat with thought-provoking experts — in this case, thought leaders from the high-end travel industry. Juliet had the following to say about her time with the tribe at We Are Africa – "What was so special, from my perspective, was how engaged the audience was with our day of sustainability talks! It was a full house for the whole day and so many wise souls not only listened but also contributed to the conversation… Thank you Josh van der Ploeg of &Beyond, Michael Lutzeyer of Grootbos and journalist Anna Hart for sharing their own wise words on the day!"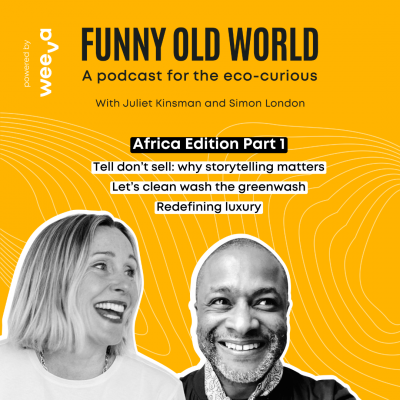 Funny Old World
The Africa Edition. Shaping sustainable travel on the continent. (Part one)
30:26
Maybe you're wondering: how can international travel ever be sustainable?
Juliet says: "There are 54 countries in Africa, and collectively they are responsible for less than 4% of the world's CO2 emissions — and yet this is the most vulnerable region in the world when it comes to the climate emergency. The UN puts this down to restricted socio-economic growth in the continent: and when it comes to this community of impact-driven luxury travel hosts, their work bringing in visitors from around the world can and does make a huge difference, since the result of those in the Global North making better travel decisions can mean vital wealth distribution in the fight for better socio-economic uplift in communities that are the most vulnerable to climate change."
Simon, as ever asks the burning questions — and is there to ensure every conversation also leads to much laughter — however sober the subject matter!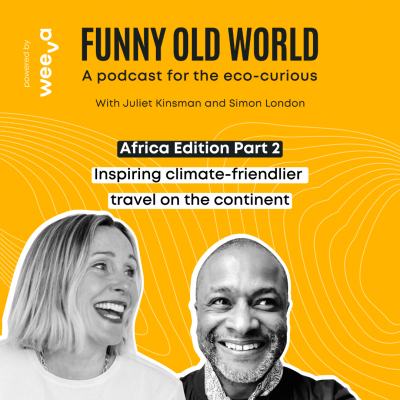 Funny Old World
The Africa Edition. Inspiring climate-friendlier travel on the continent (Part two)
40:08
A snapshot of each episode and our expert guests
Recorded at We Are Africa in May, each 30-minute podcast stars wise words from a wide range of speakers from the event… Shaping sustainable travel on the continent
Part 1 includes:
Tell don't sell: why storytelling matters with esteemed journalists Jane Broughton, Harriett Owalla and Noo Saro-Wiwa
Let's clean wash the greenwash with Julie Cheetham, Managing Director of Weeva
Redefining luxury with Melony van der Merwe, Trade Ambassador for Weeva Inspiring climate-friendlier travel on the continent
Part 2 includes:
How women are transforming conservation with Suzanne Bayly of Classic Portfolio and Nwabisa Mjjoli of Weeva
Why the best guest experiences also achieve impact with Louise Cottar of Cottar's Safaris
The secrets to sustainable luxury success with Ruth Crichton and Clayton Niemand from Grootbos
The importance of having a sustainability manager with Prince Ngomane from Tswalu Kalahari
Funny Old World is powered by Weeva — a sustainability data management platform for tourism.
Listen on Apple | Spotify | Weeva
Connect with us across Instagram, Twitter and LinkedIn on @JulietKinsman @WeAreWeeva #FunnyOldWorld
Produced by Bouteco, co-produced and edited by Mark Machado of 11-29 Media.
Recorded by Andy Hughes in Love Electric Studios, North London.
Funny Old World is powered by Weeva, supporting independent thought and provocative dialogue.