CONVERSATIONS WITH THE ELDERS
The Founding Director of Uthando (Love) South Africa, James Fernie, explains the sentiment behind Conversations With the Elders: a unique book that tells the heart-wrenching, yet truly inspiring stories of South Africa's ageing black population.
Dark clouds of racism, bigotry and state-sanctioned brutality gathered over South Africa with the advent of apartheid after the National Party swept to power on the 28th of May 1948.
A racial experiment of epic proportions was thus initiated in the country and, unbeknown to the overwhelming majority of the population, forty-six years of torment, institutionalised injustice and internecine violence awaited them. The war of racial hatred had started long before the official introduction of a codified set of laws based purely on race, but it was to intensify with a vengeance after 1948, having a devastating effect on black South Africans in particular.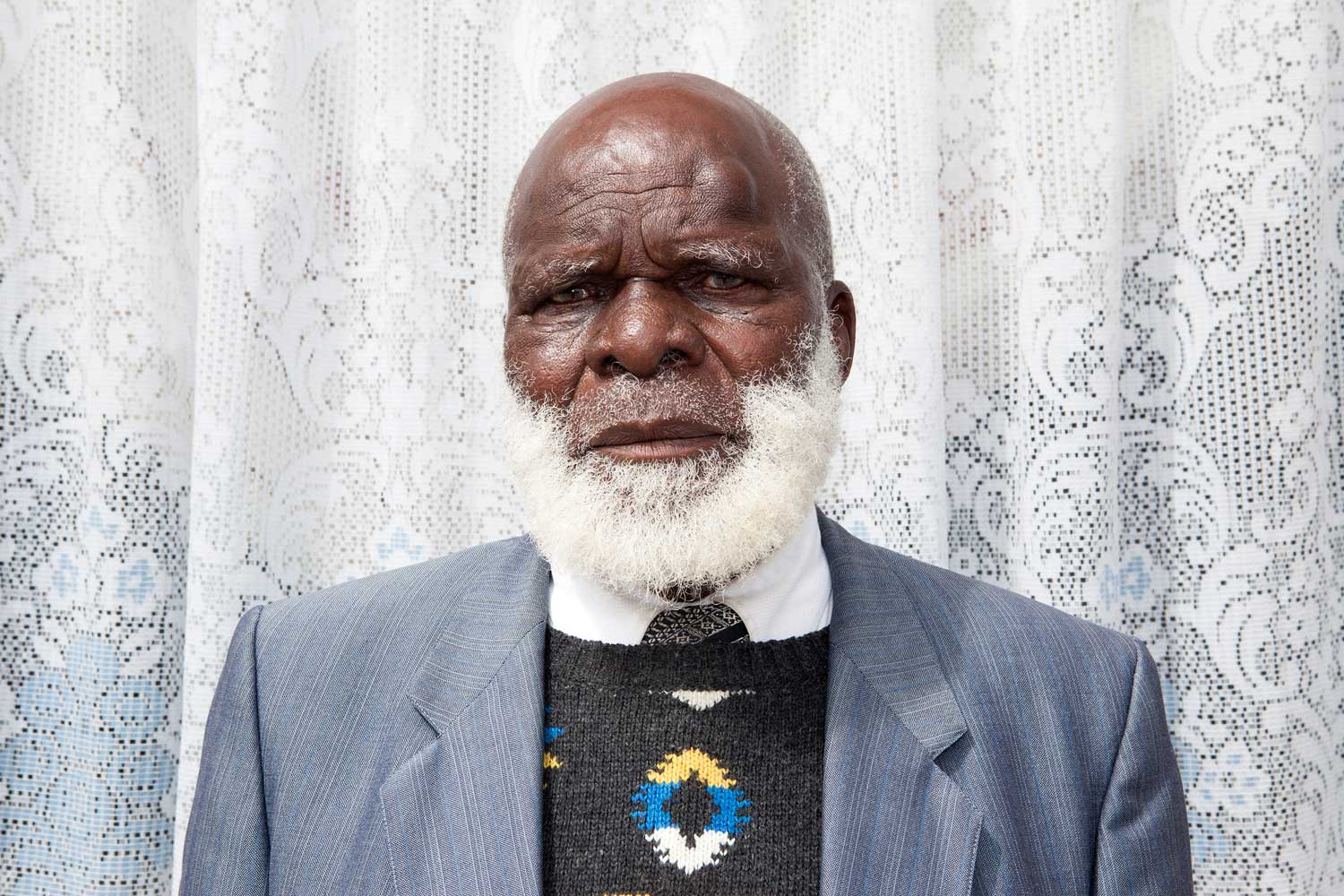 The hardship, suffering and tribulations that black South Africans endured during these long years is unimaginable. However, the struggle for liberty and justice is what came to define some of the world's most famous and iconic sons and daughters – people such as Nelson Mandela, Steve Biko, Walter and Albertina Sisulu, Albert Luthuli, Desmon Tutu and many others. But what of the ordinary black men and women who struggled against relentless injustice, discrimination, hatred, violence, indignity and vicious poverty day after day, with very little hope of freedom and scant protection under the law? Year after year (and for some an entire lifetime), millions of faceless and nameless black workers built the lucrative South Africa economy and fulfilled the dreams and aspirations of others, while being systematically deprived of the rights and dignities of living a decent life themselves. By day, they would work in leafy "white suburbs", in factories or deep inside the earth mining gold and other minerals – the very thing that provided the financial sustenance to build and sustain the apartheid infrastructure. By night, they would return to overcrowded and impoverished ghettos or townships, with frequent harassment by the apartheid police force. This was the quotidian reality for the vast majority of black South Africans.
After starting the non-profit organisation Uthando (Love) South Africa in 2008, I had an ardent desire to work with and support a senior citizens community project. As a teenager growing up during the malevolent and violent death throes of apartheid in the 1980s, I was acutely aware of the heinous suffering endured by black South Africans. Many years later, I was now conscious that many of those victims would now be in their twilight years and in need of care, love and assistance.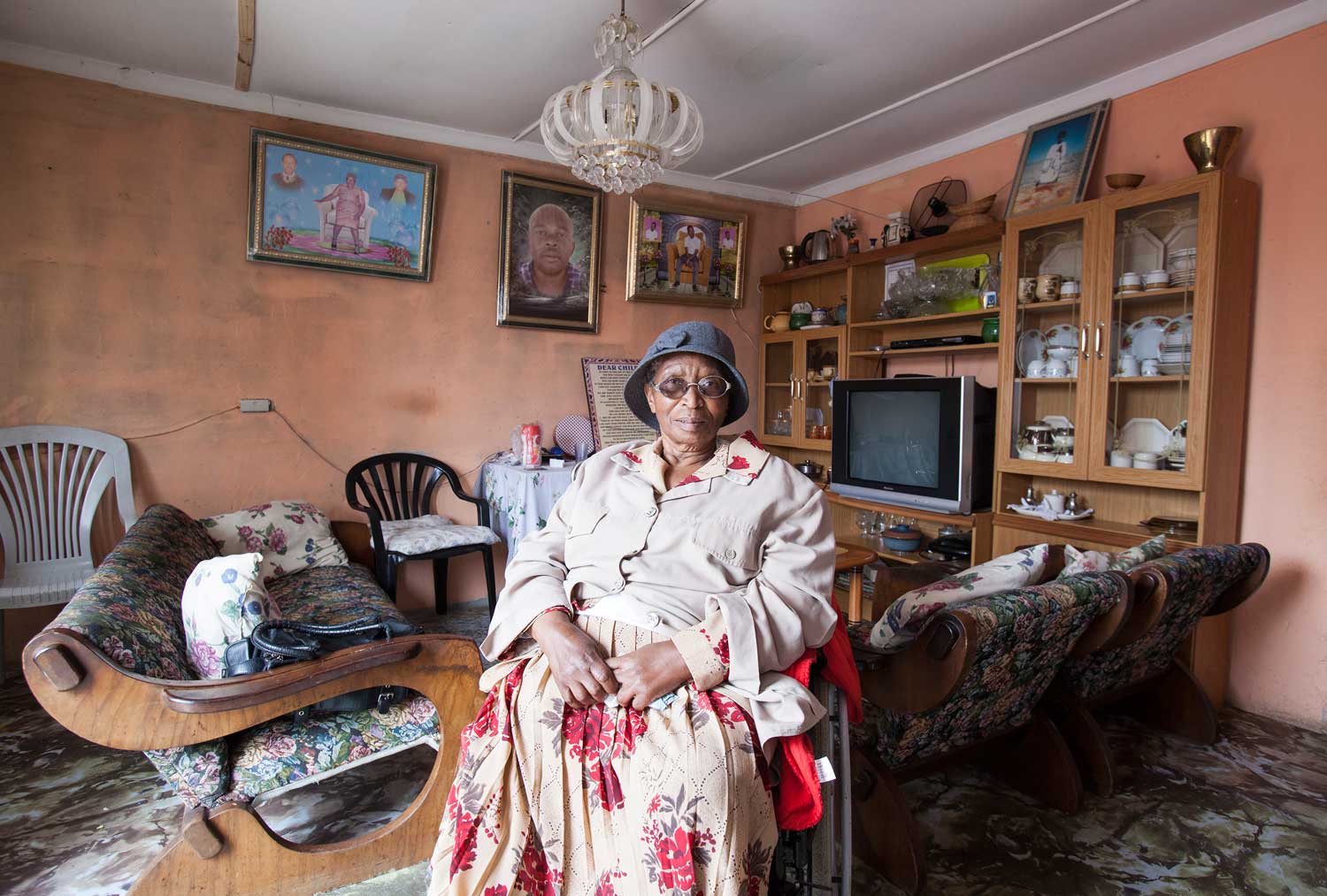 I was duly introduced to the truly inspirational work of Neighbourhood Old Age Homes (NOAH), which is active in assisting senior citizens in the sprawling, impoverished township of Khayelitsha (a Xhosa word meaning "New Home" and which is located on the very eastern outskirts of Cape Town). I was extremely excited to visit the NOAH care centre, but what awaited me exceeded my every expectation. I had the privilege of meeting one hundred and thirty of the most remarkable human beings, truly extraordinary South Africans who had every reason to despise and hate me, since I am white, privileged and a beneficiary of the very system that had condemned them to a life of hard labour and poverty. Yet I was immediately and unconditionally welcomed into their extended family with warmth, kindness, joy, generosity of spirit, curiosity, forgiveness, gratitude and love on a scale that is simply unfathomable. It genuinely felt as if they are all cut from the same cloth as Nelson Mandela – the embodiment of all that is good and decent about humanity.
It became apparent that their stories needed to be told before they were no longer able to share them with us. They too deserve to be recognised for their contributions to building our great country. Their qualities, stories and lives need to be documented, shared and disseminated, so as to inspire humanity to transcend the current culture of materialism, power and greed that is tearing our world apart. Their faces alone tell a thousand stories – their photogenic beauty reflecting the kindness, understanding, love and compassion that humanity is so thirsting for at this time of remarkable transformation and challenge in world history.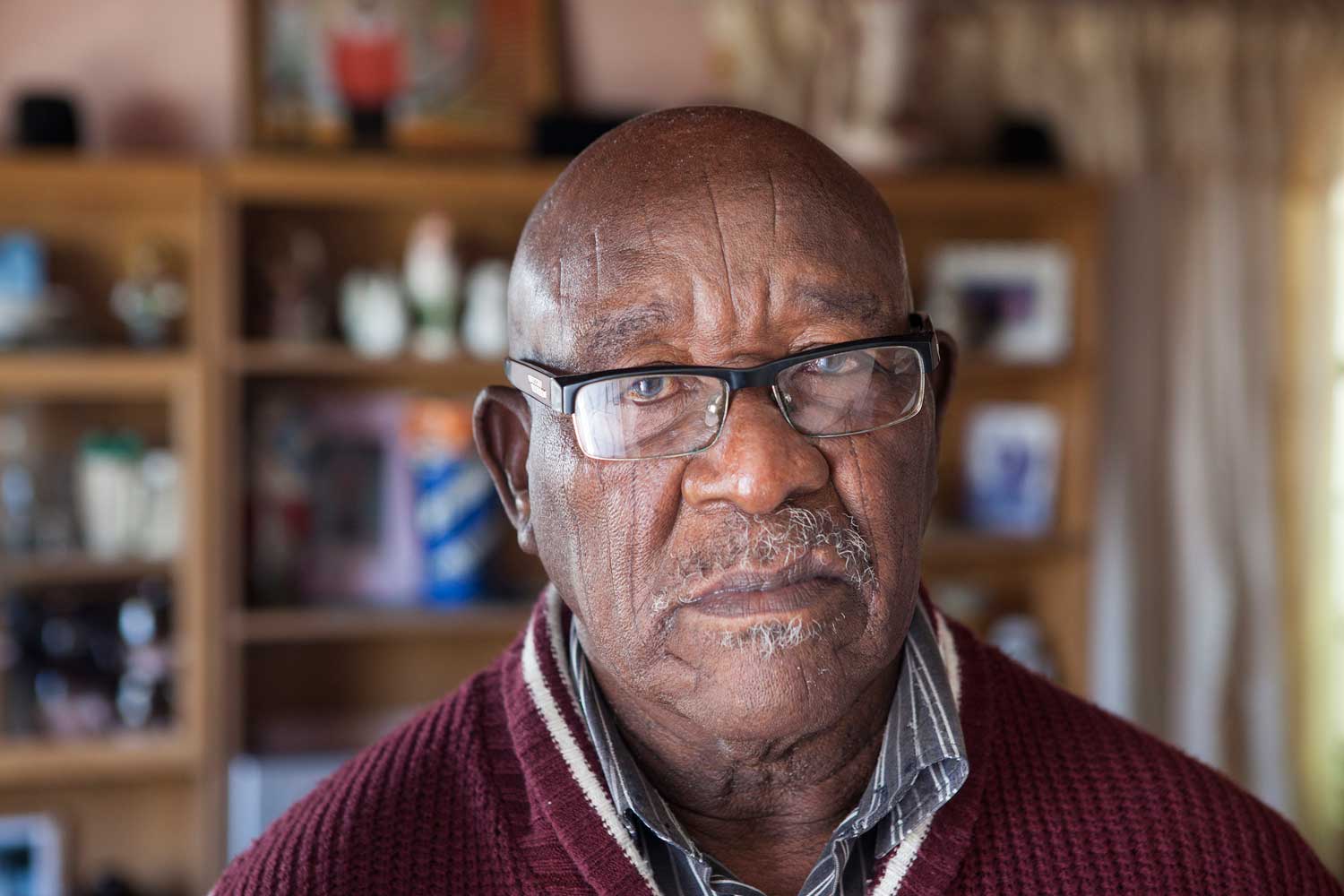 Since our meeting and introduction in 2008, the relationship between myself and the elders has grown in a myriad of wonderful and unexpected ways. They are people who have had very little opportunity to enjoy and appreciated what many others take for granted.
For this reason, I had the pleasure of sharing outings with them to Robben Island, Table Mountain, Cape Point, the South African Parliament, Kirstenbosch Gardens and Solms-Delta Wine Estate. I also felt it was important for them to meet interesting and influential people – people who they generally would have never expected to meet. In 2010 we enjoyed a wonderful and joyous morning with Archbishop Desmond Tutu, who took time out of his busy schedule to visit them in Khayelitsha. We also had tea with Helen Zille, the Premier of the Western Cape and leader of the official opposition Democratic Alliance at her official residence Leeuwenhof. In addition, we had a fascinating morning listening to the stories and anecdotes of Dr Ramphele Mamphele about her relationship with Steve Biko, an icon of the struggle and founder of the black consciousness movement. To many of "the oldies", Biko is an almost mythical figure and one of their own who is arguably one of the greatest South African intellectuals of our time. Recently they were transfixed listening to stories of Arun Gandhi, the grandson of Mahatma Gandhi.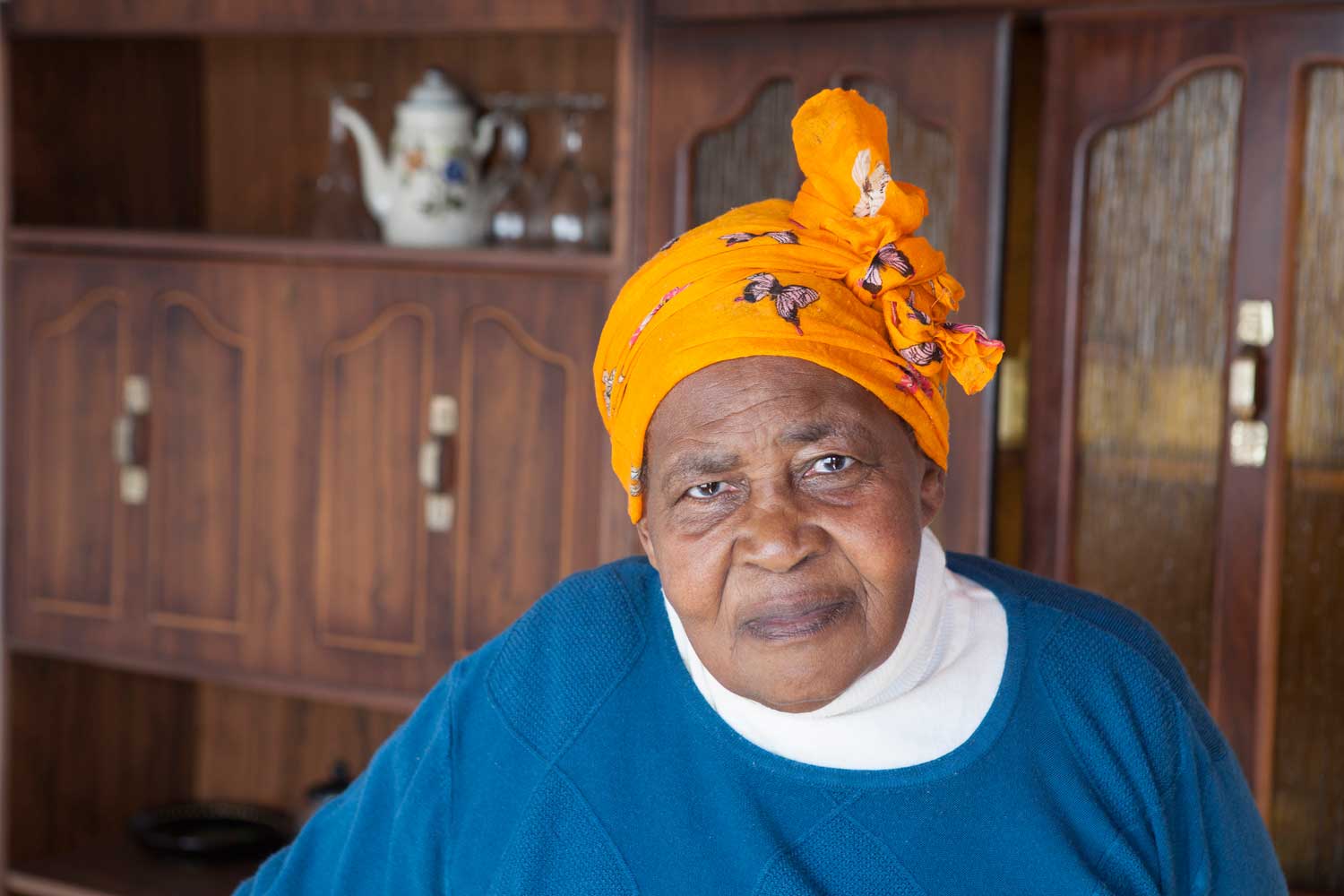 As an organisation linking tourism and community development, Uthando (Love) South Africa has the privilege of taking tourists and visitors to meet and spend some time with "the Oldies", as they are affectionately known, in Khayelitsha. These interactions are conducted in a manner that is respectful, meaningful, authentic and in an atmosphere of mutual learning and understanding about culture, history and, quite simply, shared humanity. Since 2008, there have been far too many magic moments to share in this piece; suffice to say that singing, dancing and embracing ensure that many visitors leave profoundly moved by the experience of meeting these beautiful souls. Conversations With The Elders has been compiled with the utmost care and sensitivity to the Oldies and with the goal of recapturing, recording and reflecting their tales in a sensitive, thorough and accurate way. They are incredibly photogenic and their faces reveal their lifetime of experiences, whilst also reflecting their kind and gentle natures. We have also consulted with organisations such as the Institute for Reconciliation and Justice and the History Department at the University of Cape Town to ascertain the most appropriate and effective manner to prepare this book. As many of "the oldies" are getting on in years, we also felt a keen sense of urgency to bring this initiative to a speedy conclusion. We thus decided to keep the writing to a minimum and focus on the photography. Since the concept was first initiated, one of "the oldies" selected has already passed on. The book thus focused on a few pertinent questions:
What are their indigenous names?
What are the meanings of their indigenous names?
Where and when were they born? (Some of the interviewees don't know the year they were born. Instead, they remember a significant event that occurred in that particular year such as an eclipse or an earth tremor. Many of them were born in the Transkei, a former homeland or Bantustan, that has now been incorporated with the Ciskei, another homeland, to form what is known today as the Eastern Cape.)
What is their English name and how did they obtain that name? (During apartheid and before, white people could not pronounce black people's names, and in order to work black people used a European name.)
What is their defining memory of the apartheid years? (Many of the Oldies talk about their experience with the "dompas", an internal passport called a "dumb pass" that black people had to carry at all times outside their homelands. Not being in possession of one's pass could lead to arrest and imprisonment.)
What message do they want to share with the world?
The generations of black South Africans who endured the long and dark years of apartheid have an absolutely remarkable and truly unique story to tell the world. They have pearls of wisdom for an increasingly dysfunctional modern consumer society. Their stories exemplify the triumph of the human spirit in the face of sustained and profound suppression of their basic human rights and dignity. Their journeys of personal and collective healing and forgiveness resonate with all who meet them. This book is a way of recognising our valuable South African roots, and recording their stories and faces for generations to come. It is also our way of striving to help and care for them in their senior years.
This article originally appeared in the 2017 print issue of THE BEAT.
---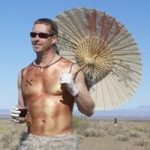 James Fernie is the Founding Director of Uthando (Love) South Africa, We Are Africa's community development partner. To find out more about this project or any others, visit uthandosa.org.