MODERN ART IS RUBBISH: THE KENYAN CREATIVE WITH PUNK ATTITUDE AND FUTURIST AESTHETIC
"No art, no life" is the art-or-die attitude of Kenyan artist Cyrus Kabiru, who talked candidly to TED in 2013 about his anarchistic approach to schooling, his hand-to-mouth life as a young artist, his childhood growing up next to Nairobi's dump site. "I'd like to give trash a second chance", Kabiru would tell his father — and never has an art career been so deeply rooted in rubbish.
Cyrus Kabiru's art is trash. Plain and simple. But his muse is his own antiauthoritarian spirit: "if I go to school, I'll follow teachers. But I have my own art. I have my own way. If I follow a teacher, I'll follow his way." The Kenyan himself admits his two-fingers impertinence has not always been the right path to follow — "having grown up as a bad example, I'm changing, and I'm now a good example to the community" — but it's undeniable that Kabiru's punk outlook on life has fashioned the artist we see today.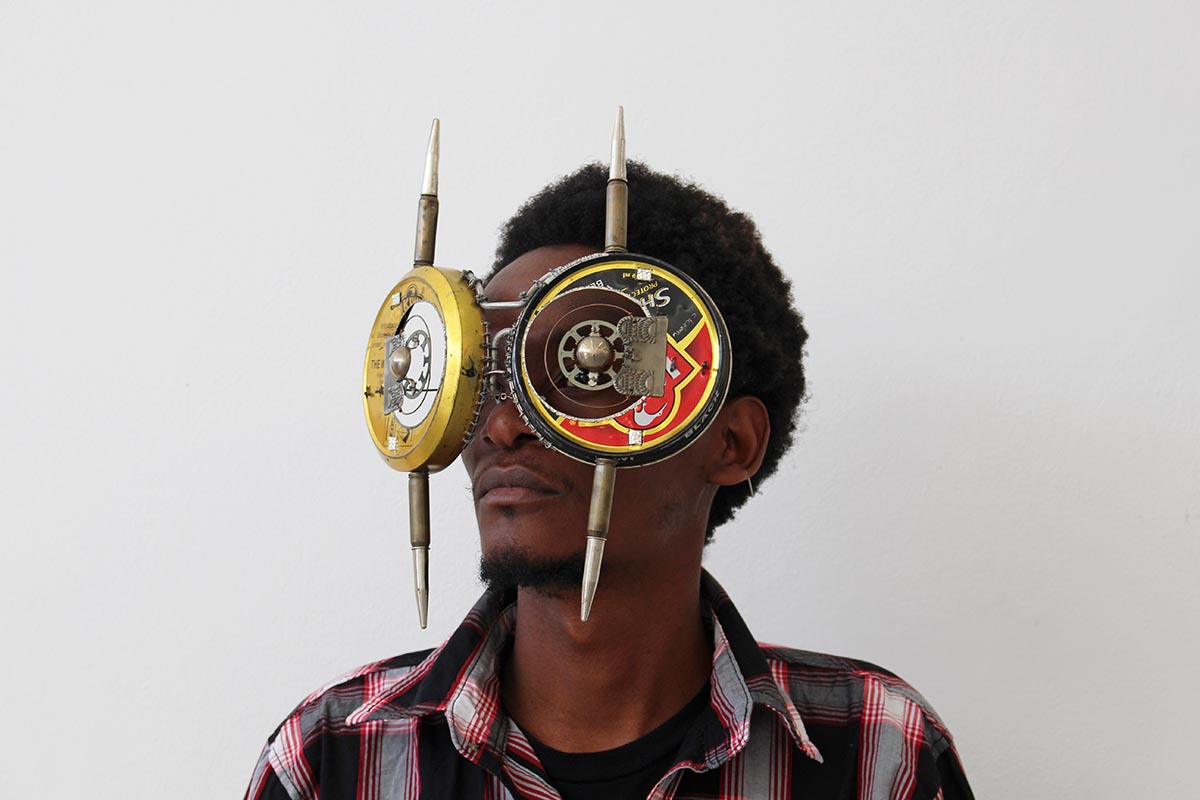 Born in 1984, Kabiru has been making art since he was a child. The works he is most renowned for — his C-Stunners, elaborately detailed eyewear made from found materials — beginning life as a task set by his father to make glasses he'd accidentally broken; an art practice born from practicality, bred by unconformity. Cyrus Kabiru's work embodies the DIY, pioneer's spirit of African art — it is uninformed by Western conventions and free from the boundaries that cultural homogenisation places upon our creatives. The works fizz with the excitement of Westwood and McLaren's punk-defining King's Road boutique, Sex; they speak of the outsider art that Tyree Guyton has created with his Detroit homage to "one man's junk", the Heidelberg Project.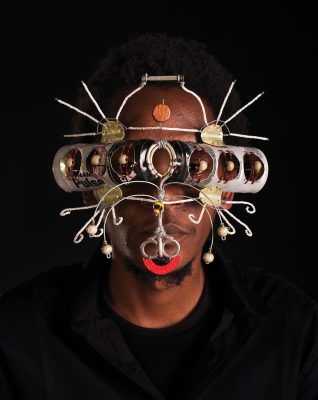 Making them compulsively since a youth (Kabiru has apparently produced over 150, with some 900 plus designs left to complete; "I will probably never stop", he says), his C-Stunners have defined his international regard; they have been grouped into the Afrofuturism movement — an entity in itself that is complex as one of Kabiru's spectacle designs. Outside of its sociological, racial and political intricacies, Afrofuturism's key aesthetic is an amalgam of Afrocentricity and fantasy/science fiction, and here is an artist whose work embraces fantastical thinking — Cyrus's work is clearly informed by African aesthetic, clearly informed by his nation's craftsmanship and identity, but it has imagination and otherworldliness at its heart.
Kabiru's latest project applies his renowned whimsy to Kenya's famous Black Mamba bicycle — in it he has already produced some 15 extravagant reinventions, and again the artist's referencing of his culture's identity is strongly evident. It's strange, because when Cyrus Kabiru talks, he sounds like a man who wants to go against everything, especially his culture: "you study, you finish school, you go to college, you marry, you start your own life, you get kids — as many as you can — that's the end of life. You go around like that. So if you miss one of those things, you look like you're not normal." He says, of the "package" he feels Africans live within. "My dad told me that if I wouldn't go to college, to walk out of his house. And that's what I did. I started my own life."
But perhaps that's it. Cyrus talks of his lack of acceptance, of how his parents, his family, didn't understand what he did, what he wanted to be. How school was difficult, and cutting against the grain was his only choice. His work is fanciful and drenched in imagination, but it is everything his life has laid out for him. The source material the rubbish he grew up among, the aesthetic starting point the cultures that have gone before him. Like Westwood and McLaren, and the snotty punks who adopted their style, perhaps deep down Cyrus Kabiru just wants to be accepted by his people. (For proof of this see: everything 'the punks' did after 1980.)
"Galleries in Kenya don't deal with anyone who isn't from an established artist family", he explains. "In my family, we've never had an artist, so I'm an unestablished artist to them. Two years ago, I put together an exhibition called Established Artists, whereby I gathered the artists who believe that they are unknown." Kabiru wanted to give trash a second chance, and now it's his turn. Internationally renowned for his extravagant elevation of found materials, hopefully now Kenya lauds its own son with the acclaim he's rightly found elsewhere.