STAYING FIT ON SAFARI
An African safari may be one of the most wonderfully indulgent holidays the planet has to offer, but globetrotting guests are increasingly demanding that wilderness indulgence is balanced by time spent focusing on health and fitness.
''Health and fitness shouldn't have to be put on pause just because you are on safari", says Dave van Smeerdijk, co-founder of the Natural Selection collection of lodges, which is expanding across southern Africa.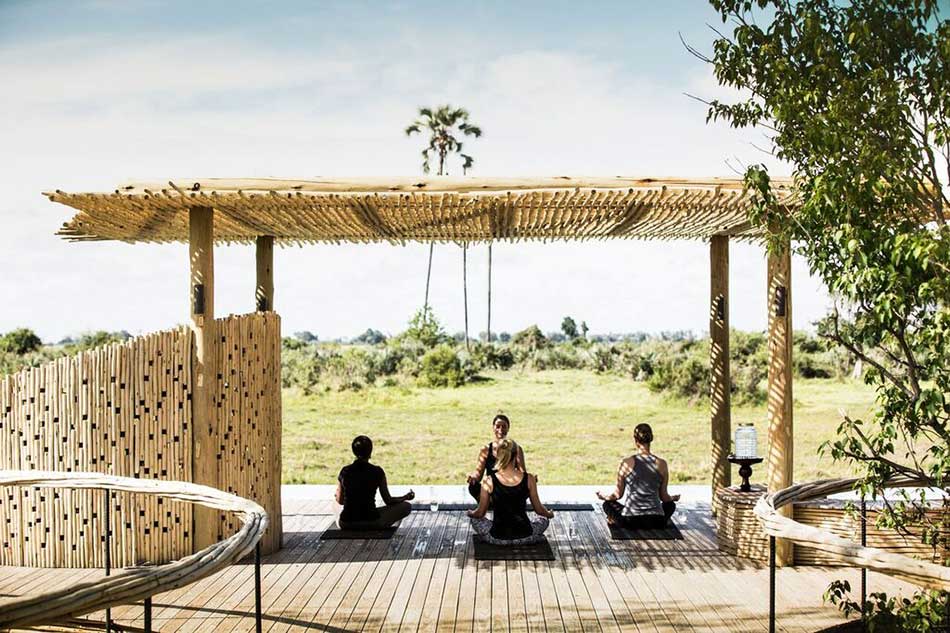 In its simplest form, upscale safari lodges have catered to this need, with the addition of gym facilities and in-room fitness equipment. Wilderness Safaris' revamped Mombo Camp in the Okavango Delta offers a striking new workout space; andBeyond Bateleur Camp has reopened with a dedicated fitness centre overlooking the Mara; while andBeyond Phinda Rock Lodge reopened last year with a new rooftop deck for sunrise yoga and meditation. Ol Donyo Lodge in southern Kenya is also tapping into the global appeal of yoga, with a pair of four-night yoga Wild Studios, where guests can enjoy sunrise and sunset meditation and yoga sessions, and daily yoga workshops in between game drives.

And although numerous lodges have added or upgraded their fitness facilities, guests increasingly prefer to burn their calories in the great outdoors.
"We are slowly introducing new ways to experience the bush, and that means getting out of the car and getting active", adds Van Smeerdijk. "We are continually looking for new ways to surprise and delight our guests."
'Fat bikes' – geared bicycles with oversized tyres that allow them to run easily on soft sand – have recently been introduced at Jack's Camp in Botswana's Makgadigadi, and will soon be available at andBeyond Sossusvlei Desert Lodge.
Mountain-biking trails are also a feature of a number of leading camps: the likes of Loisaba Tented Camp, The Sanctuary at Ol Lentille, Ol Donyo Lodge and Lake Manyara Tree Lodge all offer off-road bicycle trails with local guides.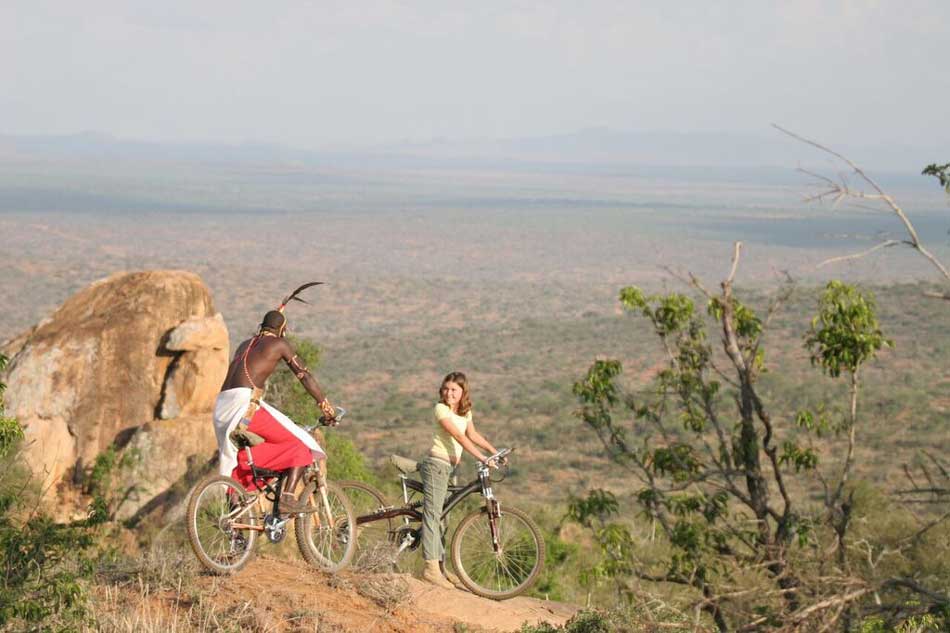 Flagging the growing interest in walking safaris is Caroline Palazzo, Wilderness Safaris' business unit manager for Africa and Latin America: "Our guests are showing an increasing interest in health and wellness, and this ties into the type of activities they choose."
"We have seen a strong increase in demand for more active safaris and lighter menus in camp, and this was a driving force in the design behind the Highlands Camp in Ngorongoro", adds Gordie Owles, group sales director for Asilia Africa. "We wanted to create a camp where guests could be out of the vehicle and exploring on foot. I do not think the solution is a dusty gym facility… We know our guests are looking for experiential ways to keep fit."
At Highlands Camp, that means guests have the opportunity to tackle the Olmoti climb, following a Maasai cattle trail through mountain forest and grasslands. Birdlife is prolific, and the views are spectacular. Equally beguiling is the unique half-day excursion walking down into the Empakaai crater, ending at a soda lake famed for its flamingos.
While fat bikes have neatly taken care of the lycra-clad cycling fanatics on holiday, the sport of trail-running has similarly exploded over the past decade, and savvy camps are increasingly encouraging guests to pack their running shoes for their safari.
"A large portion of our guests prefer to maximise their time spent outdoors when they are on safari, resulting in most wanting to jog outdoors, rather than on a treadmill in the property gym", notes Kathleen Leonard, marketing manager for Cheli & Peacock Safaris.
A number of lodges allow guests to run on the nearest runway – provided they are tailed by a ranger in a vehicle. (As any experienced safari-goer will tell you, airstrips are a favoured hunting ground for hungry lions!)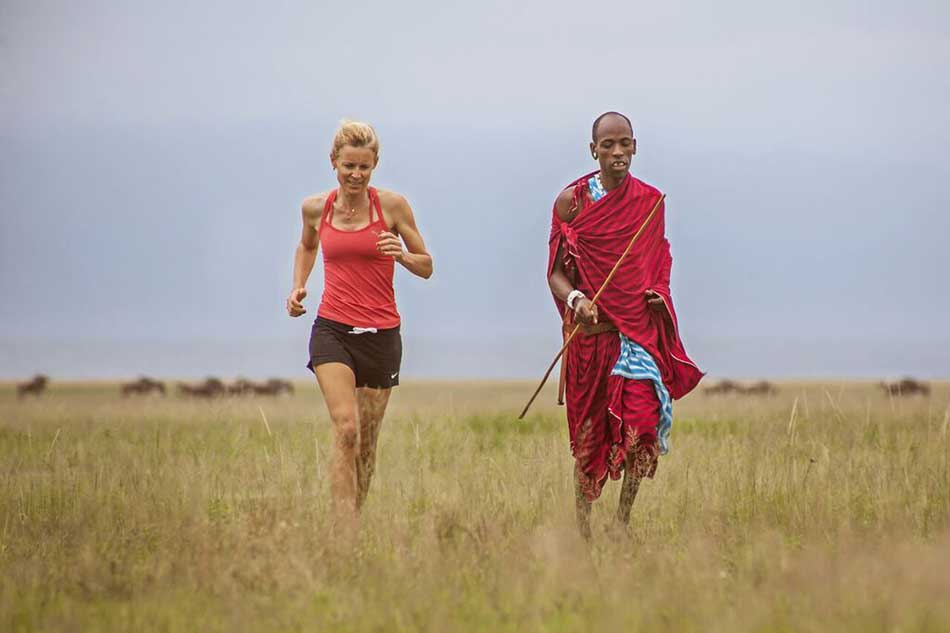 But there are more memorable options, too: at Chem Chem Lodge in Lake Manyara National Park, guests can run with a local Maasai guide; while at Asilia Africa's Ol Pejeta Camp. guests are able to join the local anti-poaching team on their morning run. Though they are charged for activity, the $50 goes directly to the Ol Pejeta Conservancy to fund ongoing conservation work.
Whether it's biking, barbells or boulder hopping on an off-road trail, it's all with the end goal of creating a holistic African safari experience that incorporates wilderness and wellness.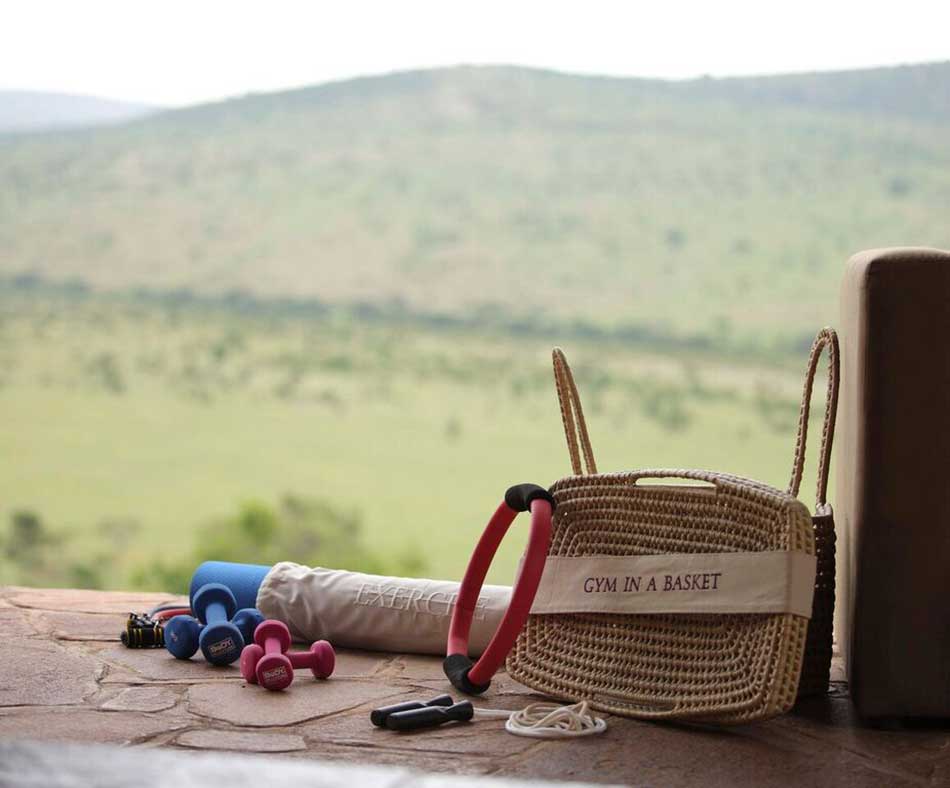 "We're incorporating wellness more and more into our African safari experience", says Joss Kent, chief executive officer of andBeyond. "An African safari can leave you physically healthier and emotionally recharged."