MEET THE TRIBE: VIAJES ETNIAS, SPAIN
MEET THE TRIBE: VIAJES ETNIAS, SPAIN
Meet Noelia Gonzalo from Viajes Etnias in Spain, another one of our brand new buyers to the We Are Africa tribe. Take a look at her story and what she hopes to find at the 2016 show…
Tell us who you are and what your business is about?
I have been working in the travel industry since 1997.
I was always so sure about what I wanted to do in my life and that was to travel, but at the beginning I was so young and didn't have a lot of money, so I started out my 'travelling' by looking through brochures. As the years went on I received different oportunities to travel to different countries, Europe, Brasil, The Caribbean, Egypt and many more but it was not until I opened my own travel agency when I had the oportunity to visit my "homeland" Africa and my first visit was to Kenya.
From that moment on the 'poison' of that land has always run in my blood. This passion I have for Africa is one I try to share with my customers through my interactions with them.
I feel so lucky to do something that I love.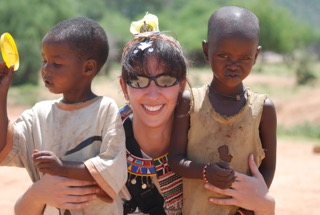 Who is your typical client travelling to Africa and what is their perception of the continent?
Our typical clients are honeymooners and people who are in their 50s and above as they have the money to travel to Africa.
Our clients prefer not to travel to Africa alone and prefer to be assigned a guide. This is primarily because for the Spanish people, the English language continues to be a handicap for solo travel, so they prefer having somebody there with experience to explain everything to them.
What region of Africa and supplier products are you looking to build your knowledge on through attending We Are Africa 2016?
Our company covers more or less all of the African countries but we would like to expand our market in Namibia, Zimbawe, Zambia, Mozambique, Madagascar, Cameroon and more of the coast.
What makes your company, or the people who work with you, different?
We do not sell products, we offer our clients experience.
We belive in what we do and put our passion into every trip we design.
We treat all our clients uniquely and make sure they leave our office excited and dreaming in anticipation of their trip. Everything we offer is tailor-made and from firsthand experience.
We believe that nothing is impossible and always offer the best for each costumer.
We Are Africa's ethos is 'Not One Story'. Tell us your greatest story/experience of Africa.
Every time I am in Africa I feel like I have come back home and everyone I meet there is a friend.
One of my best experiences in Africa was in Botswana and Zambia. I started my holidays in Zambia where I experienced the Victoria Falls and had the oportunity to see Devil's Pool, it was incredible and one of the best experiences of my life – I continue to visit Chobe regularly.
From Zambia I went on to the Delta and during one of the walks there with the guide, I was so intent on seeing any cat that I was walking so slow and quiet that I got slightly separated from the group. Usually I would be so afraid but at that moment I was calm and through the bushes I could see a cat walking very close to us. When the lion was about 3 to 4 metres away from us, I whispered to our guide and my partner pointing it out. I was there, with the lion and just two other people in the middle of the wild. When the cat saw us, it ran away so fast. I was so happy, I faced my fears and was so relaxed just living the moment.
I also enjoyed the mokoro (canoe), listening to nature's sounds, seeing the clear water – it is the best meditation that I have ever had.
Are you an African specialist buyer who stands apart from the crowd? If you'd like to join Sergio as part of the We Are Africa 2016 tribe, as either a buyer or exhibitor, send us your application and we'll get back to you!