WHERE SEA MEETS SKY: AFRICA'S BEST BEACHES
From The Gambia to Kenya, South Africa to Mauritius, Africa's beaches offer everything from buzzing urban marketplaces and extreme sport destinations, to sanctuaries teeming with wildlife and deserted stretches of pearl-white sand.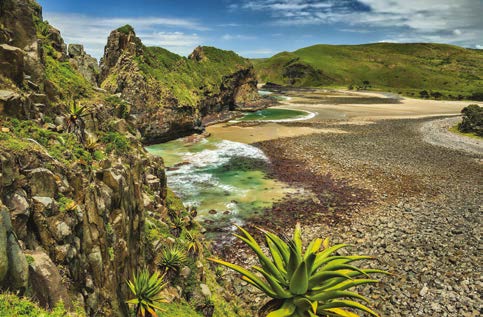 When we're very young, beaches are sensational places to be. Literally. The scent of the air, the screech of gulls, ice cream freezing our tongues and waves tickling our toes – experiences such as these spell happiness, freedom and adventure. Even the sandpapery agony when our parents brush our feet clean at the end of the day seems worth it. It means we're on holiday.
As we grow older and explore more widely, we begin to notice other things. We might discover, for example, that in Africa beaches aren't just places for visiting kids to paddle, skim stones and build sandcastles. Some, like the fishing beaches of The Gambia and Sierra Leone, are marketplaces ablaze with colour and noise. Others double as workshops, with boat builders, artists and craftworkers tinkering on the shore.
What about the wildlife that shares the coast? Many of Africa's most beautiful beaches are precious havens for reptiles, mammals and birds, offering sights as thrilling as any inland reserve. Thousands of sooty terns breed on beaches in the Seychelles; penguins patrol Boulders Beach near Cape Town; and, in turtle hatching season, tiny hatchlings scamper into the Indian Ocean at Diani and Msambweni in Kenya and on Tanzania's beguiling Mafia and Misali islands. In Mozambique, whale sharks and manta rays cruise the blue beyond Tofo Beach; while in iSimangaliso Wetland Park – South Africa's longest-established World Heritage Site – the coast teems with life, from ghost crabs and honey badgers on the sand to bottlenose dolphins leaping through the waves.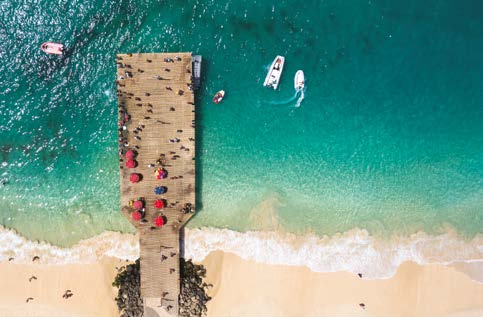 Ultra-desirable beaches like Petite Anse, Frégate or North Island in the Seychelles, the coral sands of the Quirimbas and Bazarutos in Mozambique, or Turtle Bay on Mauritius have a seductive air of exclusivity; but most African beaches are wonderfully informal. Mauritian families love nothing better than to picnic on one of the island's many public beaches on a Sunday afternoon. Bringing cooler boxes packed with golden samosas, rotis and spicy sauces, they kick off their sandals and set themselves up in the shade.
If you prefer your afternoons on the coast to be a little edgy, perhaps with some world-class windsurfing or kitesurfing thrown in, you'll love the breezy Atlantic hotspots of the Canary Islands, Senegal and Cape Verde. If, on the other hand, your idea of heaven is a beach so wild and empty that yours will be the only fresh footprints in the sand, you could lose yourself on the long blonde strands of Madagascar's remote southeastern or northeastern shores.
South Africa is blessed with the continent's best urban beaches – inspiring, accessible places to take the kids, surf, or simply hang out and look cool. Capetonians are spoilt for choice: in Table Bay and False Bay the ocean may be cold, but the scenery is utterly beautiful. If you only have time for one or two, choose Bloubergstrand, with its classic view of Table Mountain, or Camps Bay at sunset. In Durban, you'll find warmer water and a vibe to match: relaxed, multicultural and fun. The beaches here are fabulously spacious; famous for surfing, they're also popular with swimmers, runners and sand sculptors.
Want to feel like an explorer? Seek out Praia Sundy on Príncipe, a little-known island that erupted out of the Gulf of Guinea some three million years ago. Sundy is the stuff of old-fashioned adventure stories – a Robinson Crusoe scrap of golden sand, tucked beneath startlingly steep, jungle-clad slopes. Like all the best beaches, it has its own, special magic. And it'll make you feel like a kid again.