A HORNY ISSUE
A HORNY ISSUE
INVESTIGATING OUR TRIBE'S FIGHT TO SAVE THE RHINO
WORDS BY OLIVIA SQUIRE
"In 30 years' time will Africa still have a tourism industry based on wildlife? This is the question we need to ask ourselves today" – Colin Bell, 2014 Conservation Lab
As Africa continues to transform into a fast-moving beacon of economic and cultural opportunity, we risk losing those natural assets that have been there since the beginning: its wildlife. The rhino is more than just a species, but also a true symbol of Africa's innate natural beauty and history. However, the rapid decline of the species since 2007, when the current rhino horn poaching crisis began and has now reached its highest levels since the early 1980s, means that the rhino is at risk of being remembered as nothing more than a symbol by future generations.
A rhino is lost for its horn every 9 hours across Africa; there are fewer than 18,000 left in the wild; and last year more than 1000 were slaughtered in South Africa alone, compared to 13 in 2007. Whilst the horn-poaching crisis is a huge and complex issue with no easy solution, the tourism industry has a particular opportunity to protect the rhino and is already beginning to make headway in this area. Following World Rhino Day at the end of September and the Global March for Elephants and Rhinos in October, we're taking a look at how our tribe members are making their tourism activities count for this magnificent species.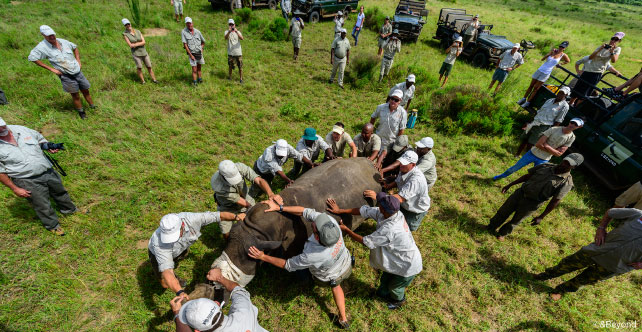 Translocation is one of the key ways to manage discrete rhino populations to prevent inbreeding, as well as offering protection by moving them to safe havens when anti-poaching measures have failed in their current location. Travel suppliers, especially those with private reserves, have an opportunity to support government efforts in this area – for example, Kruger National Park recently invited bids for 500 white rhinos in an attempt to move them to safety under soaring demand. In 2013, WAA tribe member &Beyond took active steps in this area by carrying out the first ever private game reserve donation of rhino to another country, translocating six white rhino from &Beyond Phinda Private Game Reserve in South Africa to Botswana's Okavango Delta. This process began even before the rhino arrived, with &Beyond providing intensive tracking and monitoring training for game scouts from Botswana. Since being successfully released, one female has given birth and all seven rhino are doing well in their new environment. The success of the project, which also won last year's Conservation Project at the We Are Africa Innovation Awards, has led &Beyond to embark on fundraising for additional projects with industry partners to translocate up to a further 100 rhino, each of which will be tagged and microchipped and monitored by a dedicated anti-poaching team alongside Botswana government agencies. To ensure the long-term success of such projects, 60% of the money raised will go towards the continued conservation, protection and monitoring of the species in rhino populations in both Botswana and South Africa. Crucially, part of this continued conservation effort would be dedicated towards community outreach, including incentives for information leading to the arrest of poachers.
Another notable tribe member, Great Plains Conservation, is one of the partners joining &Beyond in the initiative to translocate 100 further rhino, with CEO Dereck Joubert commenting "I don't believe in branded conservation – it needs to be something we all get behind to save a species". GPC's fundraising initiative, Zeros for Rhinos, is aiming to raise $8million through its non-profit partner Great Plains Foundation, including money raised through a limited number of safari bednights and over 90% of guest stays in Zarafa or Selinda.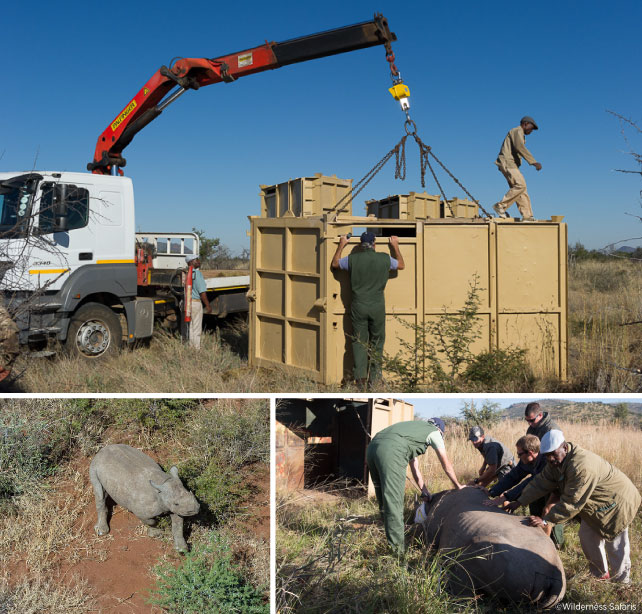 Wilderness Safaris has been pioneering rhino conservation in Botswana for more than a decade by reintroducing South African black rhino to a safe haven in Botswana. The Botswana Rhino Reintroduction Project is a long-term collaboration between Wilderness Safaris and the Botswana government to address the collapse of rhino populations in the country: in 1992, there were less than 19 white rhino left in the wild and black rhino were classified as extinct. Now, thanks to the efforts of the programme, there is a healthy breeding population of white rhino and the beginnings of a viable population of black rhino, with ongoing support through study and monitoring of the species.
On the other side of such partnerships, Borana Conservancy (The Safari & Conservation Company) in Kenya opened its reserve to 21 black rhino in August 2013 in an effort to provide safety for the species. Moreover, Molori Safari is making rhino conservation a direct part of its tourism efforts by partnering with the Madikwe Game Reserve to offer guests the chance to participate in the notching DNA sampling and microchipping of its rhinos' horns. This allows the park to identify and track the local rhino population. Molori also works with the Ichikowitz Family Foundation to assist the North West Counter Poaching Unit and SANParks to ensure they have the correct equipment and training to deal with the onslaught of poaching, and with local field guides and communities to educate the youth about conservation and the importance of sustainable biodiversity for Africa.
The long story of the rhino is one that will be decided within our lifetime. Consequently, the efforts of our tribe to educate travellers and communities to safeguard this future are pivotal. Half of the solution to poaching arguably lies in stamping out the demand for rhino horn in consuming markets such as Vietnam and China, as there are simply not enough animals to satisfy the market if the appetite in these regions grows. Lobbying to engage with foreign governments in these emerging markets to raise awareness and puncture the myth of rhino horn's medicinal or decorative uses will therefore by key. Nonetheless, conservation projects like those being undertaken by the WAA tribe are crucial to protect the existing populations and incentivise local communities to join the fight against poaching.