KEEPING IT KWANINI: THE MANTA RESORT EXPLAINS WHY TRAVELLERS ARE FLOCKING TO PEMBA ISLAND
Following their win of the 2016 BRAND AFRICA Innovation Award, Olivia Squire talked to Matthew Saus and Mikael Genberg of The Manta Resort and The Underwater Room about translating media attention into action, responsible tourism, and using Instagram-friendly design as a catalyst for conservation and conversation.
We Are Africa: Where did the idea for the Underwater Room come from and what challenges were involved in making it happen?
Mikael: That's an older story than this one. Sixteen years ago I opened a small underwater room in Sweden, in my hometown. I was working as an artist and I wanted to prove that you could sleep under the water. And what happened was that people started to come from all over the world and they wanted to stay there. It's a lake and it's murky, so I thought it must be possible to find a better place for an underwater room. I realised that there weren't any on the planet, and the planet is 78% water. And then I met this guy, Matthew, and I told him the whole thing, and he said let's go down and have a look in the Indian Ocean and see if we can find a better place around there. We found this island, Pemba, which I had never heard of, and we said we'll build it here, or nowhere.
We redeveloped it, redesigned it, made it bigger, made it more for another kind of audience, and acquired the existing dive lodge: but the goal was all the time to get the underwater room there. But it took longer than we thought – it was a lot of nice, interesting challenges. Two and a half years later, it was done.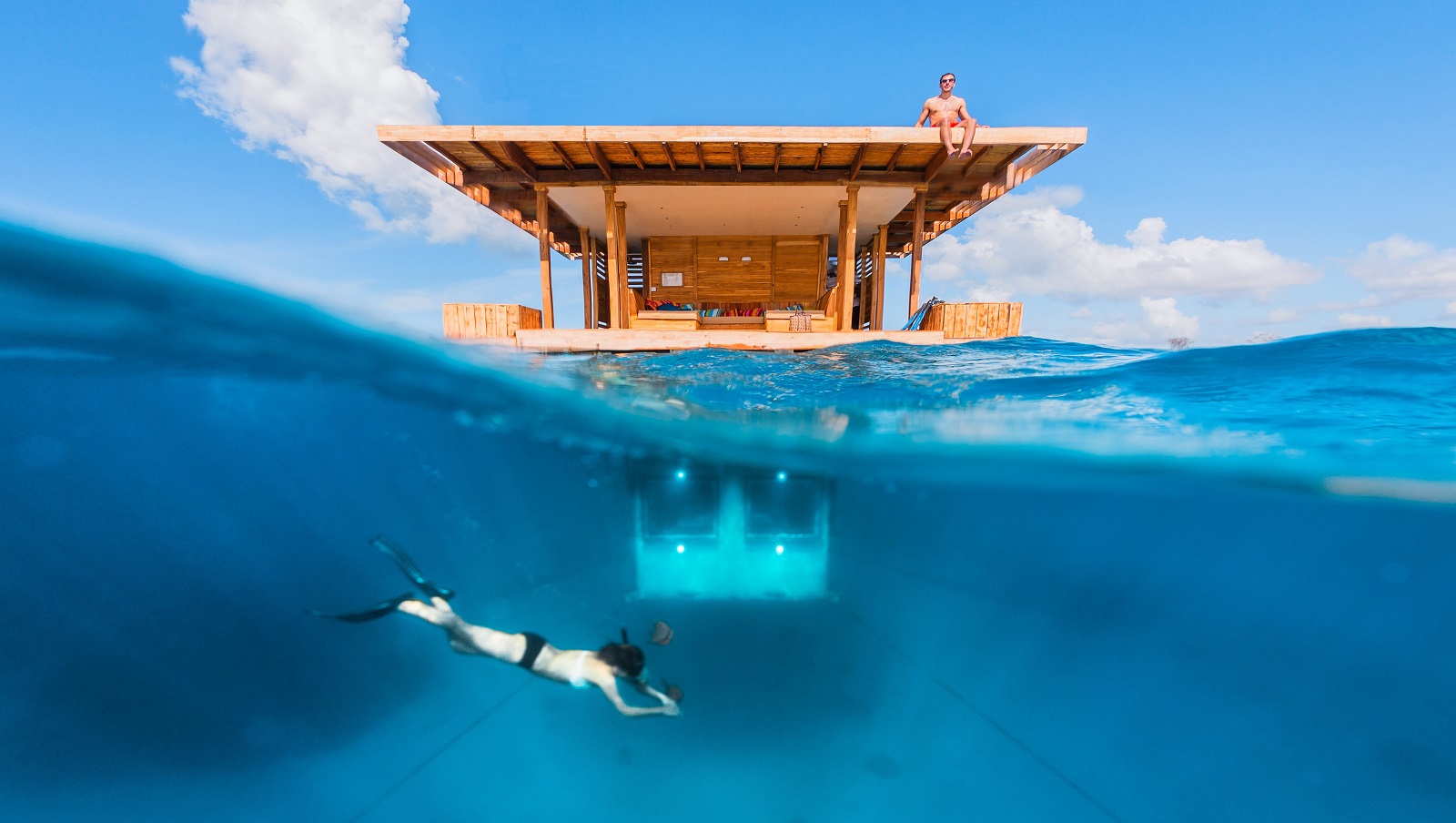 WAA: It must be really technically challenging, because you've got to build something that doesn't negatively impact upon the environment.
Matthew: Well, the Underwater Room actually helped us to get the conservation area – it was a catalyst to communicate the issue of the environment and conservation. The island is reliant on the sea for nutrition – it's key to the survival of the island. Because of the Underwater Room, we've now got this amazing conservation area.
Mikael: And we found that in itself, it's actually improving the underwater life. It's not destroying anything – on the contrary it creates a new reef. It's started to get all this coral growing on it, so we're creating an artificial reef that you can actually sleep inside – in a few years it's going to be covered in corals.
Matthew: So when they did the Environmental Impact Assessment, there was no negative impact, there was only a positive one.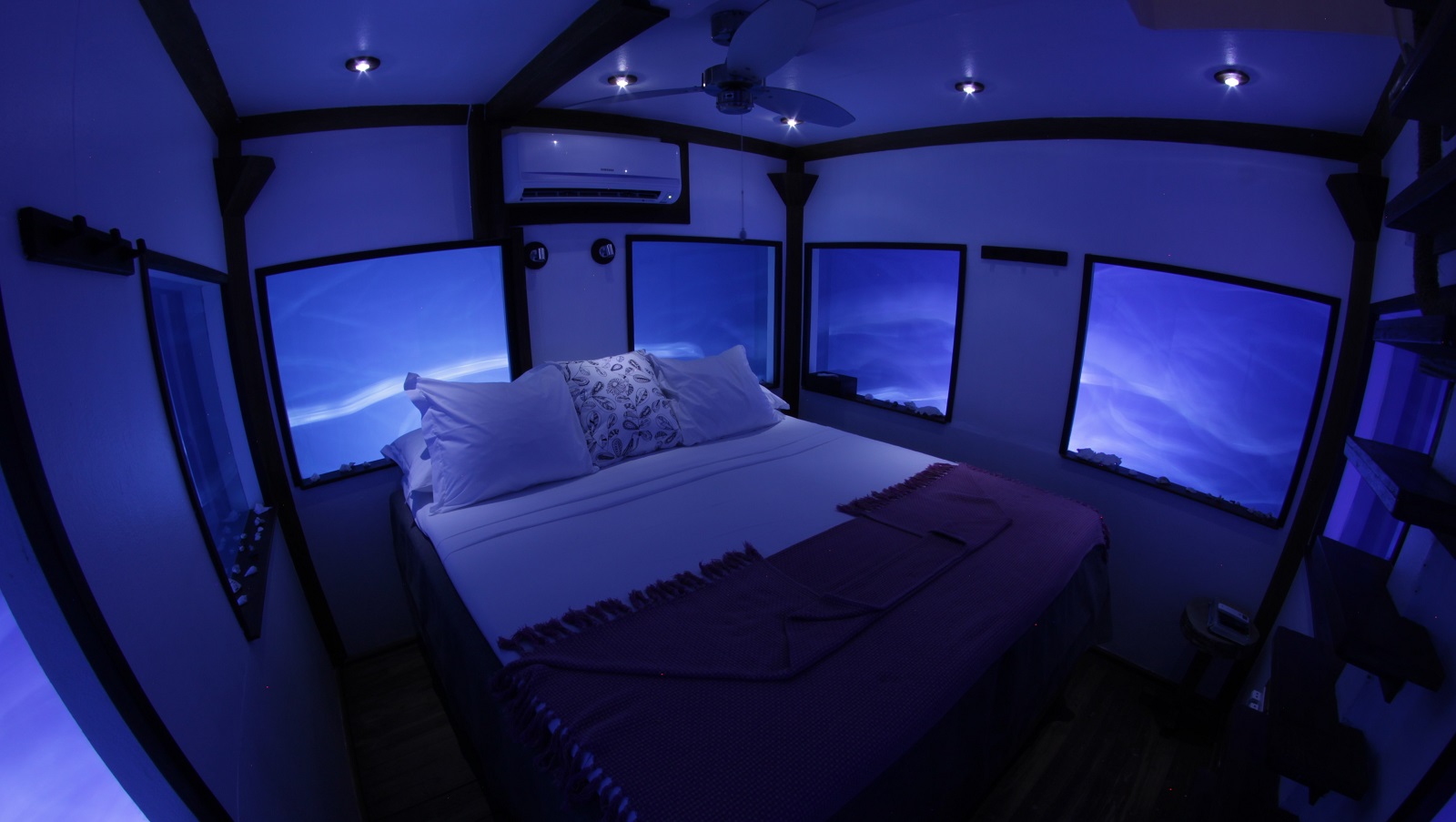 WAA: It attracted tons of media attention. Did that come as a surprise, or was that always the strategy?
Matthew: We knew it would be very interesting for the media. But we never knew that we'd be able to tell other stories about the island.
Mikael: It was more than we expected, actually. But the media attention, yes – to be honest with you, I think I actually saw it. Sixteen years ago when the first one was built in Sweden, 'going viral' didn't really exist – with this, it just exploded! We were the biggest news on CNN that first day that we launched and then it just spread all over.
Matthew: 54,000 hits in the first hour of the launch on CNN Traveller. They shut our website down! It was inevitable that it would catch on and there would be traction, but the challenge is, what do we do with it?
https://www.instagram.com/p/BQq28O_FMpJ/
https://www.instagram.com/p/BSOTq7pjJP_/
Me: Exactly: you've got all these views, but how do you translate them into action and immerse people in what you are trying to do? The people that have come to stay, do you find that they get it?
Matthew: Oh, absolutely.
Mikael: I think all people who dive are interested in preserving underwater wildlife. Everyone who goes on safari really feels like they want to save animals – and the same goes for people who come to Pemba.
Matthew: The problem is, it's a very small percentage of people who actually get to experience it. So what do we do with the other millions who see this underwater room, understand there's a link to nature, love the fact that it's in nature, watch all the videos about the fish, and make them understand?
It's important for us to discuss what the room has really done. I always ask the question "why?" We tell people our reasons for creating the room, our reasons for being on Pemba, and our aspirations for the island. You will always naturally be drawn to someone who believes the same things that you do. And that's what it's all about for us – we're trying to create that traction. So it's all about sharing it and making sure people understand why we do what we do – not what we do, necessarily, but why we do it.
Mikael: I think if you look at the tourism industry as a whole, a lot of it is driven only by making money. However a lot of people in the high-end industry actually have other driving forces – they're driven by saving nature. And what this underwater room does for Pemba is that it highlights it, in the same way as if you go up to the gorillas you don't go there to exploit them, you go there to highlight them so that they won't be taken away or destroyed. We really love this island, and we share that with the people who work for us and the people on Pemba. So maybe the most important for us now is to see that it doesn't get destroyed. This could be in so many ways – and tourism can be so uplifting, it can be so highlighting, it can save – but it can also destroy. It depends what you do and what kind of people come there.
Matthew: And that's why we ask the question, "Why do you want to come to Pemba?" We want people to say, "We want to come to Pemba because it's so remote. We want to meet real people on a real island" – these are the reasons why we want people to come. Why did we put the Underwater Room there? Because we wanted to highlight the environment, and it all comes about when you answer that question.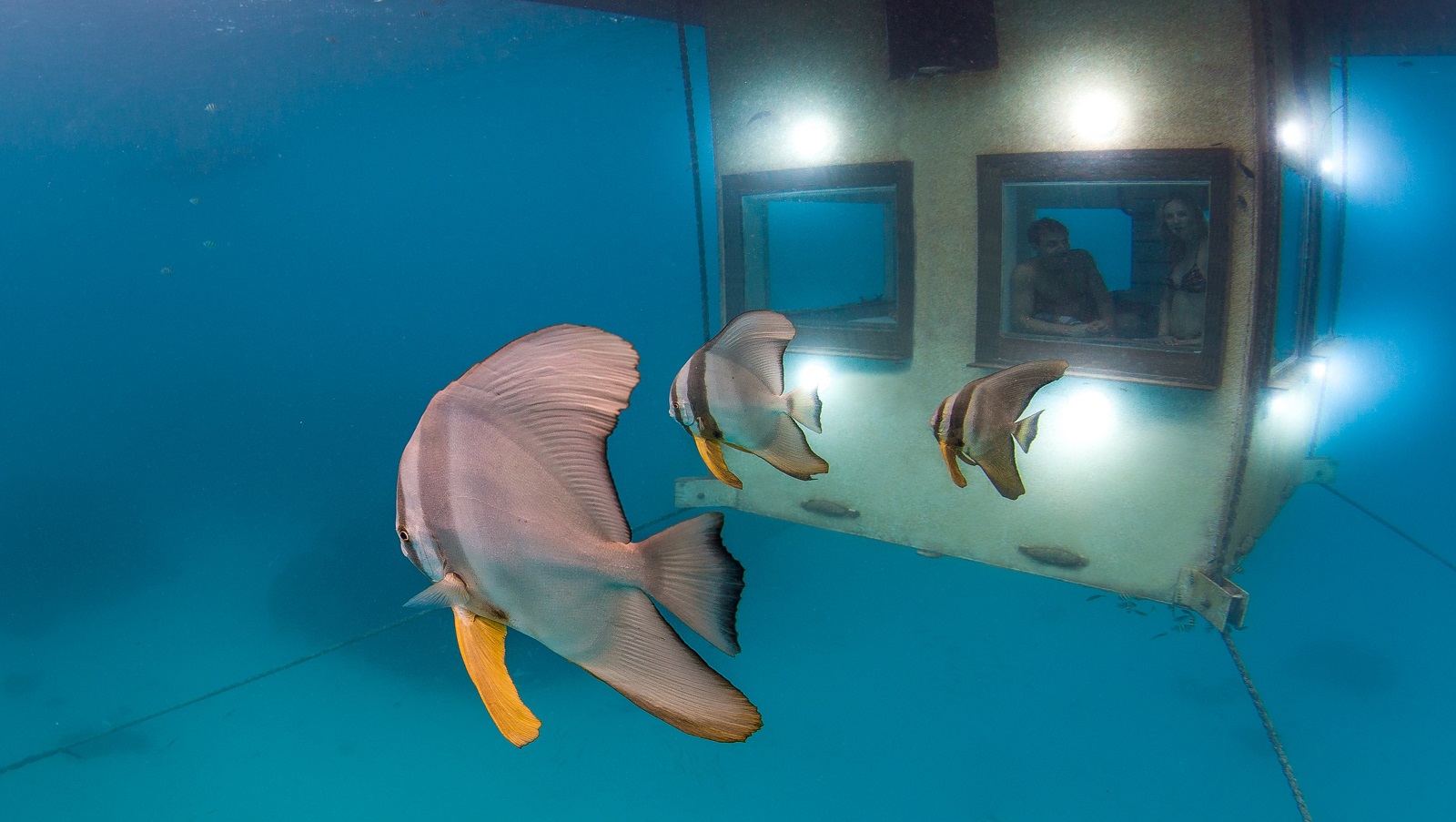 WAA: You won the BRAND AFRICA award in 2016. I think one of the criticisms people have of the luxury tourism industry is that it's a bit slow on the uptake when it comes to marketing to a new generation, so what you're doing is a completely different angle, and obviously that's worked for you. Are there any lessons we can take from this about how to promote destinations?
Matthew: I think again, the lesson is in the reason people will travel to something like this. If we really get to share that message about why we are on Pemba, what the people of Pemba want, for themselves and for the future, then more of the right type of people will come – and they won't exploit it in the wrong way. You're not going to end up with the negative aspects of tourism. If you do something for the right reason, it'll follow.
Mikael: I also think that if you really want to do something extraordinary, you have to have other driving forces than the traditional ones. You can't have a driving force only to make money, you can't use only existing competencies – you have to take risks. You need to try and break out of the boundaries that tourism, like any industry, has about what's possible. The driving force has to be from the creative side. We have to see what do people actually like, how far are they willing to do with this?
Matthew: The BRAND AFRICA Award was for 'Kwanini (Why) Pemba'. And that's the question: why come to Pemba? We ask that question. We ask it in the whole process of managing guest expectations – we ask them, why are you coming here? Why have you chosen us? If they get hold of us because they saw the room and they saw this conservation area and they saw this amazing environment and they want to be part of that – and then, hopefully, they've seen more aspects about the people on Pemba, about what the future of Pemba is going to be, and they're coming to look and see and understand that. Then we've done it. Then we've achieved it.
Mikael: We ask the staff as well: why do you work here? Do you know what they answered after a while? "Why are you here?!" Then we had to look, what is the common thing here that we can all tap into, because when we scraped a little bit more, it's actually about love for the island. That's where we ended up meeting each other.
Matthew: It's for the future of Pemba, and we all believe in the same thing; we're all working towards that.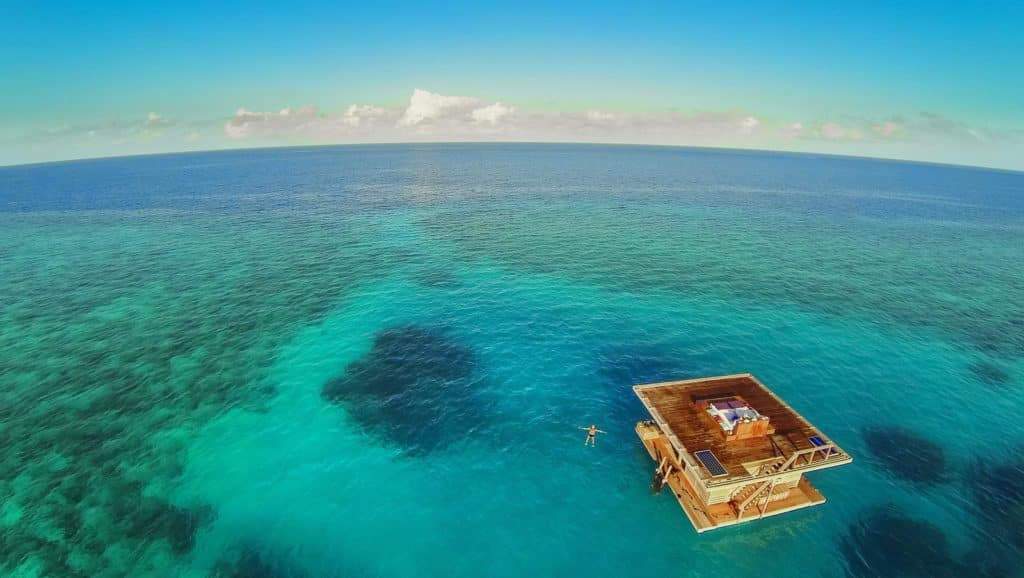 Mikael: And maybe Pemba can be a role model. Parts of the planet are still being exploited. People have to be able to go there, because that's highlighting it, but they can't exploit it in the way that they have done in some places, because then it's just ruined.
Matthew: The Manta Resort on Pemba Island is actually a role model now. We've been holding a Kwanini conference since 2012. We've invited every stakeholder in tourism in the area – the government, local leaders, religious leaders, teachers – everyone that's basically involved in tourism, and once you start asking who's involved in tourism, this is what you end up with. So we had everyone there, and we asked them why. And we got unbelievable answers. The people of Pemba were very resistant to tourism because they saw other tourism in other areas that wasn't what they were hoping for their children in the future. So they were talking about, how can we do it? How many investors do we need? Why do we need to get better investors in? Why do we need to get guests who are going to respect the island (it's a very traditional Muslim culture)?
Six people in the Manta family take care of one guest, as opposed to the lower end of tourism. So the fewer hotels on the island, the less impact – the less environmental impact, the less social impact – and really the same revenues coming in. So it all makes sense – it's just a matter now of spreading that word and again, using all those views. The Underwater Room is just a catalyst.
Mikael: It's almost created a philosophy now where when guests arrive, we ask 'are they Kwanini?" We'll say "not yet, but give them a couple of days and they will be."
Matthew: Do they care? Have they asked you about you – are they engaged enough? Are they asking about the conservation area? Are they Kwanini? And this tribe here, the We Are Africa tribe, they are Kwanini!
Let's get a microphone here and ask every single person why they do what they do: and I guarantee that every answer would be Kwanini. 90% of them will tell you it's because they love Africa – they have an emotional connection to Africa, and they want to do good things for Africa.
Mikael: It's like when people say, "Oh I've been longing to go to Africa my whole life", and you ask them where they want to go, and they say, "I don't know!" So you don't know anything about Africa! They don't even know how many countries exist in Africa. Maybe sometimes you have to put a little more effort into your dreams.
https://www.instagram.com/p/2iivdBvqv-/
WAA: What's next for the Manta Resort?
Matthew: We're going to do some stuff. We've got plans.
Mikael: There's maybe going to be some new underwater rooms, maybe not on Pemba, maybe somewhere else – we're open to opportunities to work with other people to develop the same things in different destinations, if we like the place and the people – if they're Kwanini, we'll work with them.
Mikael: It's an amazing thing today that if you create something extraordinary that people see, the world knows about it. And then you don't need to spend money and effort on marketing, because then it's for real, in a sense.
Matthew: You just need to tell the right story – the one you want to tell.