THESE 5 'FLOATING' HOTELS ARE WHAT DREAMS ARE MADE OF
From its remarkable landscapes and rich cultures to the wonderful diversity of its people, Africa is nothing short of extraordinary. So, when it comes to choosing a place to rest one's head for the night, travellers are increasingly searching for a bed that meets the high standards set during daylight hours.
Happily, there's no shortage of unique hotels scattered across Africa. Whether it's the cool breezes of a treetop eyrie; the ghostly glow of moonlight filtered through the ocean; or the gentle whisper of a great African river running beneath the hull, we've rounded up Africa's most memorable 'floating' hotels, boasting rooms and suites where you'll want to stay awake late into the night, soaking up every moment of dreamlike wonder and discovering yet another unforgettable corner of Africa.
---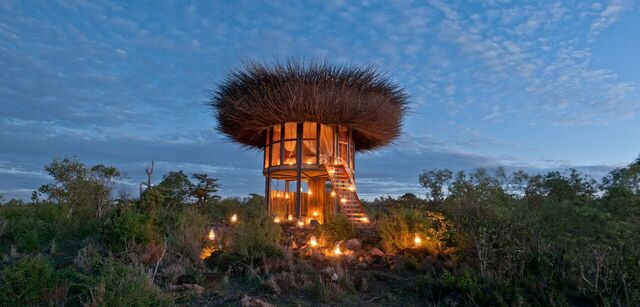 With the snow-capped peaks of Mount Kenya to the East and the Great Rift Valley to the West, Segera's location on the scenic Laikipia Plateau is already one of the finest in Africa.
Long famous for its eclectic accommodation and superlative service – not to mention that Segera is home to the original yellow bi-plane from the film Out of Africa – the opening of the NAY PALAD Bird Nest in late-2017 has launched Segera on to a thousand bucket lists.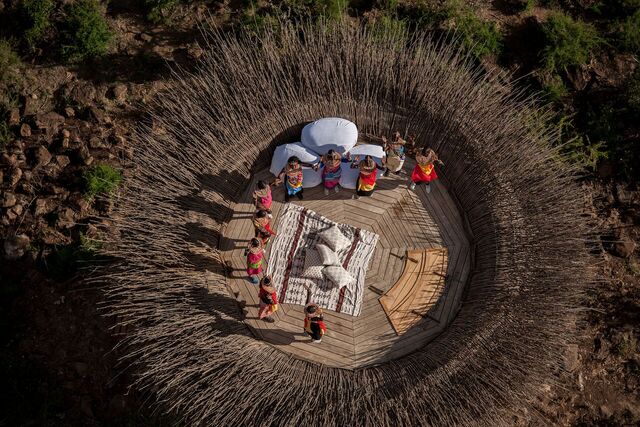 A collaboration between Segera, designer Carolin Dekeyser, and architect Daniel Pouzet, the Bird Nest has fast become one of the most remarkable sleepout experiences in Africa.
The raw materials – commercial timber and natural tree branches – have been woven into a 'nest' by members of the surrounding community, the striking crown of branches topping one of the most luxurious suites on the continent. Indoors, the main bedroom boasts all the luxury you could ask for, from a king-size bed to fully equipped bathroom with running water and a flush-toilet, while a rooftop deck offers the opportunity to dine and sleep under the stars.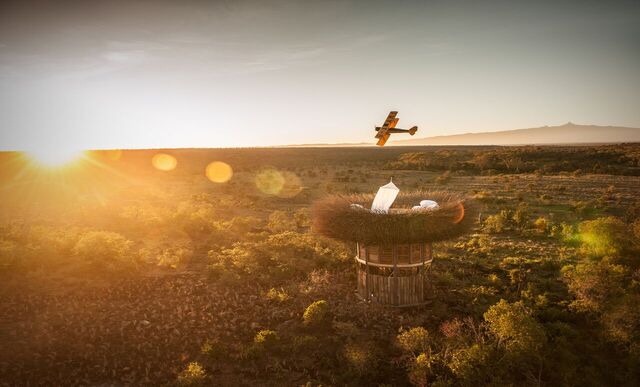 "We cannot wait to welcome our guests to this peaceful haven and offer them a truly authentic and unique sleepout experience – one that is sure to surpass expectations", commented Segera's General Manager, Jens Kozany.
The NAY PALAD Bird Nest experience is included for guests staying at Segera Retreat for five nights or longer. Alternatively, the Bird Nest Experience is priced from US$1150 per night.
---
Underwater Room, The Manta Resort
For a room with an unusual view, it's hard to beat the Underwater Room at The Manta Resort on Pemba Island.
Although that's not entirely accurate: this one-of-a-kind suite is actually moored 250-metres offshore from the island's sparkling white beaches. Anchored securely in a coral lagoon that forms part of a marine conservation area, the Underwater Room is split across three levels. A rooftop sundeck allows for suntanning and stargazing, while the water-level landing deck includes a rustic-chic lounge area and bathroom facilities.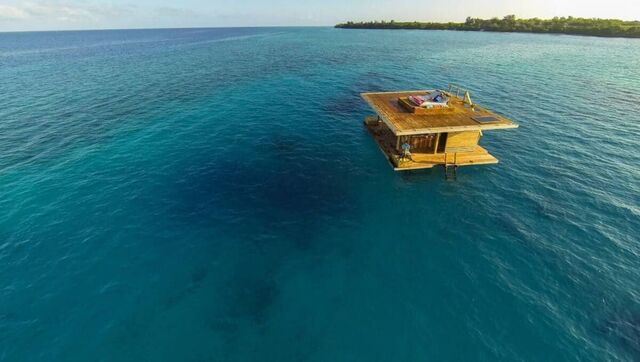 But it's below sea level that the fun begins, with a spacious double bedroom surrounded windows offering panoramic views of the surrounding coral. After dinner – delivered by boat on request – fall asleep to the glow of underwater spotlights that attract the reef's nocturnal inhabitants.
---
While the Zambezi River may get most of the attention for barrelling headlong over the famed Victoria Falls, when it comes to world-class watery game watching, it's the Chobe River in north-eastern Botswana that delivers the goods.
And while day trips are easily arranged, an overnight stay on one of Africa's great rivers is an experience apart. Stepping aboard the Zambezi Queen is like wandering into an intimate boutique hotel, with classic-contemporary décor by acclaimed South African fashion designer Jenni Button.
This five-star, 42-metre luxury houseboat blends personal service and opulent suites with the chance to cruise up close and personal with African wildlife. The Zambezi Queen offers 14 spacious suites, each with air conditioning, a private balcony and ensuite facilities.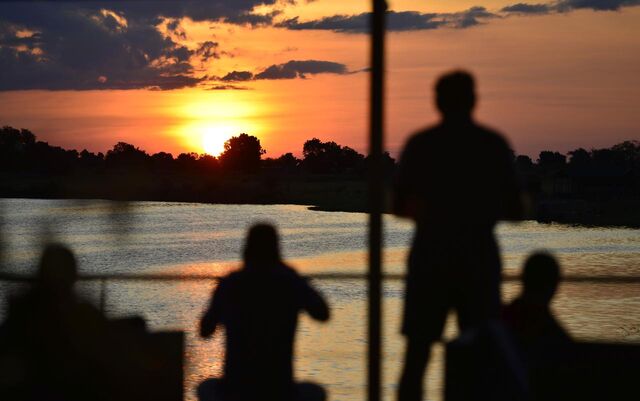 If guests aren't lazing by the pool, days are filled with water-based safaris, bird watching, or perhaps casting a line for tiger-fish, before returning to the boat for an evening in the stylish upper-deck restaurant and lounge.
---
Chalkley Treehouse, Lion Sands Private Game Reserve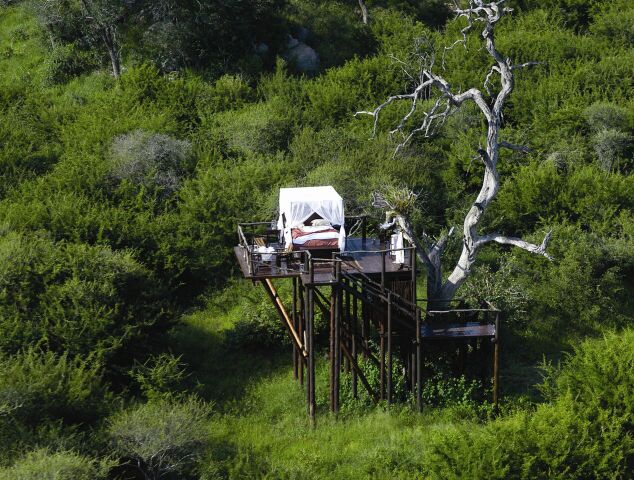 Set high in the boughs of an ancient Leadwood tree, the Chalkley Treehouse is surely one of the most romantic sleepouts Africa has to offer.
With a four-poster bed swathed in mosquito nets and fine linen, there are few better ways to blend the Big Five with a five-star sleepout.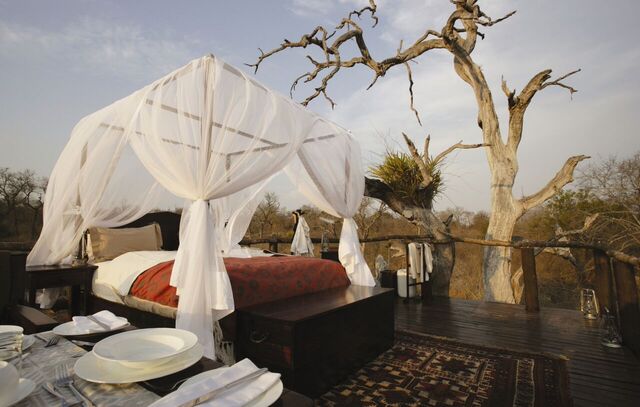 Treehouse guests leave their luggage at one of the three Lion Sands lodges, enjoying a picnic dinner and sundowners atop the treehouse. As the sun dips, it's the sound of keening bush babies and laughing hyenas that will (perhaps) lull guests off to sleep. Don't go to sleep too early, though – you'll rarely enjoy as fine a view of the Milky Way.
At dawn, guides return with hot coffee for a morning game drive through the predator-rich reserve.