HOW DIE ANTWOORD'S ABRASIVE OBSTINANCE CAN SHAPE SUCCESS
"I'm a piece-of-shit scumbag; I'm that person you hate; I'm that thing you're embarrassed about." Die Antwoord's Ninja – his real name being Watkin Tudor Jones – is explaining the concept of 'zef' (think 'chav' or 'trailer trash'), the outsider Afrikaans culture that has defined their decade in pop-art provocation.
The act has been a kind of confrontational global phenomenon since BoingBoing.net blogged about them on 3 February 2010, with the long-time player on South Africa's hip-hop scene forming the group with then-partner Yo-Landi Vi$$er and producer, God, two years prior. They progressed from playing in underground clubs in Cape Town and Johannesburg to drawing a crowd of 30,000, as they shared the bill at Coachella with the likes of Jay-Z and Thom Yorke in a matter of months. Divisive to the extreme, Die Antwoord now count Aphex Twin, David Lynch, and Damien Hirst amongst their fans, the latter of which immortalised Yo-Landi in sculptural form as part of his latest exhibition, Treasures from the Wreck of the Unbelievable.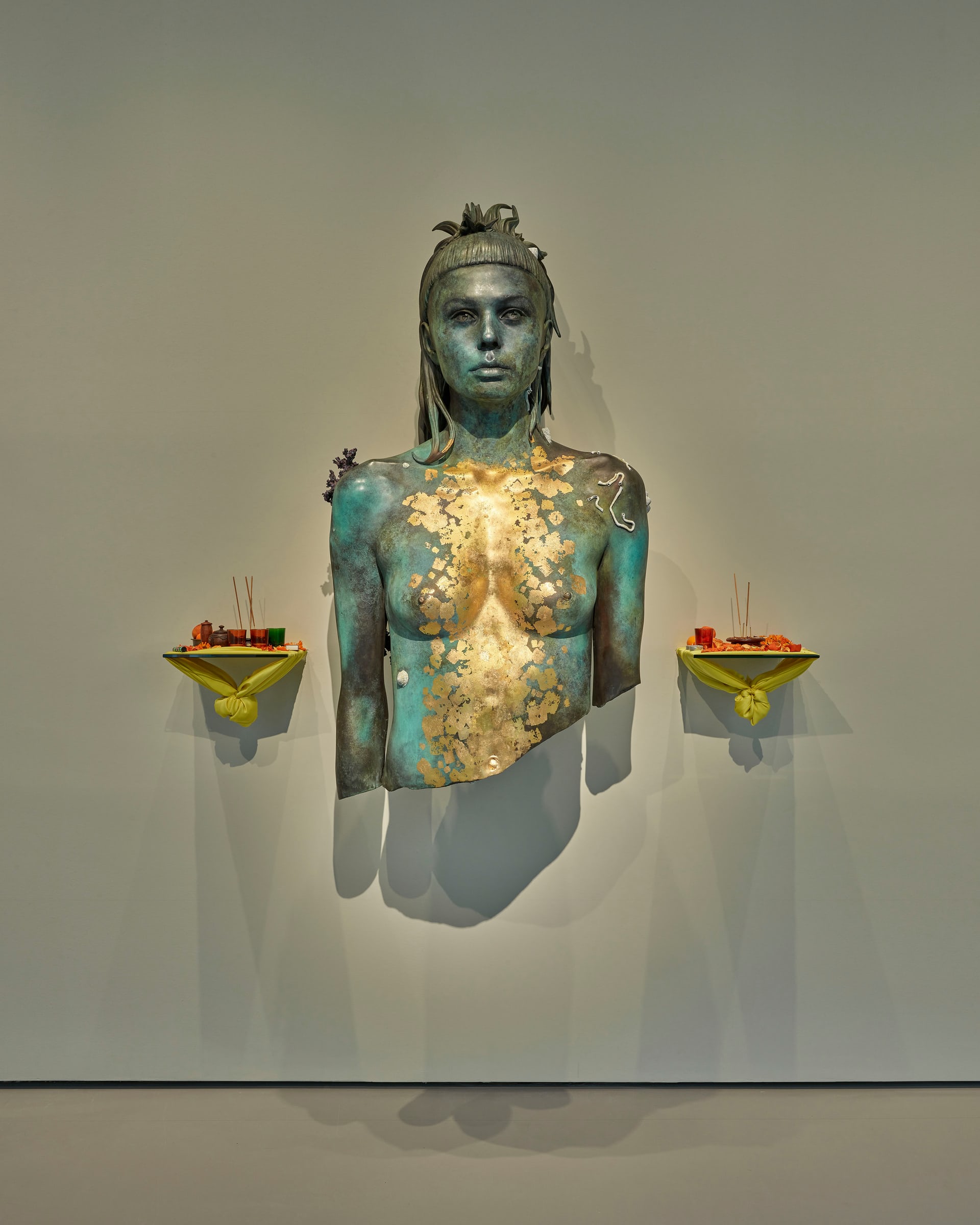 Warhol committed icons like Monroe and Elizabeth Taylor to canvas, and Jeff Koons committed Michael Jackson to sculpture. That one of the world's most famous living artists would cast you in eternity speaks volumes about how far the South African agitators have travelled from beginnings, where nobody could quite work out whether the whole thing was an Ali G-esque joke or not. "I'm serious about everything", admits Ninja, who has proved his nouse by rising from the darkest recesses of South Africa's rap scene when he starred in a Hollywood movie and modelled for celebrated American fashion designer, Alexander Wang. Die Antwoord are not a joke – they are possibly South Africa's most famous cultural export, an offensive bolt of brashness that many find difficult to swallow.
"Everything that irritates us about others", mused philosopher Carl Jung, "can lead us to an understanding of ourselves." In leading an abrasive assault on the senses, Ninja and Yo-Landi's uncompromising 'zefness' shines a spotlight on the shadow self of a nation uncomfortable in its own skin, their cartoony, grossed-out freakishness capable of urging us all to become a littler more forgiving with our ugly side.
There's a sense that South Africa can be a little reserved in its presentation of culture, especially when it comes to street culture, which perhaps exists to avoid conveying an edge of 'danger' – a notion many still associate with the country. In places like Berlin or Brooklyn, edginess has become a byword for cool, with street culture heaping cultural capital on to scenes more at ease with themselves. Even there, though, culture has been homogenised over time, and Die Antwoord's arrival was an explosive bolt of demented uproar that bore all the hallmarks of punk's caustic mayhem. That South Africa has unleashed such cultural originality should be celebrated, not hidden out of sight.
"In some magazines, we're billed as a national embarrassment because we're the biggest South African group ever to make it overseas", Ninja says. "People are like, 'Die Antwoord are fucking up the country's image.' People hate us, like death-threat hate." Yo-Landi offers an explanation: "It's because we swear so much in Afrikaans. We say the worst Afrikaans swear words you can possibly think of. We sing them repetitively in our lyrics – and to them, it's too much." And that's Die Antwoord all over: jumping ship from a major record label to gain more creative freedom; turning down roles in megabucks Hollywood films; obstinately cursing in the face of popularity.
In a decade, Die Antwoord, Ninja and Yo-Landi have carved out their own path – one that no other would dare to tread. Instead of running out of steam like antagonistic projects like this have a tendency to do, this South African freak show is going from strength to strength, with a comic book and TV series (reportedly featuring cameos from names such as Charlize Theron and Danny DeVito) on the way. Sweary and tenacious, relentless and vexing, much can be learnt from a duo who enrage as much as the enrapture. Play by your own rules; stay true to yourself; be comfortable in your own skin.
Jones holds the afore-quoted philosopher Carl Jung in high regard – and it's easy to see why: the forefather of the 'collective unconscious' was a pioneer in freeing your shadow self, and a great believer in marking your own path. "I am not what happened to me", wrote the Swiss psychiatrist and psychoanalyst, "I am what I choose to become." Watkin Tudor Jones created Ninja, and now lives him. Die Antwoord are proof that dreams needn't remain pure fantasy.