FARM TO TABLE
Community farms in Cape Town's townships are furnishing the tables of the city's most mindful foodie destinations. Olivia Squire traces the journey from garden to plate…
There's a sketch on Portlandia, the American TV series satirising the hipster enclave of Portland, USA, that perfectly encapsulates the bad rap that 'farm-to-table' has picked up in recent years. "Is this chicken local?" a suitably bespectacled diner asks a waitress of his menu. "And the hazelnuts it's reared on… are they local? Are the other chickens his friends?" This line of questioning eventually leads our hapless hipster on a journey to Aliki Farms, a cult-like utopia for organic living run by an enigmatic, more-than-a-little-Manson-esque leader.
This transformation of local, sustainable dining into a fashionable buzzword threatens to obscure the raw intentions behind its popularity; namely, to return to a more thoughtful, ecologically responsible method of sourcing food. With consumers waking up to the fragility of the illusion of 'permanent global summertime' propagated by the (high carbon footprint) storage and global import of ingredients, cynicism around the pretentiousness of farm-to-table is melting away and being replaced by a demand for more mindful dining options.
This is welcome news for Abalimi Bezekhaya (or 'Farmers of the Home'), a non-profit organisation that trains the residents of Cape Town's townships to grow their own vegetables using organic methods in community gardens. Working with Harvest of Hope, a social enterprise project that matches farmers' produce with market demand, since 2015 they have been supplying some of the city's most forward-thinking restaurants with fresh, locally-grown products.
"Abalimi Bezekhaya grows farmers, farmers grow vegetables, and Harvest of Hope partners with people who understand the need to source small and locally to build a better food system for all", summarises Jenny Willis, Scalable Orders Manager for Harvest of Hope.
To discover how some of Cape Town's most exciting restaurants are using Abalimi ingredients to create innovative dishes that tick the boxes for both flavour and sustainability, we talked to a few of the head chefs pioneering farm-to-table in the heart of the city.
THE VINEYARD HOTEL
Located in the leafy parkland of the Newlands suburb, the Vineyard Hotel prides itself on 'living green' in more ways than one, with its Kids of the Cape Fund working with 15 upliftment projects in disadvantaged Cape communities. According to head chef Carl Van Rooyen, this attitude extends to the kitchen, where Abalimi produce is used whenever possible.
"Working with Abalimi answers so many of the questions my team asks ourselves: how are our buying patterns influencing the environment? Is the food we're serving healthy? What are we doing to make a difference to society?" says Van Rooyen. "I don't see the point of paying a middleman who inflates prices and in turn, the farmer receives very little. This initiative encourages the training of small-scale farmers, giving them a chance to be more productive and self-reliant. A better question is why would we not work with them – and I cannot think of a single reason. Organic vegetables, in season, that support the local community and improve lives – it's a win-win."
Van Rooyen hopes to eventually use Abalimi produce on a specialist, seasonal, organic menu, partnering with other artisanal suppliers to tell the story of the farmers behind each dish. He believes that this is something diners are actively seeking: "customers choose us because we echo their values. The only thing is that we're not telling the story enough – and this is something that we're working on."
GATHER
Located in Cape Town's hippest district of Woodstock, gather specialises in plant-based dining centred on locally sourced produce. The brainchild of artist-cum-chef Daniela Puccini and plant-based chef and 'food activist' Filippa Harrington, gather does more than just serve delicious meals, offering guidance on sustainable living through workshops, talks and pop-ups presented by local changemakers, creatives and social entrepreneurs.
This farm-to-table activism makes Abalimi a natural fit, with gather taking a proactive role in promoting and furthering their work to connect customers to the local economy. "We are working to troubleshoot a viable model for restaurants to source from local, organic farmers in Cape Town" explains Harrington. "We want to boost demand for this produce and prove to those sitting on the fence that it is possible." Information about the partnership is written on the restaurant's menus and even painted on the walls, in the hope that customers will truly make a connection to the farmers behind their food.
gather's weekly chalkboard menu is completely informed by the Abalimi produce available, with meals built around weekly deliveries and staff explaining to customers why the menu is small and changeable. "We also look for opportunities to buy surplus harvest and agro-process these vegetables into pickles, ferments, pestos and jams, selling these to customers and using them as an educational tool around food waste" elaborates Harrington.
BELMOND MOUNT NELSON HOTEL
Cape Town's grande dame hotel is anything but old fashioned when it comes to procuring ingredients for their foodie offering. Executive chef Rudi Liebenberg proactively pursues a philosophy of sourcing locally, working with Abalimi by placing a standing order and making guests aware of the provenance of their plates.
In addition to including the 'Abalimi Bezekhaya Beetroot and Kale Salad' on its conservatory menu and using both dune spinach and purslane on the chef's table, Mount Nelson offers 'Harvest and Hope' tours to Moya we Khaya, one of the community farms supported by Abalimi. Participants are invitied to sit down for a cup of tea with Ma Kaba to hear about how she turned a small, neglected piece of municipal land into one of the most successful gardening initiatives in South Africa, before going out to the gardens to pick their own fruit and vegetables. Upon their return to the hotel, Mount Nelson's expert chefs create a sumptuous salad with their selected ingredients.
"Our guests love it" says Gabrielle Palmer, Public Relations Manager for the hotel. "They like to know that there is a good, honest and mutually beneficial outreach initiative taking place, and that it has already been going for over four years."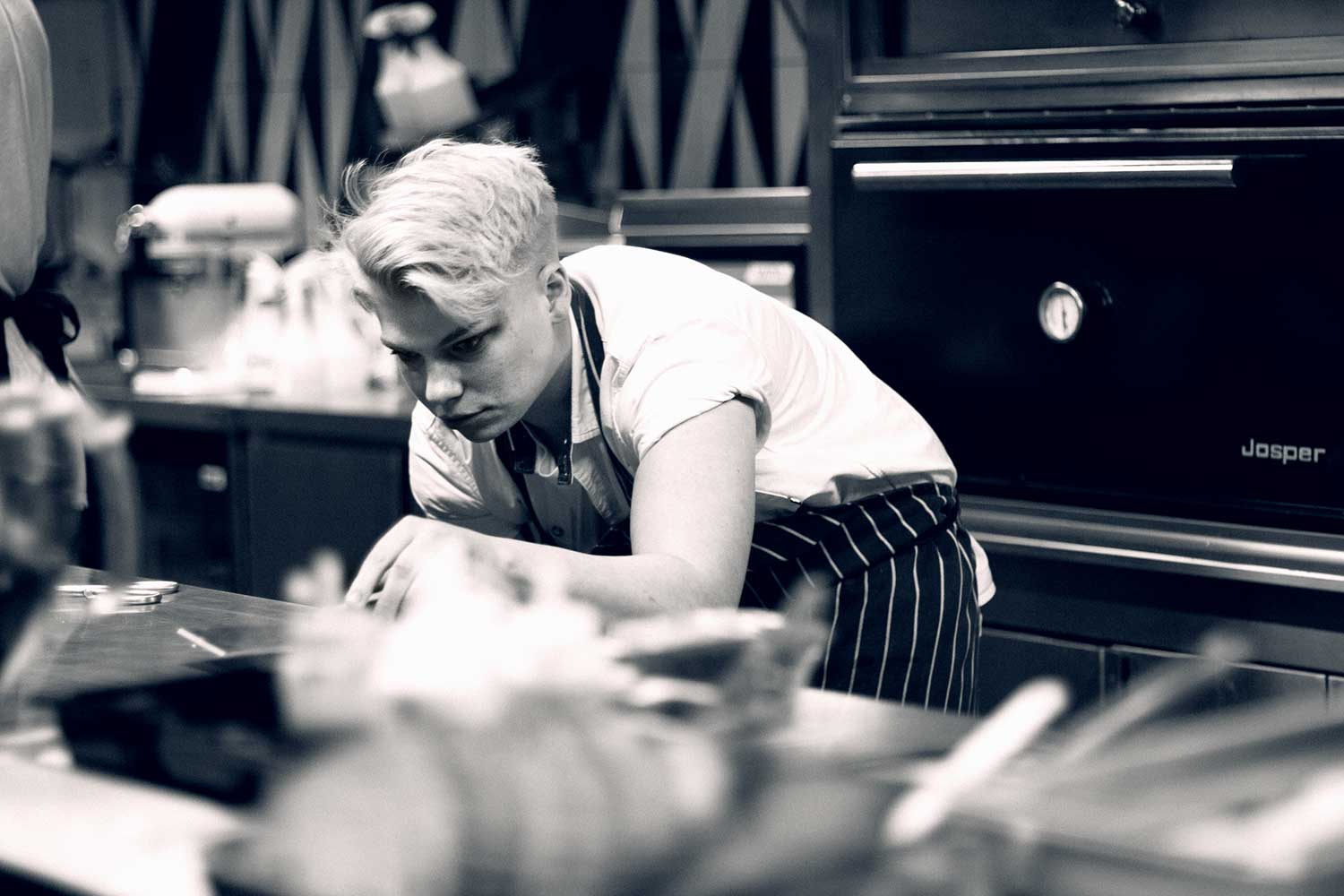 ASH RESTAURANT
ASH proves that being in the centre of a city is no excuse for ignoring nature, with a concise menu dedicated to showcasing seasonal Cape produce year-round. Chef and Co-Owner Ashleigh Heeger chose to become part of the Abalimi family because "their ethos encompasses everything I believe in. Ubuntu, ethical, sustainable produce with a minimal carbon footprint: it seemed like the perfect fit."
Heeger tries to incorporate at least one item from Abalimi on every dish, with some dishes produced solely from their ingredients; for example, a side of Harvest of Hope carrots simply roasted in butter and caraway and finished off with carrot-top pesto. "I feel this is the only way to properly showcase the incredible vegetables and indigenous greens", she explains. "It forces us to be seasonal – once they are out of season, dishes come off the menu and we source something else. It's fun and challenging."
This emphasis on seasonal sourcing isn't hidden behind the scenes, but at the forefront of ASH's brand. "It's our job to showcase the produce and create an awareness as to why we have chosen to use it, who we get it from and how, and why it's so important to us. Guests are almost always thrilled to hear the backstory, and it's always a pleasure to share it and help keep an amazing community project like this going."
THE SHORTMARKET CLUB
The Test Kitchen and Potluck Club have become bywords for Cape Town's explosion of culinary skill and creativity, with securing a table something of a badge of honour for visiting foodies. Last year's opening of the latest addition to their restaurant empire, The Shortmarket Club, has only added to this buzz, with head chef Wesley Randles transplanting his tradition for innovative dishes to Shortmarket Street.
Far from prizing style over substance, Randles believes that supporting projects that contribute to the community is very important for the Shortmarket brand; consequently, he works with Harvest of Hope to adjust the menu according to what's available. The restaurant also works with nearby Oranjezicht City Farm, sending chefs there each morning to experience the change of produce throughout the seasons.
"I believe the next stage in the restaurant is to close the gap between the starting point of planting to the finished plate served to our clients", says Randles. "If the farmer can see the finished plate and the waiter can see the seed being planted, a deeper message can be communicated directly to the consumer."
---
This article originally appeared in the 2017 print edition of THE BEAT.
Uthando (Love) South Africa is part of Untold Stories, We Are Africa's community engagement initiative that provides a platform for three brands combining African tourism and social good. Each year We Are Africa provides a donation to an Uthando project: for 2017, Abalimi Bezekhaya was the recipient of this donation. Find out more about the work Uthando does at uthandosa.org.