FUTURE SHOCK: FABRICE MONTEIRO'S PROPHETIC SPIRITS WARN OF KEEPING COMPLACENT
Humanity is in pretty bad shape. Disorientated by heavy blow after heavy blow, a self-inflicted beating has put mankind on its knees — voices that don't deserve to be heard are shouting louder than war and, on that note, perpetual conflict and omnipresent threat have wreaked an unhealthy brand of havoc within all but the most insanely optimistic among us. And this is not to mention the state we've made of the digs we're renting from Mother Nature. We shouldn't be expecting our deposit back.
It was not long ago that writers like George Orwell, Philip K. Dick or J. G. Ballard scribed prophetic tales of near-dystopias: in 2017 we are living them. "When we are confronting an issue that is global, like what we are going through now with global warming, and then on the other side, nations are getting more and more ego-centric … to me it's a total dystopian situation," artist Fabrice Monteiro explained to Al Jazeera earlier this year. "Add to that the fact that totalitarianism is ruling the world now, and I think you have all the elements of a dystopian world in the present."
The glossy slow-living of Kinfolk might represent a different aesthetic for dystopia than those prophetic novelists, but Monteiro might have a point. Just because there were no third wave coffee shops in Blade Runner doesn't mean that the fuzzy concept of dystopia isn't a reality we are already living. The environment is dazed and confused, and yet humanity is still sparring in preparation of delivering further killer blows; all too frequently the real horror goes unnoticed. It is time we looked behind the gloss.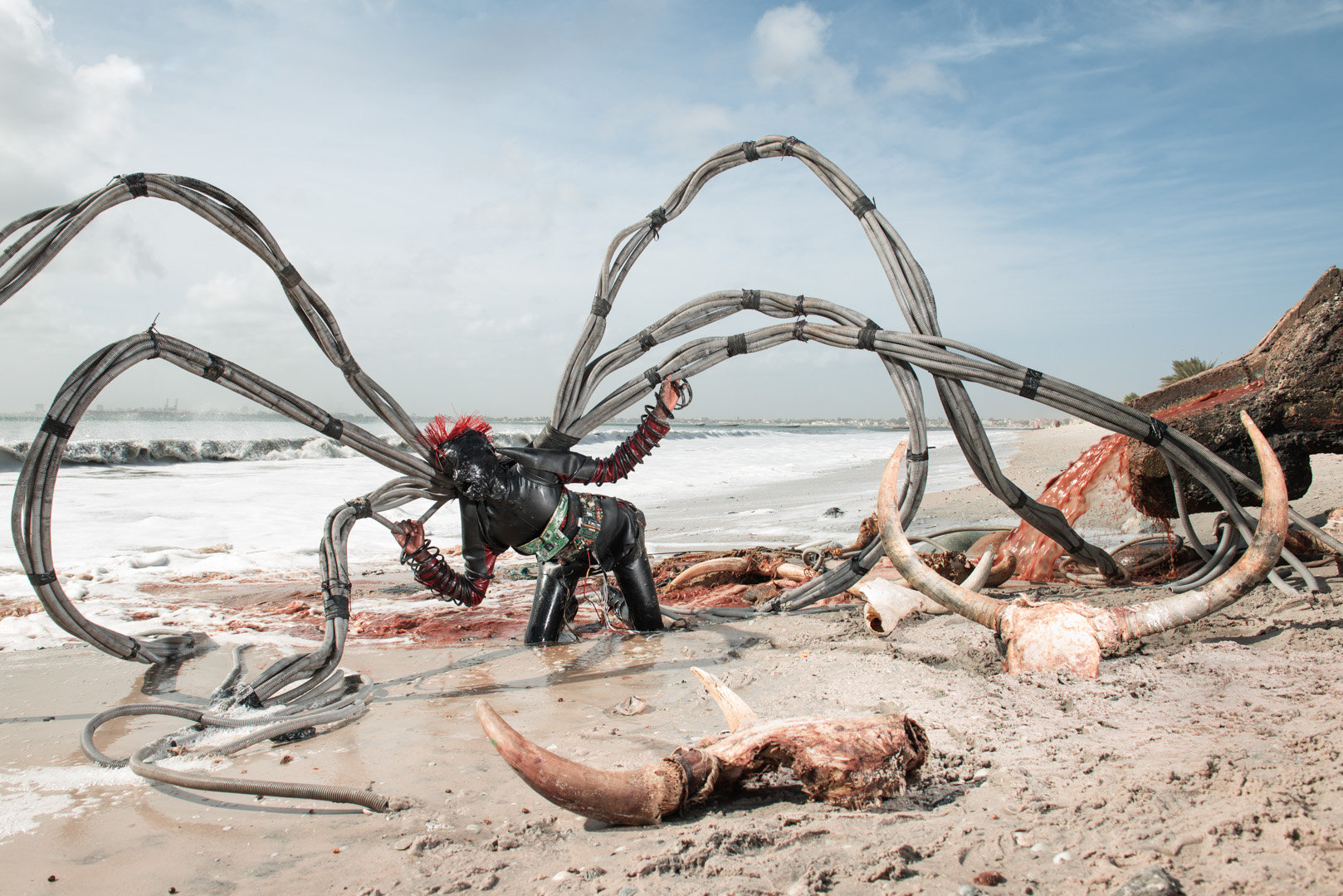 Blood gushing from a canal into the ocean, direct from a slaughterhouse in Dakar, is the troubling backdrop for a haunting scene dominated by a tentacled, humanlike figure; masked and clad in black leather. It is one of a series of scenarios conjured by the Belgian-Beninese photographer — The Prophecy an ongoing body of work that has given key environmental issues the repulsive makeover they deserve.
Benin is the birthplace of voodoo, and its people — as many in West Africa do — still strongly believe in spirits and animism, something not lost on the shrieking aesthetic of Monteiro's disturbing series. There is more, though, to The Prophecy's overtly theatrical look than just that influence: "I wanted the stories to talk to children," he admits in an interview with the Global Observatory, "because in Africa, the adults — they're not really concerned by these problems; they just do their thing. But I thought that if you could give some enjoyment and sensitivity to kids, that could bring up a new generation that would be concerned about the environment."
"Without education, people are not aware of their environment. In Senegal, for example, the people will tell you that what is outside is not owned by anyone. So you can throw out your garbage — it's not a problem, because nobody owns anything outside. We forget about the education part because we take it as a political or an economic problem. And from living in Africa, I know that the solution is not going to come from the governments. It's going to come from the people. So I decided to write fairytales for kids."
Beginning his visual fairytales in Senegal, Fabrice Monteiro's prophetic spirits (created in collaboration with Sengalese costume designer Doulsy) have travelled to Australia's Great Barrier Reef and Ghana's Agbobloshie, the world's largest electronics dump, the photographer in the process of making 'prophecies' around the world. "It is not just in Senegal, it is not just in Africa, it is planetary," he affirms of the environmental issues visualised in his works. "Mother Earth is sick because she took millions of years to create this planet … and in 200 years we literally destroyed it. So she decided to send her spirits down to earth. This is her last option, to authorise the spirits to appear to humans and deliver to them a message of caution."
In rebranding issues that we as a race are quick to brush under the carpet as bold, theatrical figures, fairytale villains impossible to ignore, Monteiro has delivered a concept that uses fantasy as a conduit through which to channel nauseating realities. For a former model who only picked up a camera aged 37, his is a story that embodies the potential of change. Art can express our anxieties and create awareness that prompts change, standing by is to be complicit — Fabrice Monteiro's dystopian fairytales are his inroads into accelerating real change. What are yours?