HIDDEN TREASURES: THE SILVERSMITHS OF IBO
There are many reasons to visit the Quirimbas Archipelago in northern Mozambique: there's superb scuba diving to be had, and equally good deep-sea fishing on the outer reefs and deep channels. If you can't tear yourself away from your sunlounger, the gleaming white beaches are some of the finest on Africa's east coast.
https://www.instagram.com/p/BczXGIxjjOF/?hl=en&tagged=iboisland
And while the likes of &Beyond Vamizi Island and Azura Quilalea trade on their powder-white beaches and remarkable seafront positions, Ibo Island Lodge is a somewhat different proposition.
Spread across a series of rejuvenated colonial-era coral-brick houses on the outskirts of the island's main village, the views from the terrace aren't of coral sands and azure waters. You're more likely to watch local fishermen repairing their dhows, or see the village kids heading off to play football. Offer up a warm smile and chances are you'll be invited to get involved with both; for while snorkelling trips and excursions to an unforgettable mid-ocean sand spit are available, half the charm of Ibo lies in these opportunities that allow you to discover authentic everyday island life.
Part of that charm is discovering the island's remarkable tradition of silversmiths, a craft dating back centuries.
When the Portuguese first took control of Ibo Island and established a formal trading post in the 1600s, the island was first governed as a province of Goa, India.
"Logistically, it was easier for the Portuguese colonial administration in Goa to keep tabs on Ibo than it was for the authorities in Portugal", explains Kevin Record, owner of Ibo Island Lodge.
https://www.instagram.com/p/BZQdRMYD7NS/?hl=en&tagged=iboislandlodge
https://www.instagram.com/p/BajVSWwFXAc/?hl=en&tagged=iboisland
With the trade route establishing a regular link with Goa, artisans began arriving on Ibo, bringing both their skills and a particular aesthetic. Even today across the island, visitors can admire wrought-iron work, hand-crafted furniture and decorative handles crafted – or inspired by – those original settlers. Over the centuries, that aesthetic absorbed Arabian influences due to the dhows that sailed between Africa and Arabia carrying gold, ivory, spices and slaves.
Among those Goanese artisans were the earliest silversmiths, and the skills and style they brought with them echo down through the centuries today.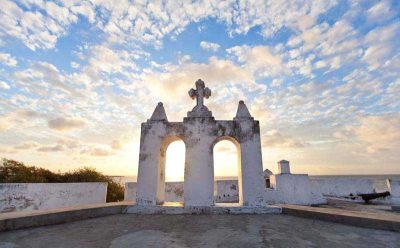 The star-shaped Fort of São João, built in the late-1700s, is now home to the island's famous silversmiths. Though the smiths have become well known throughout the Quirimbas, drawing travellers from across the world, there remains a charming sense of timelessness to this simple operation. A hand-operated canvas bellows and charcoal fire is still used to smelt raw silver in hand-cast crucibles, with local lime used to clean the filigree jewellery for which these skilled artisans have become known.
While most silversmiths in the Fort work as independent jewellers, they also function as two cooperatives, pooling resources to purchase raw silver and sharing specialist skills.
Though the Ibo Island silversmiths offer a unique glimpse of living history on an island with a rich and colourful past, they have also become a crucial element of the island's growing tourism economy.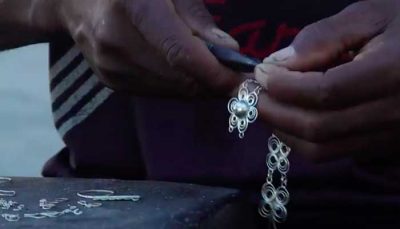 "Their business has taken off considerably with the growth of tourism, and there are now 35 to 40 silversmiths involved in the project", says Record. "It's a very important source of independent employment on the island. And because making a living on the island can be hard, a lot of disabled people in particular are working in the silversmith trade. Compared to before they have status, they're making a decent living."
In the past, the lodge has even offered multi-day silversmith experiences (now this is done on request) that see guests working with a local artisan to transform an old piece of family silver into an iconic piece of Ibo Island jewellery.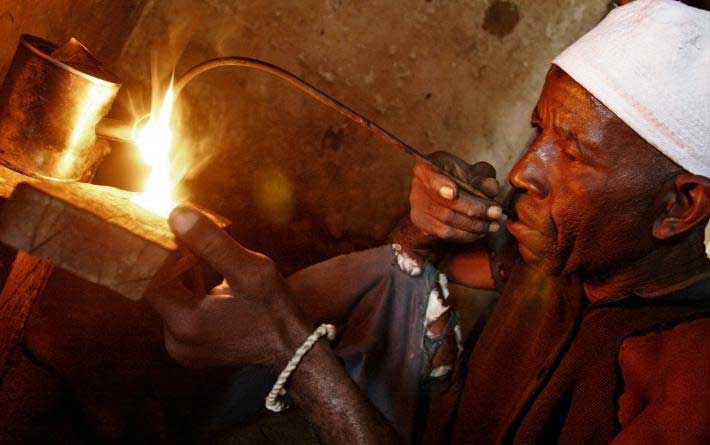 Even if you're simply visiting for the sand-spit beach and the charming boutique lodge, chances are you'll find yourself on the parapets of the Fort of São João one humid afternoon. Rising up from the basement you'll hear the tap-tap-tapping of a hammer on metal, or the whoosh of bellows on flame. While tourism is transforming daily life on the island of Ibo, for the silversmiths down below time may just as well have stood still.