JOHANNESBURG ARTIST LADY SKOLLIE USES HUMOUR AS A VEHICLE FOR SOCIAL CHANGE
The work of Johannesburg-based activist artist Lady Skollie never errs on flippancy: 'I use humour as a way of unwrapping serious issues in a palatable way — so that people will actually start thinking about change,' she says. James Davidson explores how her impactful pieces address rape culture, gender polarity and racial inequality.
For me, Lady Skollie, real name Laura Windvoge, says all that needs to be said about her aesthetic in response to a very Smash Hits-esque question from online publication Amuse. On being asked 'if London was a sex position, which would it be?', the South African artist lets rip:
'I feel like London would be missionary in the dark, under the covers. Then there would be a BANG, and all of a sudden there would be butt plugs and nine people would rush into the room. I feel like it's two extremes.'
Windvoge's feisty, unflinching works are that gang bang, butt plugs and all. They are chaotic and indomitable, impulsive and charismatic; awash with youthful effervescence and reckless abandon. Unmistakably African, the Johannesburg-based Cape Towner's liberal subject matter is less so; her candid taboo-bashing speaking for a new South African generation, unafraid of their sexual liberation.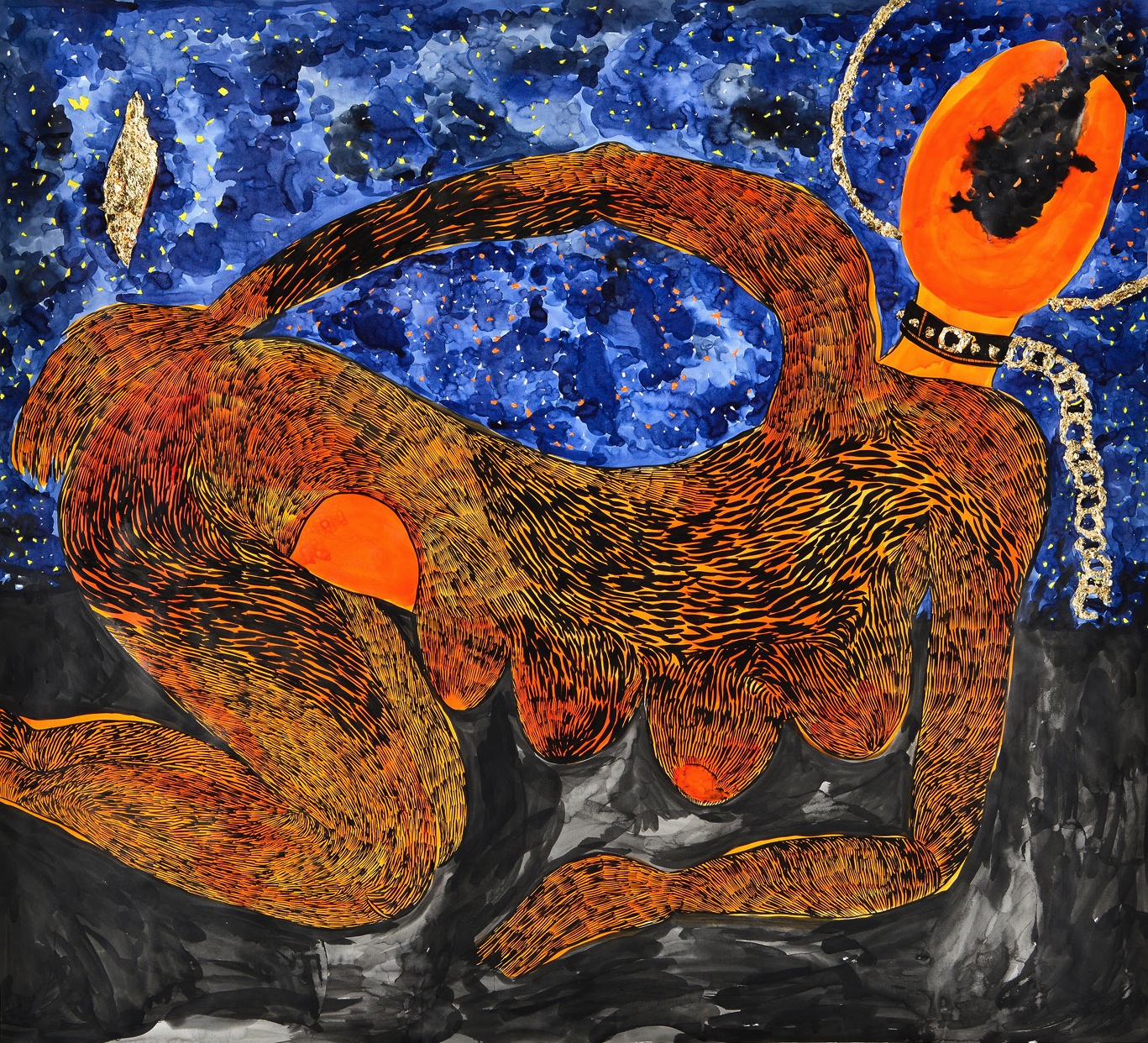 Papayas and bananas become 'pussies' and 'dicks', and the artist's singular way with wit is reflected in titles like Pink Dick: Sometimes I reluctantly reflect on all the times I allowed my pussy to be colonized, but Lady Skollie's impactful practice never errs on flippancy. 'In South Africa humour is often used a vehicle for social change,' she begins, in another interview. 'People don't always want to listen if you are being serious. They would rather not listen to preaching and they don't want to hear about rape stats, HIV stats, etc. I think in some ways I'm pretty funny, so I use humour as a way of unwrapping serious issues in a palatable way — so that people will actually start thinking about change.'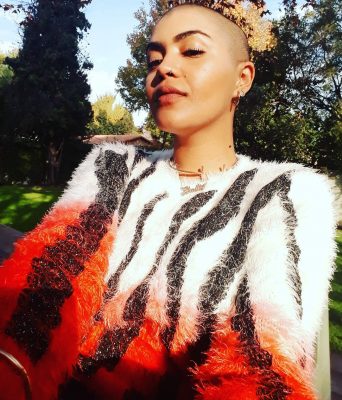 Self-assurance is something you'll come to associate with the provocative artist. Yes, she is pretty funny, and she knows it. She is a talented artist, writer, radio personality, and she knows that, too. 'I'm gifted in more than that,' she asserts in response to a question about art and activism. 'It's like Wagner's 'gesamtkunstwerk': everything works together, it is just one thing in the end. Besides, I like being the centre of attention too much. I can't be in a room painting. I love speaking, and I'm only starting to understand now that my opinion actually matters.'
Confidence and talent only ever result in one thing: success. And Windvogel's star is in real ascendancy, her first international solo show — Lust Politics, shown earlier this year at London's Tyburn Gallery — opening up the feminist artist's overtly-sexualised style to a whole new audience. 'Hard and fast and erratic and explosive,' is how Lady Skollie describes that style; inspiration from Khoisan culture colliding with her unabashed sexuality.
It's that cultural collision that is such a visceral ingredient — Johannesburg, and South Africa at large, enduring alarming levels of rape without convictions; the country's Medical Research Council having carried out a survey in which one in four men admitted to having raped someone. 'We've reached joke levels,' Windvogel pronounces, 'like we're not even shocked anymore. 'There's such deep trauma in this country especially with women, and we don't know how to focus our energy. We don't know how to focus our anger because no one is ever held accountable, so I think that's kind of the things I'm trying to touch on.'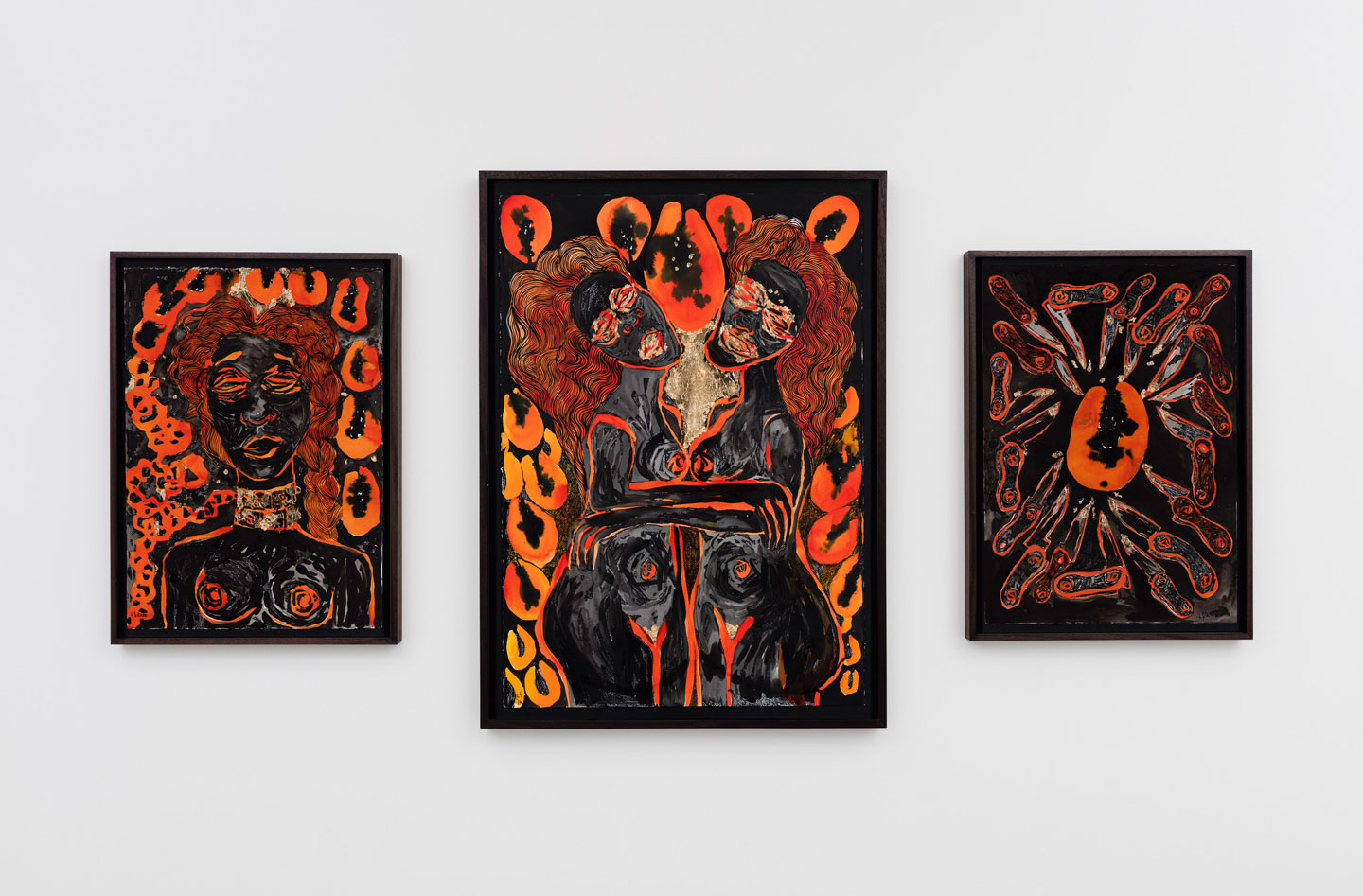 Lady Skollie's 'pussy prints' and podcast persona might lead some to label her work as 'shocking-for-the-sake', but Laura Windvoge is as intellectual as she is provocative, and her work is often an outlet for uncontainable anger. 'Art is about confronting and making people, including yourself, feel uncomfortable. Art as social commentary, art as political commentary, it's all important in the quest to evoke rage. I am angry about a lot of things. Mostly pertaining to existing on this planet as a woman.'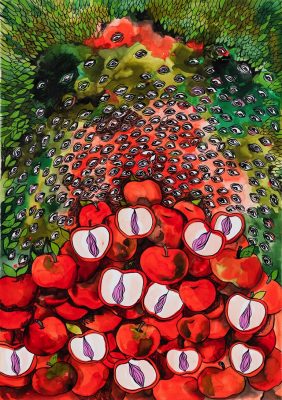 On the subject of consent: "Don't worry about it; around here RED MEANS GO!" is the perfect example of Windvoge's rage distilled into an astonishingly emotive piece of work; its confrontational title a case in point of her ability to weave creative disciplines together. ('Usually the writing comes first.' she explains of her powerful titles. 'The works come separately and then I edit and chop to make the writing and the work correlate more.')
Acutely aware of the art world and its place in South Africa; capable of grasping the business of galleries and the wider creative industries; at war with gender polarity, taboo, and racial inequality; Windvoge is a restless artist with plenty more than the domination of her country's art scene in her sights.
And the name? A question of addressing disparate sides of her personality. Historically a South African term for a person of colour in a place deemed unsuitable by the white populace, Windvoge revels in her inner Skollie. 'A couple of years ago, I had these ringlets and cute 1950s dresses,' she explains. 'But inside, I always had this element of the obscene: wanting to be against authority, to challenge the norm. I looked like a little lady, but my mouth would be dirty.' Lady Skollie: a powerful paradox.