LOCAL BOUNTY
LOCAL BOUNTY
THE MOTHER CITY'S STAR CHEF ON AFRICAN COOKING
WORDS BY ALICE MELIN
South Africa's gastronomic genius Peter Tempelhoff, is an executive chef for The Collection by Liz McGrath, was recently awarded the Grand Chef title, and was the talk of We Are Africa's inaugural show with his exquisite dishes for the Welcome Lunch and Relais & Châteaux bar. Brought up by a South African father and Canadian mother, Peter Tempelhoff spent most of his life travelling and working in different countries and is now renowned for his contemporary and global culinary dishes with a South African influence.
Where do you get your inspiration?
My inspiration is multi-faceted, though there are the two main sources: the people I surround myself with and the local bounty of the region -The Fairest Cape.
You have held cooking positions in prestigious restaurants around the globe. How do you think travelling has affected your palate?/strong>
I truly believe that all young aspiring chefs need to travel, as food really is an international language. Learning how other cultures balance flavours, create textures and enhance tastes opens your mind and breaks down the barriers of culinary conservatism. My palate has always been pretty constant, it was my repertoire of cooking skills that really benefitted from my travels.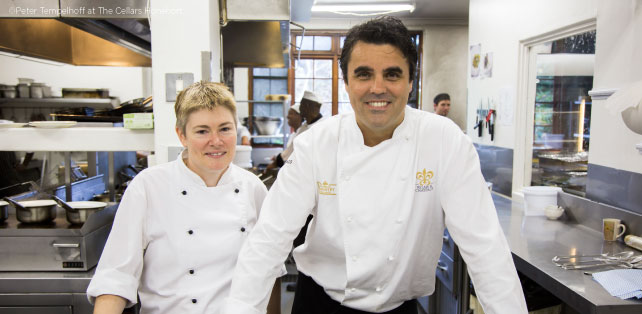 Despite a successful career in London you chose to return to South Africa in 2005, why return to Africa?
I love the potential of African food; the first meal was eaten in Africa, so there is an amazing amount of history and lore that could be unearthed about African food. Despite the late start of South Africa onto the culinary scene, the country has made amazing strides to catch up to the rest of the world. I love being around this kind of energy.
What is specifically enjoyable for you about cooking in your homeland?
My connection with Africa runs deep; every waking day I appreciate how good we have things on the southern tip of Africa. Living so far from the rest of the world, where importing food is poor economics, is actually a blessing in disguise. Why would I want to cook with peaches in winter or oranges in summer, why would I want a piece of fruit or meat flown 10 thousand kilometres for me to put it on a plate and feed it to a guest? I love being inextricably linked to the seasons and at one with the African earth, I love being so dependent on the rainfall for my porcini mushrooms and the sunshine for my hanneport. I love being at the mercy of all 4 seasons, because it is at the knees of Mother Nature that one learns versatility and creativity- it is here that a chef becomes humble and finds himself.
Innovation and pushing boundaries are key components of your cooking, how do you think these are represented on the South African contemporary cooking scene?
There are a lot of local chefs using modernist techniques in their cooking now, the secret is using it in moderation and only when necessary to enhance a flavour or a texture. The local scene has also seen an increased amount of chefs pushing the boundaries with daring combinations and ultra-creative plating techniques.
What are the latest trends in fine dining and what is your take on them?
In South Africa there is a rise in carb-less cooking as well as a shift towards ancient preserving techniques like fermentation. I think both have their merit and can enhance the dining experience.
What is the next big challenge for you and your cuisine?
Breaking conformity.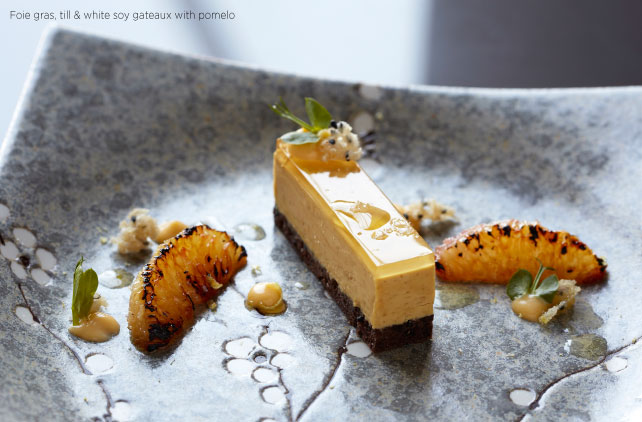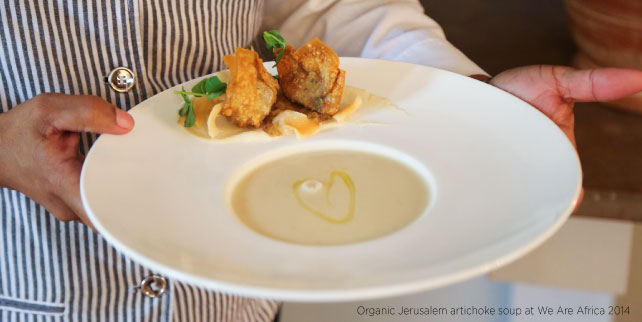 You have spoken about reimagining South African food, do you think that need to explore and understand is specific to Africa?
Terroir cooking and conserving the culture of the region in which one is cooking is immeasurably important and definitely not country specific. Food is what nations are built on and as such preserving its culture is a means of preserving the country's own culture.
If you had to compose a dish to represent contemporary Africa, what would it taste like?
That would be hard, as Africa is so diverse and has such cultural divisions… but if it had to represent the entire continent then I'd say the dish would taste like "Wood fired springbok, African Porcini mushrooms, fermented marogo with the sweetness of the big num-num".