COCA COLA MEETS GLOBAL CULTURE WITH THE COOLEST GIRL IN CAPE TOWN, TONY GUM
First things first, Tony Gum is not one of Africa's most exciting young creatives. Tony Gum is one of the world's most exciting young creatives. She is the quintessence of the Millennial artist, an image-maker for whom the internet is a primary canvas. A Cape Town blogger turned rising art star, Gum hit the scene via a viral image and has now seen her Instagram-primed work hung in bona fide art spaces, from her hometown to New York and Miami. Shaped by mass media and marketing and brand ideologies, Tony Gum is just 21; with talent way beyond her years.
Any story about this young South African creative begins with Coca-Cola, the behemoth that marketing wizards whisked from a medicine devised by an American pharmacist into the world's most recognisable brand. That path paved by visual-led commercialism, of desirability and cultural reference points, has frequently been the muse of contemporary artists — no more so than the marketing-obsessed white-haired pioneer of pop art who turned brands into works of art — and Tony Gum is no stranger to the aesthetic lure of low-brow culture.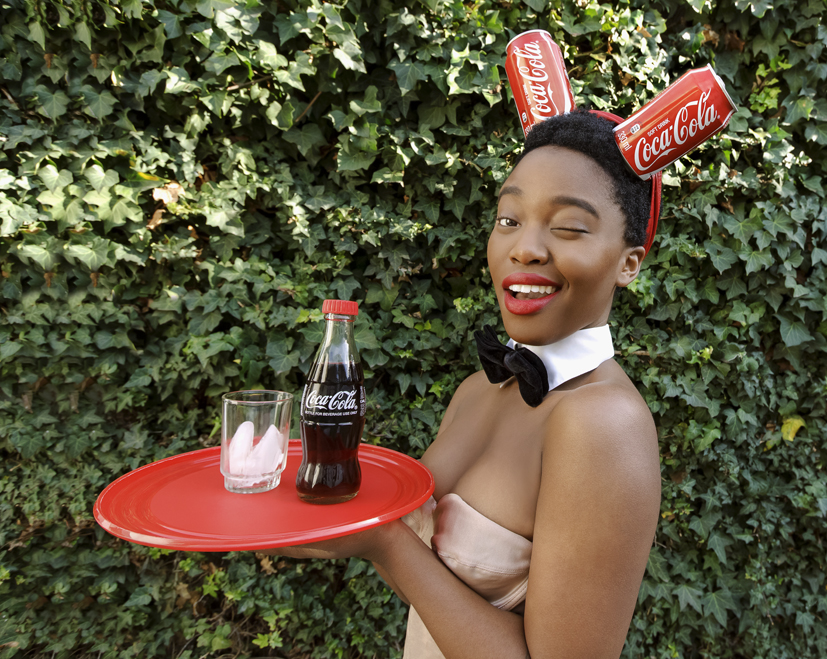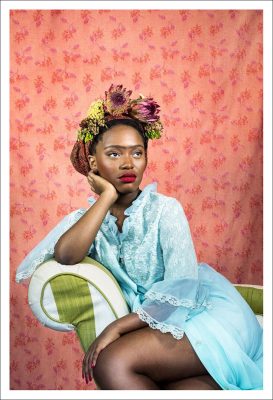 'Figured Coca-Cola needed a black woman in their presence. This is evidently not a racist remark — just a proud one.'
It's the text that accompanied a self-portrait in a blog post that became an internet explosion for the then 19-year-old. Melding popular culture and Xhosa heritage, Gum's wannabe Coke campaign spoke of her appreciation for brand domination, topped it up with a nod to her African heritage, and laced it all with a heavy helping of Instagram-ready sass. One image became a photo series — Black Coca-Cola — and the blogger's art career was born. Studying film and video production at the Cape Peninsula University of Technology, Gum sought out her lecturer (and renowned cultural analyst) Dr. Ashraf Jamal for advice, who in turn led the teen to class="Apple-converted-space">gallerist Christopher Moller, and the rest is history; Moller showing her series at the Joburg Art Fair and signing her up to his gallery.
What had gone from a much-needed update to her blog, born of boredom, Black Coca-Cola has defined Gum's appeal. Her cross culture-referencing self portraiture echoes greats like Cindy Sherman, but it is as much rooted in the fast-paced world of contemporary fashion; where scenes and trends can come and go on social media before they've ever even gained true traction offline. But you don't earn the right to be called one of the world's most exciting young creatives by solely serving as a slave to digital trend-making: Tony Gum's appeal is a much deeper one, acting on countless layers rich in inspiration from cultures wide and varied, bleeding-age to ancient history.
Vladimir Tretchikoff's much reproduced Chinese Girl; Frida Kahlo's feminist iconography; the rich tapestry of African culture and heritage; the era-defining face of Twiggy; Wes Anderson's pastel palette; cult cinema; hip-hop; and brands that have elevated from marketing exercises into drivers of the contemporary zeitgeist. There are few reference points left unturned in the artist's photography and erratic social sharing; fashion and art clash in a riotous visual cacophony, and spontaneity reigns supreme. Dubbed 'The Coolest Girl in Cape Town' by Vogue, and one of '15 Women Artists Changing the World' by Elle, Gum's populist march is irresistible and inviting; her eye for the intriguing an unavoidable force.
Charismatic, intelligent, restless and impulsive, boredom scares Gum — and the fruits of her resistance against it are rich in that reluctance to rest on her laurels. Having just shown at this year's Art Basel Miami Beach, the 21-year-old with the world at her feet is a shining light for African creativity; more so she is a buoyant spark for young women determined to make a difference in global culture. Tony Gum is not one of Africa's most exciting young creatives. Tony Gum is one of the world's most exciting young creatives.