UNCOVERING CREATIVE SPACE IN THE GHANAIAN CAPITAL OF ACCRA
"There was a time when the creative space wasn't really respected here," says Maame Adjei, a Ghanaian actor who recently moved back to her native country after having spent many years living and working abroad. Sitting on the terrace of Tea Baa, one of Accra's newest and most on-trend cafés, she continues: "But now you can be a painter and proudly say that's your full-time job".
Ghana's creative scene is steadily growing, and an entrepreneurial spirit pulses through the country's capital city. Ventures like The Arts Centre Market champion traditional creativity – with stalls selling masks, sculptures and carved wooden bowls – but a contemporary scene has also taken root. Housed within the Kempinski Hotel, Gallery 1957 is Accra's first art gallery with international reach, and has been making waves since it opened in March of last year.
Ghana's artistic profile has been raised, but that's not to say that emerging talent has it easy. The West African nation provides no public funding for the arts, and so creative endeavours have largely been left in independent hands.
Such hands often have social aims, as is the case in Jamestown, Accra's oldest, poorest and most vibrant neighbourhood. Here, creative enterprises have re-energised the area's ramshackle streets. The self-funded Chale Wote Street Art Festival takes place in the district each year and is attended by over 10,000 people, while the Jamestown Café and the ArchiAfrika gallery both employ local residents as security guards and cleaners in order to engage the community. Renowned architect Joe Osae-Addo is at the helm of the gallery. He says: "As architects, as designers and as creative people, we don't have to leave development to the politicians. We can – through our skills and our passion and our training – engage and try and make change in our own small way".
Contemporary art is finding its footing within Accra, and artists are gaining recognition on an international stage too. The work of Ibrahim Mahama is currently on show at London's White Cube Gallery as part of an exhibition that coincides with Ghana's 60th year of independence from colonial rule. Back home in Accra, however, Mahama has had to organise his own displays, draping his installations over public buildings such as apartment complexes, universities and theatres.
Hope remains that an increased international appetite for West African art will filter back through the system and encourage government funding at home. Maame says: "When people see our culture travelling then they value it more. And the more we value our arts, the more resources can go towards it". For now however, it seems the creative future of Accra lies firmly and proudly with the artists themselves.
---
WHERE TO STAY
The Kempinski
This hotel, which opened in March of last year, is a shining beacon of luxury in Accra. Home to a rooftop pool, an in-house art gallery and the largest spa in West Africa, it's a popular choice for business travellers.
https://www.instagram.com/p/__i_HpnYWe/?tagged=villamonticello
Villa Monticello
Located in Airport City, Villa Monticello is Accra's only boutique hotel, with 16 suites individually designed with a mix of European décor and African art. An outdoor pool lies at the hotel's heart, and is the ideal spot for an evening drink.
---
WHAT TO SEE
Jamestown
Once the seat of the British colonial administration, Jamestown has been neglected in terms of economic development, but is a vibrant district that is home to some of Accra's most exciting creative projects. Drop in at the Jamestown Café and arrange a guided tour that ends at the lighthouse.
Artists Alliance Gallery
This three-storey building is located on the coast, just minutes from Labadi Beach. The gallery showcases contemporary paintings alongside traditional craftwork including Ashanti masks, woven baskets and jewellery.
https://www.instagram.com/p/BQS4XK_gl5s/?taken-by=ellelokko
Osu
Osu is home to the city's best boutique shopping options. Elle Lokko is a concept store that champions Made in Africa brands, while All Pure Nature stocks beauty products including Ghanaian shea butter and black soap.
---
WHERE TO EAT AND DRINK
Buka
Located just off Cantonments Road (locally known as Oxford Street for its buzz), this airy terrace restaurant serves traditional West African dishes. Try the goat meat light soup, grilled tilapia fish and the kontomire (similar to spinach) stew.
Tea Baa
Iced tea is the name of the game at this on-trend spot, which is littered with board games and furniture made from recycled shipping pallets. Founded by Dedo Azu, who spent years living and working in Canada, it's a haven for locals and expats alike.
Republic Bar
A tiny bar that tumbles out onto the street, Republic hosts live DJs at the weekend, who blast everything from The Beatles to Drake over a roadside sound system. It's always packed to the rafters.
[All photos by Emily Ames unless otherwise stated. For more on Ghana, see SUITCASE Magazine's Rhythm Issue]
---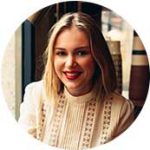 Kate Hamilton is the Editor-in-Chief of SUITCASE Magazine, a multimedia travel and fashion publication that redefines luxury travel for a millennial audience. She is based in London and always travels with books and an excessive amount of stationery.