ACROSS THE SEAS ON AN SUP WITH CHRIS BERTISH
While you're reading this, Chris Bertish is somewhere out on the Atlantic. Alone.
On a stand-up paddleboard (SUP) just six metres long, patiently paddling his way west.
With each stroke of the paddle he propels himself and his craft a few feet further away from the Moroccan city of Agadir, which he last saw receding in his wake at dawn on 6 December.
His destination? The coast of northern Florida, lying across 7500 kilometres of lonely and unpredictable Atlantic Ocean. It's a mission that has consumed this inspiring motivational speaker, surfer and adventurer for the past five years.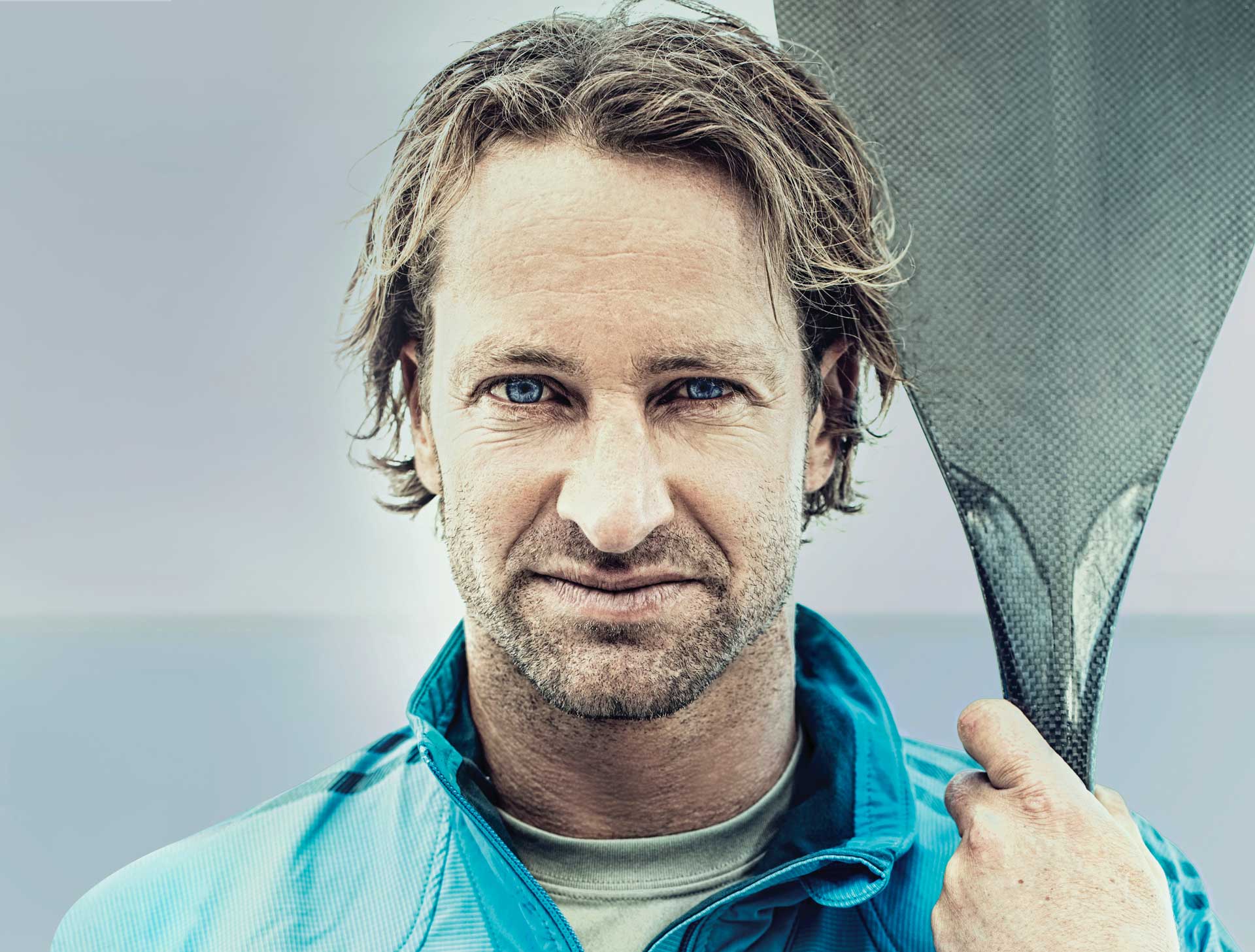 The project, dubbed simply 'The SUP Crossing', has been five years in the planning and will see Bertish attempt to complete the first solo transatlantic crossing on an SUP. Unsupported and unassisted, it will take this remarkable African adventurer around four months of relentless paddling to journey via the Canary Islands and British Virgin Islands to northern Florida.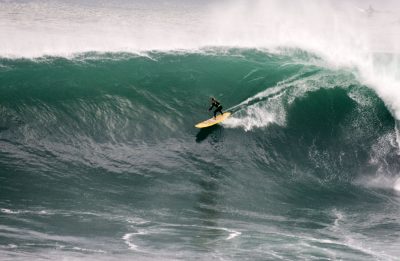 Bertish is no stranger to completing incredible feats on the ocean. In 2010 he won California's legendary Mavericks Big Wave International surfing contest (now known as Titans of Mavericks), outperforming his competitors on the biggest waves ever recorded at the iconic surf spot. He has also competed in the International Surfing Association's Stand Up Paddle World Championships, twice finishing in the top 10.
Bertish also holds the South African Open Ocean SUP 24-hour Distance World Record, and in 2014 set a Guinness World Record for open ocean stand-up paddling over a 12-hour time period, powering across 121-kilometres of rolling Atlantic Ocean between Cape Town and Saldanha Bay.
All of these were mere warm-ups for his current challenge, though, which Bertish will tackle entirely alone and unsupported – no comforting follow-boat in attendance – aboard a six-metre semi-enclosed SUP designed by respected naval architect Phil Morrison. Solar panels provide power for the emergency equipment, weather systems and everyday communications, all of which are enclosed in a tiny forward cabin that provides shelter for Bertish and improved aerodynamics in both headwinds and tailwinds. Crucially, it also gives the craft improved self-righting capabilities should he be capsized in the mid-Atlantic swells. Frenchman Nicolas Jarossay attempted a similar world-first crossing in April 2016, but had to be rescued just days into his attempt after his craft capsized and was unable to be righted.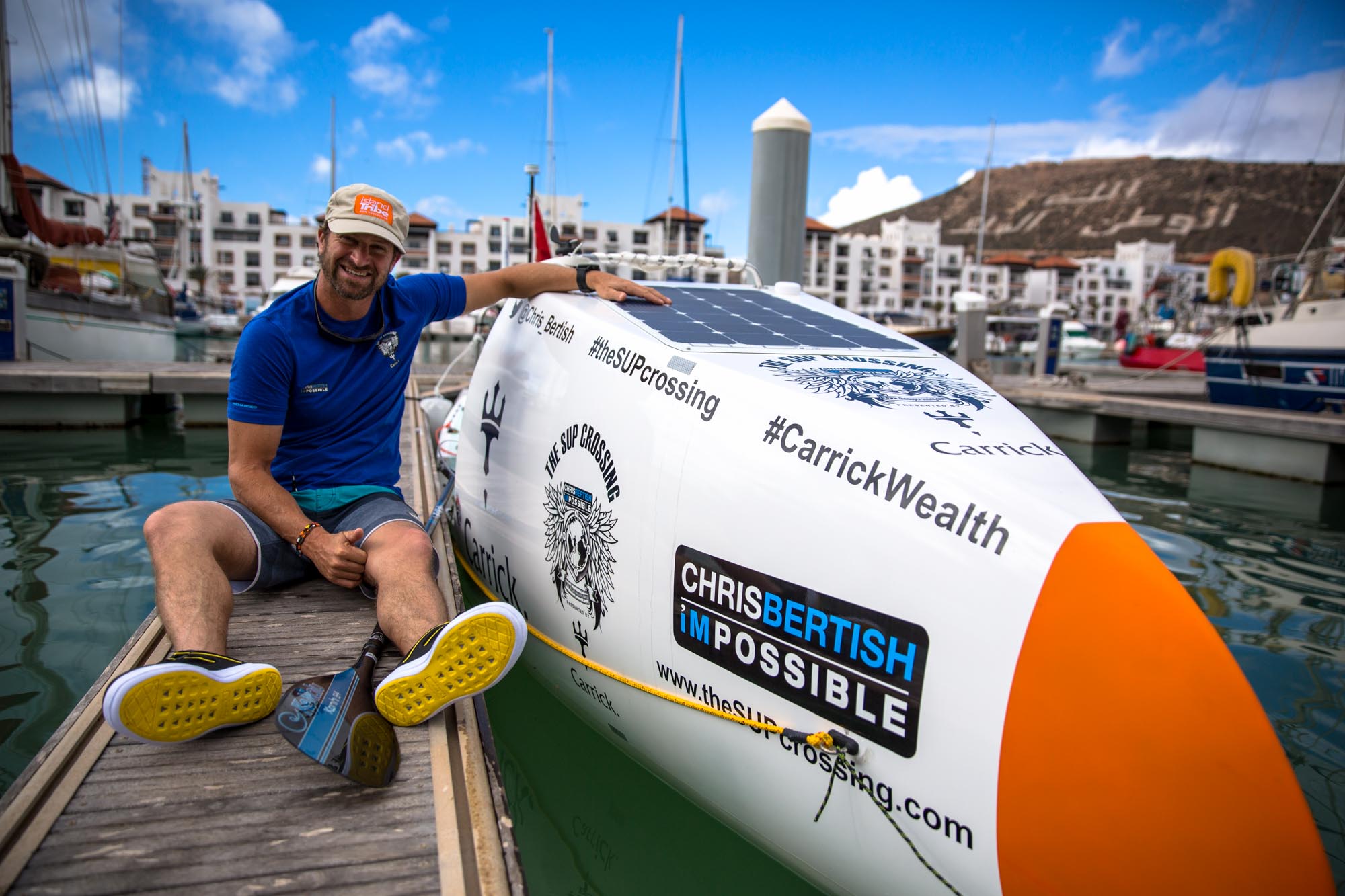 It's a demanding and dangerous adventure that Bertish is attempting in the name of both exploration and supporting African charities.
Working with both corporate sponsors and crowdfunding platforms, Bertish is aiming to raise millions of rands to create annuities that will support the ongoing work of The Lunchbox Fund, which provides daily meals for at-risk learners in township and rural areas across South Africa, as well as Operation Smile South Africa (OSSA), which offers reconstructive surgeries for children and adults suffering from cleft palates. Bertish is also channelling funds to Signature of Hope in a bid to build improved educational facilities and schools across rural South Africa.
"This project has been a huge undertaking to bring into reality and has definitely taken its toll on me personally, but I believe in it with every fibre in my being, that it's going to have a monumental impact on the lives of millions of children in South Africa and generations to come and leave a legacy," says Bertish. "That's why I'm willing to do whatever it takes, sacrifice whatever is needed, to go the distance."
While Chris is hard at work somewhere out there on the wild Atlantic, armchair travellers can follow his exploits on the live satellite tracker. You can also support this worthy cause by making a donation here.