EXPLORING BEYOND BEAUTIFUL BEACHES: ART IN MOZAMBIQUE
Mozambique is famous for its picture-postcard beaches rimmed with endless palm trees. It is also famous for having endured one of the bloodiest civil wars of the last century, lasting from 1977 to 1992, which means artists in Mozambique are certainly not lacking in inspiration.
The most famous of them is Gonçalo Mabunda, for whom the civil war has become something of a muse: his mask, statue and furniture sculptures are moulded from recovered landmines, deactivated AK-47s and rocket launchers, providing an arresting insight into this era-defining conflict. His highly acclaimed work has also been exhibited at the Venice Biennale and the Centre Pompidou – although not without the great difficulty of getting high-grade military weapons across borders.
Mabunda's work was made possible through the efforts of the Christian Council of Mozambique, a group of local churches that launched the 'Transforming Guns into Hoes Program', which offers participants tools and building materials in exchange for recovered weapons – in other words, they are trying to create peace from conflict.
But more than just the war, Mabunda is moved by the city around him. "I feel inspired when I am in the suburban neighbourhoods of Maputo, such as the historical areas of Mafalala and Xipamanine. But as the Civil War is integral to my work, it is important for me to go to places where I can really feel the presence of the past, like Liberdade or Catembe. I work in my atelier, but I get most of my material from the scrapyard Sucata Vulcano in Maputo, where I also find inspiration for some of my pieces."
And understandably, tourists often bypass Maputo for a week of lying on beaches so beautiful that it's impossible to describe them without descending to the use of clichés. But, as Mabunda notes, that means missing out on one of the more interesting and artistic communities in southern Africa.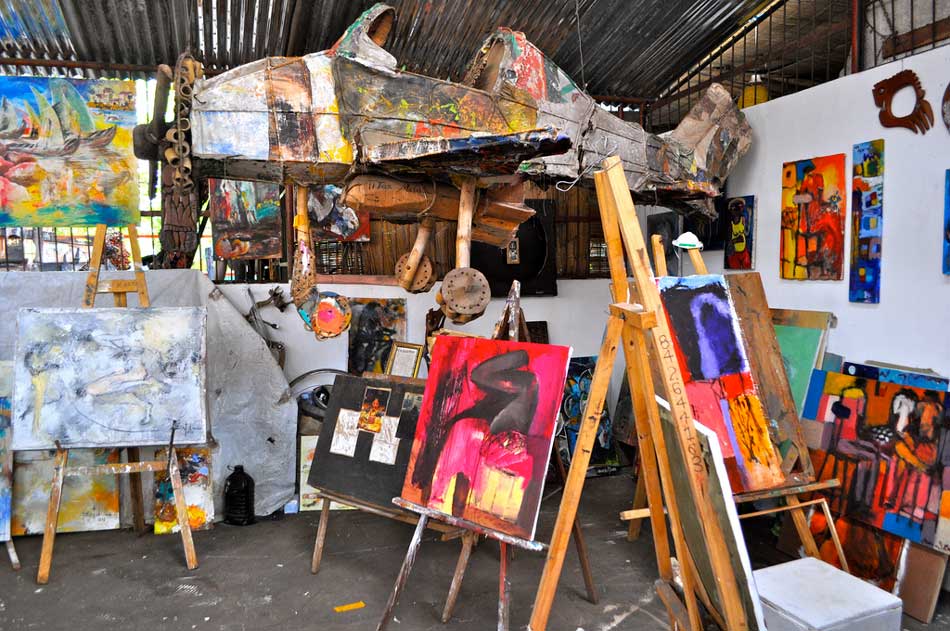 "I would really encourage visitors to explore the art scene in Maputo", he says. "The most usual place to meet other artists is the Núcleo de Arte, and in terms of galleries, I particularly admire Kulungwana. And with some of my artist colleagues, I am creating a gallery called 1834 with the aim of giving another dynamic centre to the scene – hopefully it will open soon."
The city is renowned for its wealth of art deco buildings, and one of the best places to admire them is at the Núcleo de Arte. This creative hub is filled with cafes, bars and artists' studios, forming the heart of the Mozambican art industry that is starting to produce a number of other acclaimed artists.
One of his other more famous colleagues is Naguib Elias Abdula, whose vast murals have been dotted around Maputo since 1975; this was a time when Mozambique got its independence following a decade-long insurrection against Portugal. The land was covered in debris, and became a blank canvas for Abdula, whose work later achieved international acclaim following an exhibit at the United Nation's headquarters.
Any visitors to the city should devote the latter part of a day to tracing his murals around the city, followed by an evening at Café Camissa, a gallery that also functions as a bar and music venue. The creative set will typically pour into its warm, dusty rooms come six o'clock after spending their day at the Nuclei.