THE EXISTENTIAL MUSINGS OF JOHANNESBURG-BORN STREET ARTIST FAITH47
A star quietly ascending over a 15-year career transforming walls and abandoned spaces, meticulously crafting in her print studio, Johannesburg-born street artist Faith47 is not a Banksy nor a D*Face. Her art does not scream instant recognition; often it has a touch of such subtlety that you might even miss it. But that does not mean that the South African's work is not visceral and consuming. It is uniquely executed, frequently formidable in scale and potent in content; restrained and unpretentious, capable of rich emotional connection.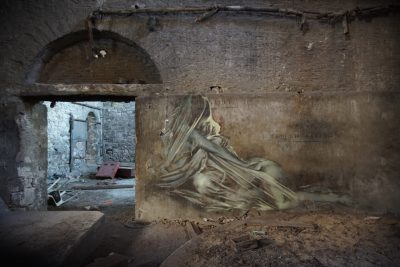 Where a Shepard Fairey or Ron English piece clatters from its walls like a venomous punk band in their prime, Faith47's murals are the calm but forthright shoegazers; poetic and scholarly, socially aware but still equally able to excite. More so for those who appreciate depth in art. And the Cape Town-based studio and street artist's work is deep. 'Relationships rise and fall; societies blossom and crumble,' she explains of her ongoing series 7.83Hz. 'The profound connectedness between us creates and destroys life. We are sensitive and caring, yet at the same time vulnerable and cruel. The foundation of the project is recognising this duality as well as the profound weight of our interconnectedness.'
7.83Hz? Nature's atmospheric heartbeat, the Schumann resonance. An extremely low frequency portion of the Earth's electromagnetic field spectrum; inaudible even at their highest intensity. A resonance that the artist says 'serves as a metaphor for our collective actions'. A reminder that we are all deeply connected to one another, a pivotal reality for someone growing up in a post-apartheid country; a country that continues to be fraught with social and political issues. A world where we are all increasingly divided.


Acutely aware of this division, not-for-profit social justice organisation Vestige invited the South African to their debut event in Manchester — the Cities of Hope street art convention — Faith47 tackling the importance of LGBT rights in a mammoth mural that has human intimacy at its core.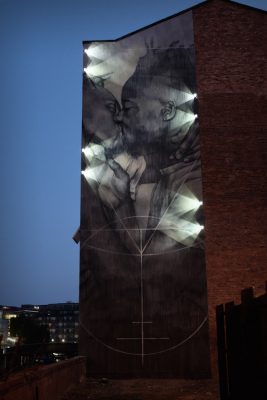 Part of her ongoing 7.83Hz series, fellow Cape Town creative Lyall Sprong of designer-maker consultancy Thingking collaborated on the piece; bringing it to life by night with a geometric light installation that explores the concept of shadows as not merely the absence of light. Like I said, stepping into Faith47's world is not to be met with the instant gratification of crash and bang, it is to look at ourselves and one another introspectively; to be aware and to appreciate the depth of her art.
The resonance of nature continues in The Psychic Power of Animals, a series of spirit-like swans beautifying the walls of concrete jungles; the birds' grace softening the rigidity of architecture. 'These murals are an attempt to reconnect us with the natural world,' she expounds. Le Petit Morte — a series of lotus flowers painted onto urban decay in Goa — goes some way to explaining this need to stay connected to the natural world: 'the ability for something so strong and pure growing out of dirty water is symbolic of our struggle — despite the chaos of life to find our own strength and clarity. As drops of water easily slide off its petals so too should we not allow the challenges of this life to damage us internally.' The artist's spirituality is omnipresent in her work.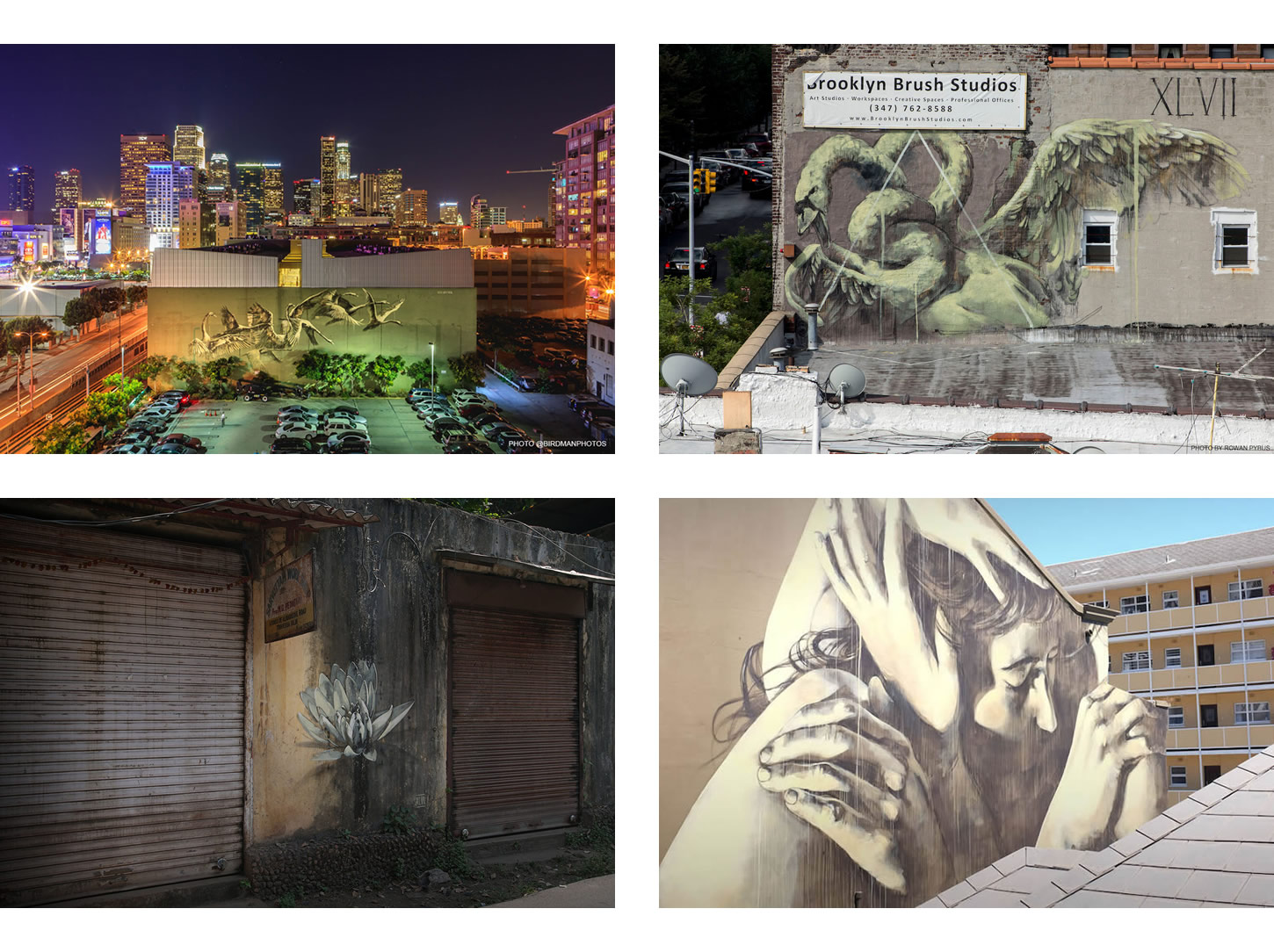 Graphite sketches; mixed-media collages; screen-prints; drawings on found objects; video installations … for Faith47, fervent creativity does not begin and end with merely walls and murals. The artist staunchly guards her real name — but her work is anything but anonymous; the South African's diverse disciplines having shown from London to New York, renowned street art Meccas like Miami and Berlin, surprising destinations like Nanachang, China, and Cozumel, Mexico. Wherever the existential musings of Faith47 go, intimacy and the exploration of human relationships follow. Her work has a rare ability to move, but don't be fooled by all this introspection — there is a profound sense of optimism in the artist's work. 'I want you to cry,' she says with force in a 2015 interview. 'To feel something. To shift. To be unapologetically alive.'