FROM THE RURAL TO THE RUNWAY: ABI JAMES ON THE SHIFT IN SAFARI-LODGE INTERIORS
The days of Meryl Streep, Robert Redford and their simple tent and jug of water are long gone. In the modern world, the most glamorous safari lodges in Africa rival the grande dame hotels of London and Paris in terms of cutting-edge design and sophistication.
Think open-air dining rooms made from curved, dark-panelled wood, with bold orange and gold light fixtures; tents that are a gorgeous mixture of European cool and safari chic with brass walls, old fashioned fans, and outdoor showers; private plunge pools that allow you to wallow in tandem with the hippo.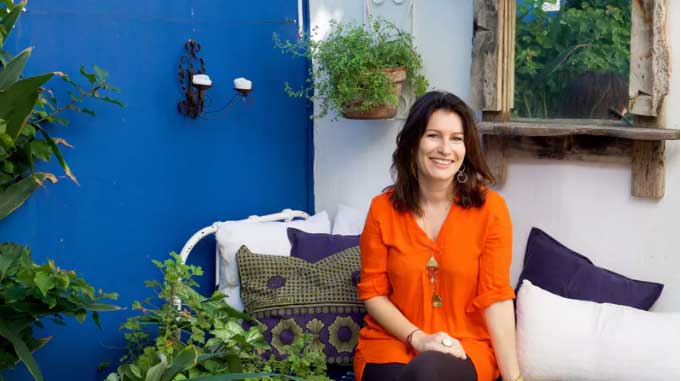 As guest expectations soar, interior designers have started specialising in safari lodges. Abi James, who has been turning plots of land in the Okavango Delta and Hwange National Park into works of art for over a decade, is one of them.
"It was kind of inevitable [that] I'd get into safari-lodge interiors", she says. "I got a job straight after my art degree in Zambia working in textile design – it was in a safari area, so I started dabbling in interiors. My big break came with my second job working in textiles in Malawi on Likoma Island, where Kaya Mawa Lodge is – they needed a huge refurb and I was offered it."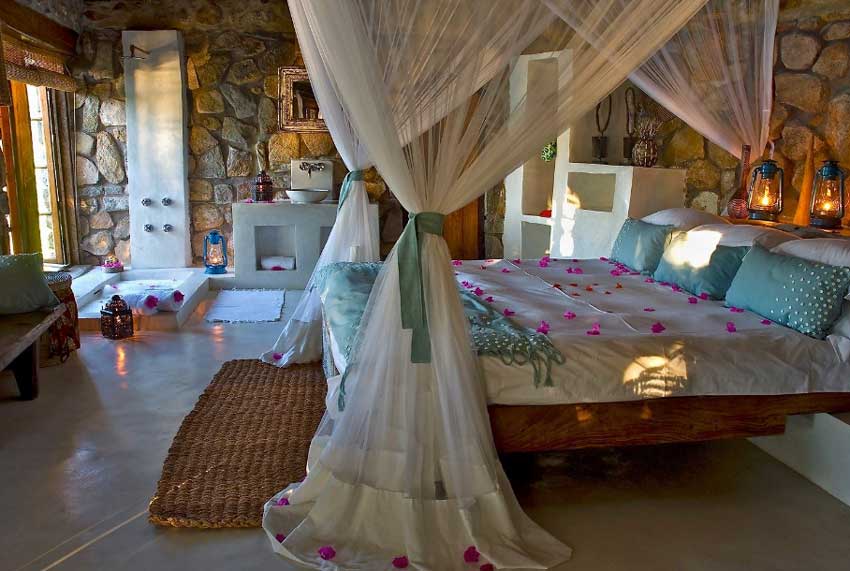 We tend to think of bush-lodge design as being either all khaki or resplendent in African prints. But there are new camps springing up around the continent that are becoming increasingly creative and design-led, following cutting edge ideas straight out of Cape Town, Milan and New York.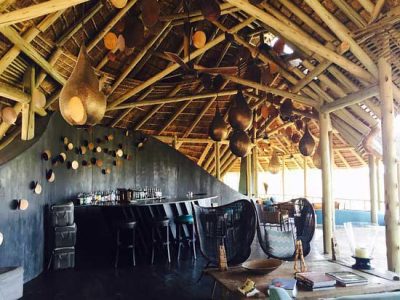 "I think there is space for all three in the lodge industry", says James. "There will always be a place for your traditional khaki – and I think a trend we will start seeing soon is one that plays on a nostalgia for the more rustic and less groomed camps of the past."
And with a long-overdue global resurgence of interest in all things African, prints are now popular around the globe, so it would be sacrilegious not to use them in the continent they are from.
"Bold African prints are very current and speak to the 'Africa is now' theme – which is actually what we are channelling for the We Are Africa curated pop-up shop that I'm involved in this May", says James. "But instead of just recreating the looks of the past, more and more there are designers doing something different and creating lodges that push the creative boundaries while using these iconic prints."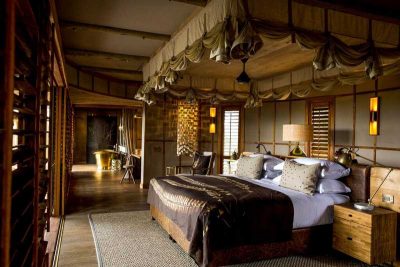 This includes Belmond Eagle Island Lodge and Wilderness' newly opened Mombo Camp, both of which are in the Okavango Delta, a hotbed of creativity.
"I'm also loving what the Latitude Hotels Group are doing around Africa – their aesthetic is not quite a 'lodge' interior, but is on a similar wavelength", says James. "I think they've really captured what lodge interiors should be – bold and African, and reflecting trends, whilst also staying true to the essence of their locations."
Inevitably the lodges that use local artists, craftsmen and artisans to shape their aesthetic are particularly successful at capturing the essence of a place.  "I believe lodges should try and make their footprint in that space as sensitive as possible, and give credit to the environment as much as possible", she says. "I also love working with local craftsmen where possible, as I feel that grounds the lodge in its country of origin."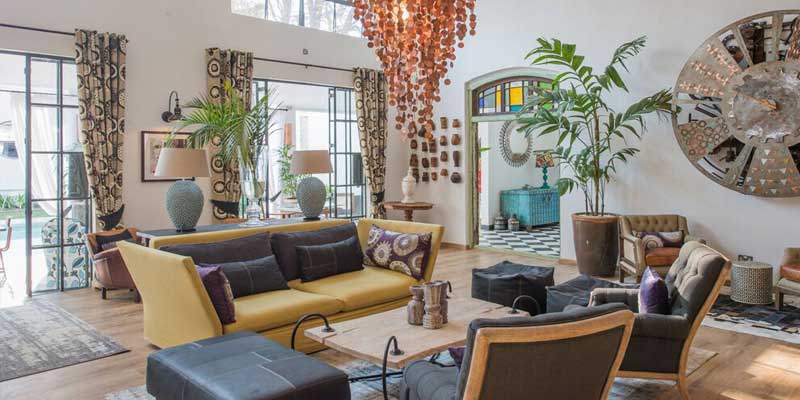 And often these craftsmen have a profound understanding of which environmental issues need to be addressed on each site.
"Never forget the boring practical side – there is a lot to consider in harsh environments like Namibia", says James. "Think about which fabrics to use for areas affected by the sun, ones that won't stain easily, for example, and furniture pieces that will last and not fall apart. Always plan for flooring options that won't be affected by termites, and the [look into] latest on the lightbulbs used for solar lighting, as generators can be notoriously temperamental. Bypassing the practical side for the sake of beautiful pieces that don't stand the test of time is definitely a mistake I have been guilty of in the past."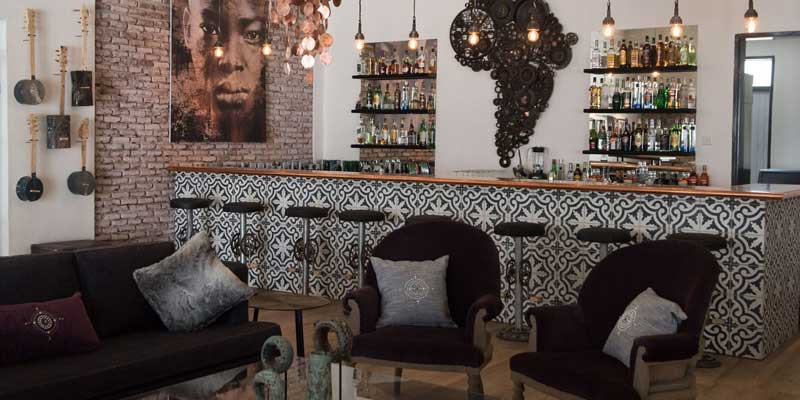 But more than anything, James believes in immersing yourself in the local environment – sitting on the banks of the Okavango Delta or the Zambezi River; wandering around the towering sand dunes of Namibia; or driving around the plains of Zimbabwe. Creating an environment that mirrors this landscape isn't an easy task – but all around Africa designers are showing that they are more than up to the challenge.