IN THE KITCHEN WITH SIX OF AFRICA'S BEST CHEFS
IN THE KITCHEN WITH SIX OF AFRICA'S BEST CHEFS
Africa's contemporary chefs need no wordy introduction. Across the continent from Nigeria to Ethiopia, down to Zambia and among the Indian Ocean islands, professional chefs are plating Africa's traditional flavours on the international table. Nigerian-born Funmi Oyatogun of The Village Pot interviews six contemporary chefs spicing things up across Africa and its islands.
First up…
Chef Cyril Agbachom – Nigeria
Quilox Restaurant and Bar has distinguished itself as the premier up-scale eatery and night club in Lagos, with Chef Cyril Agbachom sitting at the helm of the kitchen's affairs. His career has taken him from his home country Nigeria, to Ghana and back to Nigeria in an attempt to rebrand the image of chefs.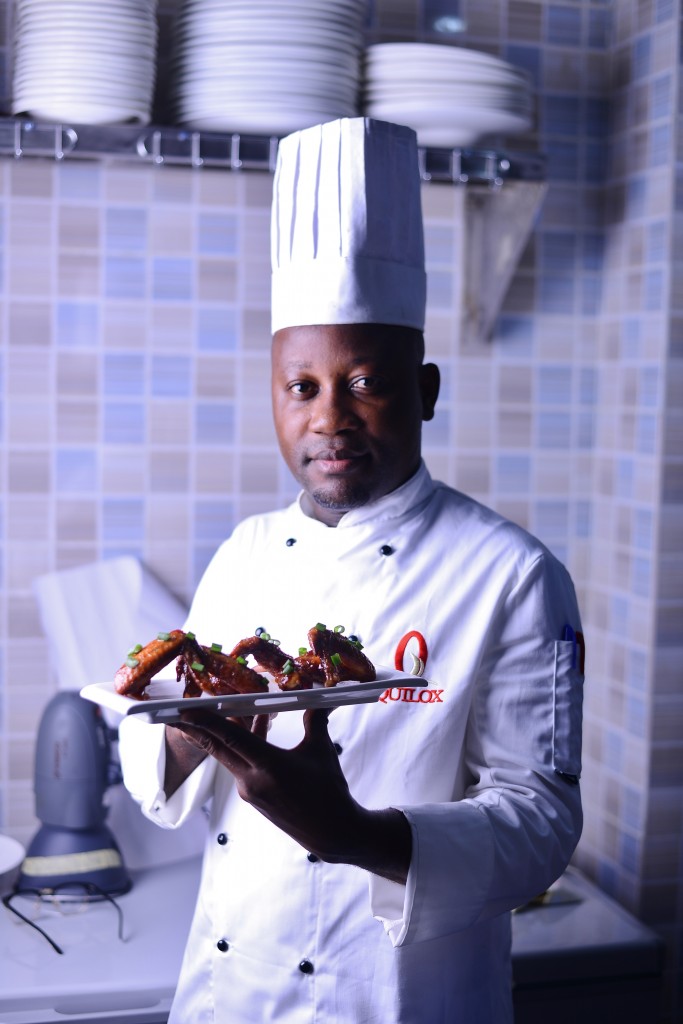 On the industry: (Chef Cyril) "People look down on chefs as uneducated people who simply know how to cook, but the technique that comes from professional training, the ability to manage people and creativity are what makes a chef."
On Nigeria's food culture: (CC) "Nigerians love to eat good food and our meals are as diverse as the people in the country. There are several twists to every single dish. However, we are faced with a system that doesn't regard the profession, despite the amount of creativity and hard work required every day."
On standing out: (CC) "I try to make intelligent contributions to my environment and this helps alter faulty perceptions of chefs. It is my dream to train at the Culinary Institute of America, because with such training comes an unmatched skill-set and recognition."
On the future of Nigerian cuisine: (CC) "Nigerian cuisine is opening up to the world and there is a splendid fusion of traditional and continental flavours. In the near future the arts and culture scene will offer more opportunities for chefs to exhibit their craft before large audiences. Chefs have access to a national association in Ghana, which I look forward to in Nigeria. I hope to see Nigerian culinary arts compete on the global stage with performance arts."
Favourite food: (CC) "I love to eat freshly chopped okro soup with Nigerian-style fufu."
Something Nigerian everyone should try: (CC) "Egusi soup with an assortment of meats: goat, oxtail, chicken, beef, fish, snail, prawns and crab."
Would like to meet: (CC) "Guy Fieri of The Food Network."
Dream African food destination: (CC) "I would love to visit Kenya."
---
Chef Raphael King'ori N – Kenya
Guests who have attended Chef Raphael's cooking classes attest to the vibrancy of his creations and the passion with which he creates artistic meals. His career in the restaurant industry started when he was a boy in a family restaurant. Twelve years ago, he honed in on his interests in good food by going through professional culinary training in Kenya. He lists among his goals to bring the cuisine of the Kenyan coast to the west and to those of the hills and to the valleys.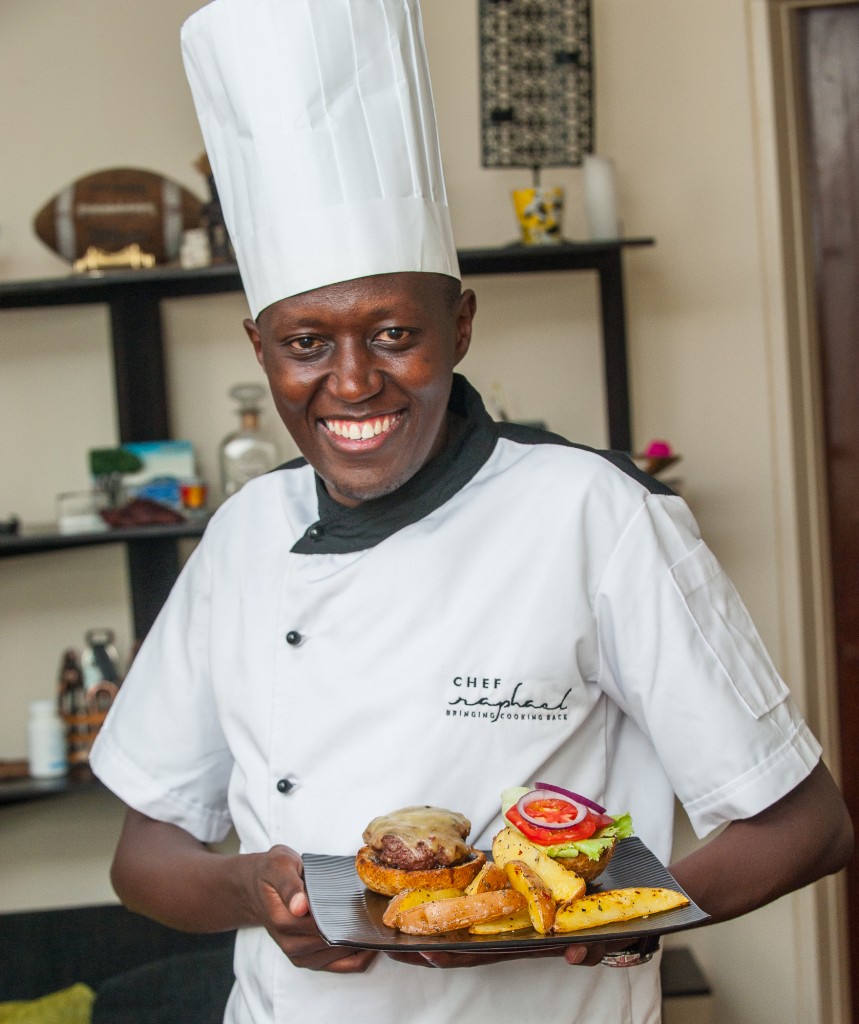 On his audience: (Chef Raphael) "My mostly young and female audience demand detailed and creative recipes on my Facebook, blog and YouTube pages. I make a conscious effort to use fresh and local ingredients which exude delicious flavours."
On Kenya's eating culture: (CR) "Our eating culture is still young and food art is almost non-existent. While Kenya is known for many great things, food does not make the list compared to countries like Nigeria and Ethiopia, where the food is renowned. We need to change that."
On standing out: (CR) "I bring the professional chef experience to people wherever they are through my YouTube channel. I also bring a cross-continental perspective to my craft, after spending years working in Orlando, London and on cruise ships in the UK with mostly Filipino and Indian chefs."
On the future of Kenyan cuisine: (CR) "The food scene is changing constantly, with the upsurge of restaurants and an influx of diverse people into Kenya. Slowly but surely, Kenyan chefs are working their way up to the same level of recognition as their counterparts in the West. It would be great for young Kenyans to see local established chefs who can inspire the honour of the profession."
Favourite food:  "My mood determines my favourite food for the moment. I am quite adventurous with food."
Something Kenyan everyone should try: "Pork nyama choma with ugali and kachumbari."
Would like to meet: "Jamie Oliver."
Dream African food destination: "Morocco."
---
Chef Lillian Elidah – Zambia
Chef Lillian's culinary taste is as diverse as her experience. The Zambian-born gastronome returned to Zambia two years ago after growing up in Sweden, studying in Switzerland and working in France and Dubai. In Zambia, she caters to expats and food-enthusiastic locals in a newly opened Mediterranean Steakhouse, where she fuses her international experience into the Zambian eating culture. Her desire to reconnect with her roots led her to co-found Twaala Restaurant: a restaurant she runs with a business partner.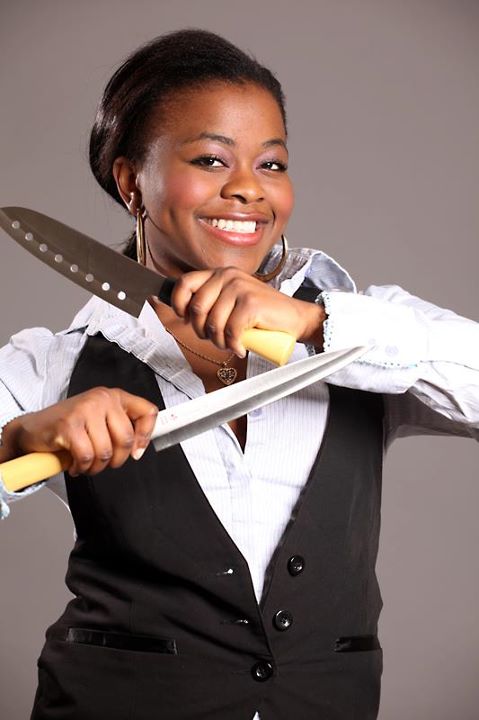 On her inspiration: (Chef Lillian) "Other than family, French chef Anthony Leboube was my very first mentor. I learned to keep a professional attitude to my craft and cooking, how to manage people and to never give up."
On Zambia's eating culture: (CL) "Academic knowledge is mostly applicable in developed countries with more developed eating cultures. In Zambia, our hospitality industry has a long way to go. Learning involves a lot of mistakes, long hours, sleepless nights and learning based on the realities on ground and a desire to make things better."
On standing out: (CL) "I am one of the only Swiss-trained chefs working in Zambia, so I've gathered a lot of exposure and experience from around the world and I use this platform to stand out and leave a legacy."
On the future of Zambian cuisine: (CL) "In ten years, we hope to see Zambia as a culinary hotspot in Africa. Currently people do not see food as art, but the world has some things to learn from our cuisine, including the richness of flavour, simplicity and freshness. There is also a lot of variation in the cuisine. I hope that we can bridge the gap between the tools available on culinary shows and what Zambians have access to on a daily basis."
Favourite food: (CL) "I love to eat fois gras, ribs and baked chocolate fondant cheesecake. When I'm not making food to eat, I love to prepare complicated dishes that require time and attention."
Something Zambian everyone should try: (CL) "Goat stew and nshima with okra and greens in peanut butter sauce, and beans."
Dream African food destination: (CL) "Ghana. It would be great to visit a lot of West Africa for the food."
---
Chef Yohanis Hailemariam – Ethiopia
Ethiopian Chef Yohanis is the host of the Chef Yohanis Culinary and Lifestyle TV show and chef at Antica Restaurant in Addis Ababa. At Antica, he caters to a high-end clientele eager for a fusion of European and Ethiopian cuisines.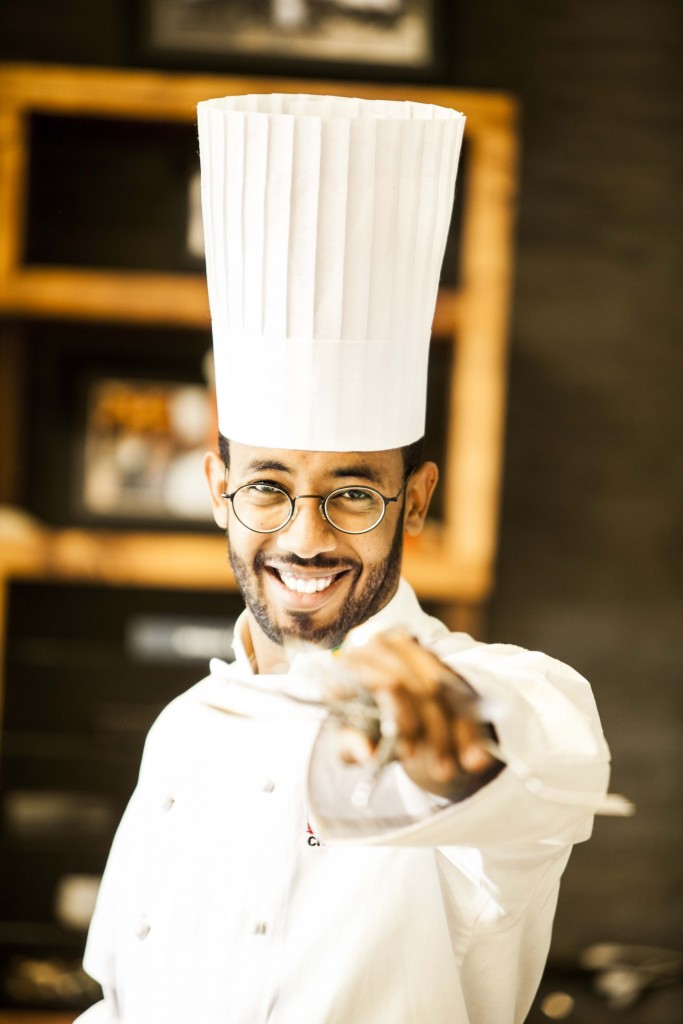 On his cooking style: (Chef Yohanis) "When I mix flavours I pay attention to all levels: texture, colour, taste, smell and presentation. My professional inspiration comes from Chef Bocuse and my creative inspiration come from my travels to remote places in Africa and my Ethiopian palate."
On Ethiopia's eating culture: (CY) "One effect of globalisation is that we are moving away from our culinary roots. This is a challenge for the eating culture, but it also presents an opportunity to showcase our cuisine to the world."
On standing out: (CY) "I strive for professionalism in my craft, because people will always respect a person who is serious and professional about his work, irrespective of the field."
On the future of Ethiopian cuisine: (CY) "In 10 years, with the right packaging and presentation, I think our cuisine can trend globally in every corner of the world."
Favourite food: (CY) "I do not have a favourite meal, it all depends on my mood; but I love preparing seafood and appreciate the delicacy required to handle it."
Something Ethiopian everyone should try: (CY) "Doro Wot is very representative of Ethiopia: it is a very tasty stew."
Would like to meet: (CY) "It would have to be Jamie Oliver, because I value his sensitivity to healthy eating."
Dream African food destination: (CY) "I would go to Senegal for some authentic Thiebou Jen."
---
Chef Jean Claude Michel – Mauritius
On the Indian Ocean island paradise of Mauritius, Chef Jean curates mouth-watering meals at Big Willy's Restaurant in Tamarin. The connoisseur trained in European Gastronomy in Italy and Germany, before returning to Mauritius to build a culinary career.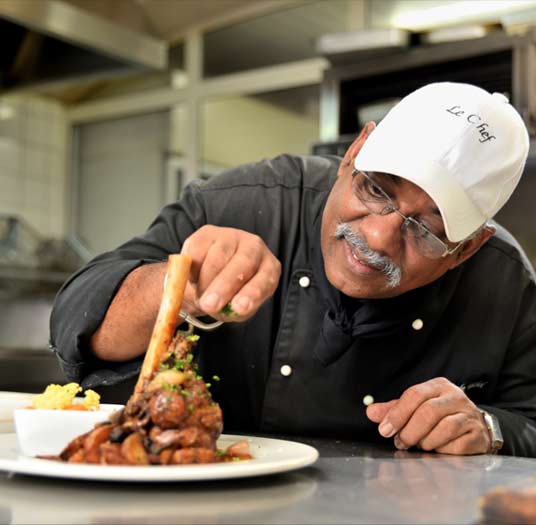 On his inspiration: (Chef Jean) "As an African chef, there is always room for learning. Chefs like Mr Manfred Reinhart inspire me professionally, but the high expectation from African and European tourists keep me on my toes."
On Mauritius' eating culture: (CJ) "We have a diversity of Mauritians of different origins and this shows in the tastebuds of the locals. This and our mix of tourists means that our clients are increasingly seeking world-class meals."
On standing out: (CJ) "I like to infuse Mauritian flavours into modern cuisine and do so in a way that appeals to all the senses."
On the future of Mauritian cuisine: (CJ) "The island is becoming increasingly popular with tourists and it shows in the demand. With increased demand comes a rigour in the quality of food we serve."
Favourite food: (CJ) "I love a nice chicken curry with chapati."
Would like to meet: (CJ) "I would like to meet French Chef Cyril Lignac."
Dream African food destination: (CJ) "South Africa is my ideal food destination."
---
Chef Gbubemi 'Fregz' Fregene – Nigeria
Chef Fregz, as he is popularly referred to, brings the chef's experience to people's doorsteps in form of catered home and corporate lunches and dinners. Since completing his culinary studies at Le Cordon Bleu, he has worked in France and Nigeria creating palatable cuisine experiences.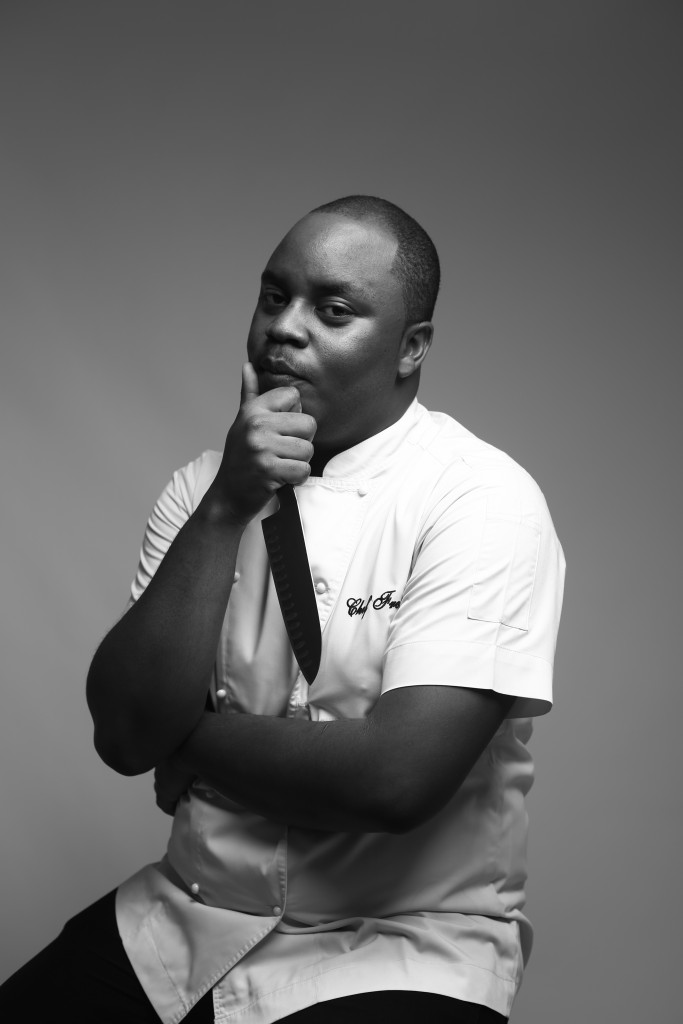 On being a chef: (Chef Gbubemi) "I get an intangible satisfaction when people smile after tasting good food. Being a chef really means making small miracles out of fresh ingredients."
On Nigeria's eating culture: (CG) "We've got the challenge of clients who have truffle and caviar taste but aren't willing to pay for it. By sharing my culinary creations in magazines and on social media, I am trying to showcase an example of a professionally-trained chef who is skilled in the technique and science of cuisine."
On standing out: (CG) "I love to substitute local ingredients in classic world meals; for instance, my Chicken Ugu Ravioli replaces basil with spinach to create a delicious pesto."
On the future of Nigerian cuisine: (CG) "We need a new crop of restaurants to champion African cuisine at world-class standards of presentation. I think Nigeria is climbing towards ratings in the style of Michelin Stars but we are not there yet. I am also working with a friend on an association that can help create rigour and standardisation within the industry in Nigeria."
Favourite food: (CG) "I love to eat amala with gbegiri, ewedu and palm oil stew. I'm not a fussy eater but a fussy cook. I love to prepare grilled steak with green puree and caramelised vegetables for texture."
Something Nigerian everyone should try: (CG) "Seafood okro (with pepper soup spice, scallops, lobster, prawns and fish) is a very traditional soup with a sexy modern twist."
Would like to meet: (CG) "Jamie Oliver. He is the guy I wanted to be when I was young. Marcus Samuelsson and Jerome Comulin are also big inspirations to me."
Dream African food destination: (CG) "I would love to visit Tunisia because of the richness of spice."