MEET THE TRIBE: NUARRO LODGE, MOZAMBIQUE
MEET THE TRIBE: NUARRO LODGE, MOZAMBIQUE
At We Are Africa we're always working hard to curate the very best of the continent's high-end travel brands, all of which share a deep passion for African travel. In the countdown to the show we'll be introducing a few of the brand new exhibitors we have joining the tribe so that you can learn their story. First up: meet Trienke Lodewijk and Peter de Wit from Nuarro Lodge, Mozambique.
Tell us who you are and how you got into this business.
We are a couple who left the Netherlands 15 years ago in search of a new adventure in our lives. We came to Africa and were hooked by the beauty of this continent. I (Trienke) went into tourism after being a mental nurse for 21 years. Starting at a local inbound tour operator in Cape Town, from there I developed my own business doing private tours and the management of rental houses in and around the Cape Peninsula. In 2007 we left for Mozambique to find the 'real' Africa and with our business partners and the local community, we built Nuarro Eco Lodge.
Since making the move, I have done the marketing and sales for Nuarro Eco Lodge and still do. I am also doing the same for my new company, Bush & Beach Orange in South Africa, where we have returned after three years in Mozambique and two years in Uganda. I also had my own little business in 2010-2012 in Uganda marketing the Uganda Lodge Collection, and I've started doing private tours again.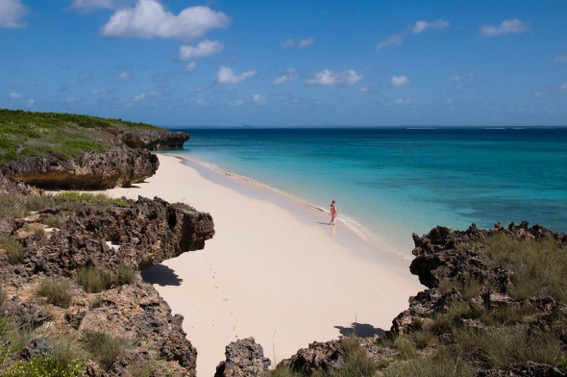 We Are Africa's ethos is 'Not One Story'. What unique story or experience of Africa do you offer?
Building and managing your own community-based ecolodge and implementing sustainable tourism principles in a very remote area is quite a story! It is a book I will one day write. But the result is a beautiful and pristine place along the Indian Ocean with lots of rewards for the hard work done.
Where do you draw your inspiration from in building your brand?
It is our own Lodge. We invested our money and time in it and it's a good cause. The impact we have on the nearby community is big and we feel the responsibility to make it a success for ourselves, our partners, other stakeholders and all the people working at the Lodge.
Where do you think the strengths of Brand Africa lie?   
Adventure and Nature are the biggest selling points for Africa. Nature is all around Nuarro, on land and in the water. We have an 800 HA land concession and half of our Bay is a marine-protected area to allow a balance between fishing and diving.
Are you a high-end African travel brand with a unique story to tell about the continent? If you'd like to join Trienke and Peter as part of the We Are Africa 2016 tribe as an exhibitor or buyer, send us your application and we'll get back to you!